Queen City Blues Fest (Presented by the Queen City Blues Alliance)
Sat
November 5, 2022
7:00 pm
(Doors:

6:00 pm

)
The Southgate House Revival
All Ages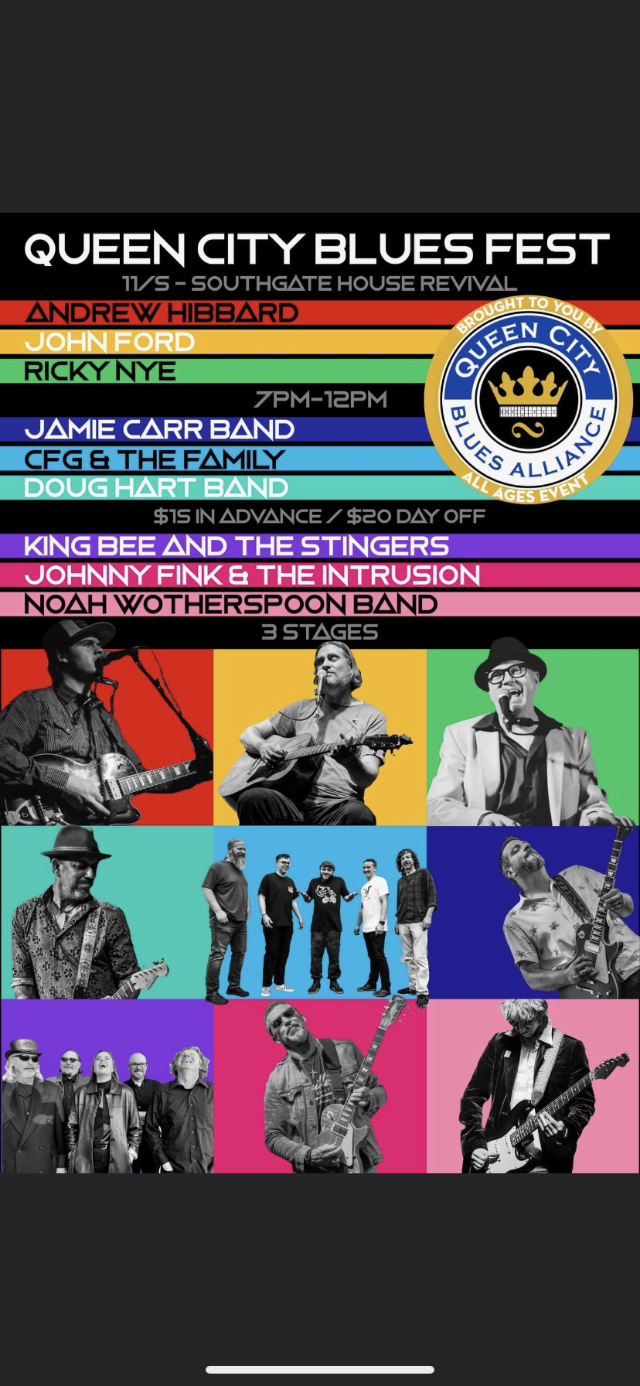 $15 ADV / $20 DOS
Lounge
7:00-8:15 Andrew Hibbard
8:30-9:45 John Ford
10-11:15 Ricky Nye (solo)

Revival Room
7:15- 8:30 Jamie Carr
8:45-10:00 North Second Crew
10:15-11:30 Doug Hart
Sanctuary
7:30- 8:45 Billy the Kid and the Regulators (Pittsburgh)
9:00-10:15 King Bee and the Stingers
10:30-11:45 Johnny Fink and the Intrusion
Johnny Fink and the Intrusion
Johnny Fink and The Intrusion used to be known as the "Best Kept Secret in the Midwest Blues Scene" among local blues and classic rock enthusiasts.
That was until they won the 2015 Cincy Blues society band challenge....and the made the semi-finals in the 2016 IBC in Memphis Tn. They were also finalists in the 2015 CEA entertainment awards for "best blues band". Then Johnny himself won the 2016 Cincy Blues challenge in the "solo" category....and to top it all off, the band won the 2016 Dayton Ohio blues challenge.
The band placed in the top 8 (of the world) in the 2017IBC Finals.The secret is definitely out....
If you ever happen to ask someone who's seen the band play, you'll likely hear of true musicianship and one helluva good time.
The band was formed in the winter of '92 originally going with the name "The Blue Intrusions" with real-life guitar hero Johnny Fink pulling together a powerful 4-piece lineup of talented pro players through a diverse blues spectrum. They covered a wide range of blues, tapping the soul of the music from well know legendary blues artists. Jammin' everything from the Allman Brothers to Buddy Guy, then swinging from Albert Collins to Lonnie Mack.
After two years of the band performing and crowd pleasing at well known local establishments like; the Local 1207, Allyn's Cafe, Mansion Hill, Lucille's, Burbank's, several popular Foley's locations… Johnny took over the reins. He led the band into a new era as a tighter three-piece blues unit.
The band sports over 35 years of overall professional musical experience, and each member shares an equal passion for old school classic rock and blues. Once you hear them simply open on a song, it becomes quite obvious that the band has talent, and true professional showmanship. Every classic rock and blues enthusiast around now knows where "the real deal" offers up a great show.
Over the years The Intrusion has evolved and changed up like any band, which is inevitably par for the course. Fortunately and rare in the industry, the band has never experienced any dramatic road bumps or "breakups" throughout the years. No bridges were ever burned, no friends were ever lost, and they never skipped a beat. In '05 they brought on the talented drummer Doug Moore, then in the fall of '07 long time friend and too-cool bass guitarist Matt Newman joined. They are always around somewhere, rockin' the scene at blues festivals, events/venues, and popular establishments throughout the Greater Cincinnati and Northern Kentucky area.
Their original music contains true conviction and passion often missing from others in the genre. And don't be shy about walking up too request your favorite classic rock song, or memorable blues tune – they know them all..
Check out their upcoming gigs, then drop on by sometime too see for yourself why they are no longer called the best kept secret but rather "one of the best" in todays contemporary blues scene.
The Doug Hart Band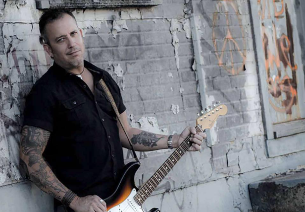 The Doug Hart Band has been a major force in the southwest Ohio blues scene for several years. Doug constantly strives to put forth the best product and deliver the best show possible. The band incorporates free form, yet controlled versions of many blues standards along with the blending of Doug's blues and rock influences to form creative original compositions.

Having played several major festivals and as winners of the 2013 Dayton Blues Challenge, 2014 Black Swamp Blues Challenge, several 2nd and 3rd place finishes in the Cincinnati and Columbus Blues Challenges and semifinalists in the 2013 & 2014 International Blues Challenge, they have proven over and over they can take the stage with anyone.
He has enlisted the veteran talents of bassist Mike Hausfeld and drummer Oscar Bernal to complete his band. Together, they never fail to amaze their audience with the soul and passion of their performance… The Doug Hart Band will definitely leave you wanting more.
North Second Crew
Ricky Nye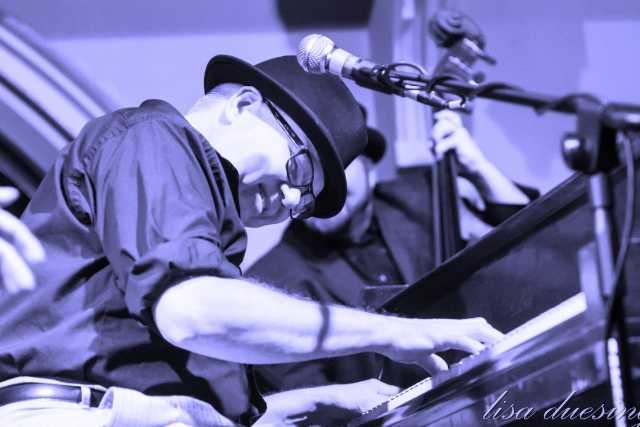 Traditional blues, boogie woogie, and classic New Orleans jazz and R&B all come flying from the fingers of Cincinnati, OH pianist and vocalist RICKY NYE. The driving force behind the annual BLUES & BOOGIE PIANO SUMMIT held in Greater Cincinnati from 1999 to 2017, Ricky has been inducted into the International Boogie Woogie Hall Of Fame, voted "Blues Artist Of The Year 2019" in Cincinnati's CEA Awards, and "Best Local Musician" by CityBeat Magazine's "Best Of Cincinnati 2018" reader's poll.
Ricky began his performing career at age twelve with his family's band, and in his twenties and thirties established working relationships and friendships with artist such as world renowned jazz guitarist Wilbert Longmire, Cincinnati blues icons Big Ed Thompson, H-Bomb Ferguson and fellow pianists Big Joe Duskin and Pigmeat Jarrett.
For twenty years Ricky has maintained notoriety on an international level, performing his infectious blend of American roots music in solo, duo and combo settings in locales such as France, Germany, Belgium, the Netherlands, Spain, Vienna, England, and Switzerland. Ricky also celebrates a long-time performing and recording collaboration with "The Paris Blues Band", the very finest purveyors of swingin' blues and boogie in Paris, France.

"Known for its rollicking, foot-stomping jubilance, the boogie-woogie sound erupted from the American South during the late 1920s. This piano-centric subgenre of the jazz tradition drew its structural elements from the blues and spirituals, but introduced an intoxicating rhythmic complexity that inspired generations of young dancers. Ricky Nye is one of the nation's leading players and preservationists of boogie-woogie, stunning audiences with unmatched authenticity, virtuosic speed and playful arrangements"- Vail Jazz
Jamie Carr Band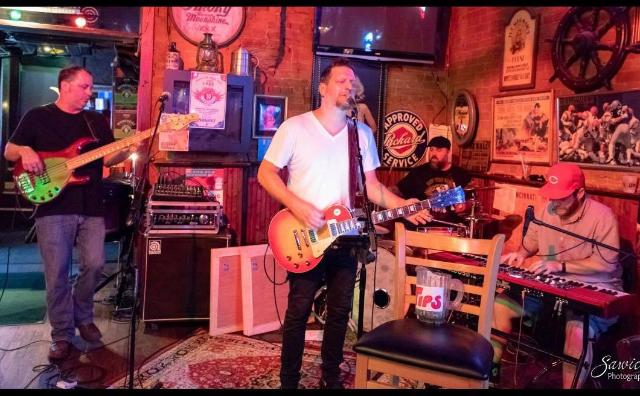 John Ford
Andrew Hibbard
Meet Andrew Hibbard, a young man that lives an honest life – the only way he knows. Humble beginnings in rural Ohio have shaped his view of the world.

A soft-spoken individual, Andrew prefers to share his stories through song rather than speech. Whether it's paying tribute to the classics like Bob Dylan or Chet Atkins, or his own craft that can match his musical mentors, Andrew Hibbard is sure to be a delight to any americana/folk fan's ears and a presence destined for placement in the splotlight – with humble regards, of course.
Billy the Kid and the Regulators
King Bee & The Stingers