John R. Miller, Frontier Folk Nebraska
Thu
July 22, 2021
8:00 pm
(Doors:

7:00 pm

)
The Southgate House Revival - Sanctuary
Ages 18 and Up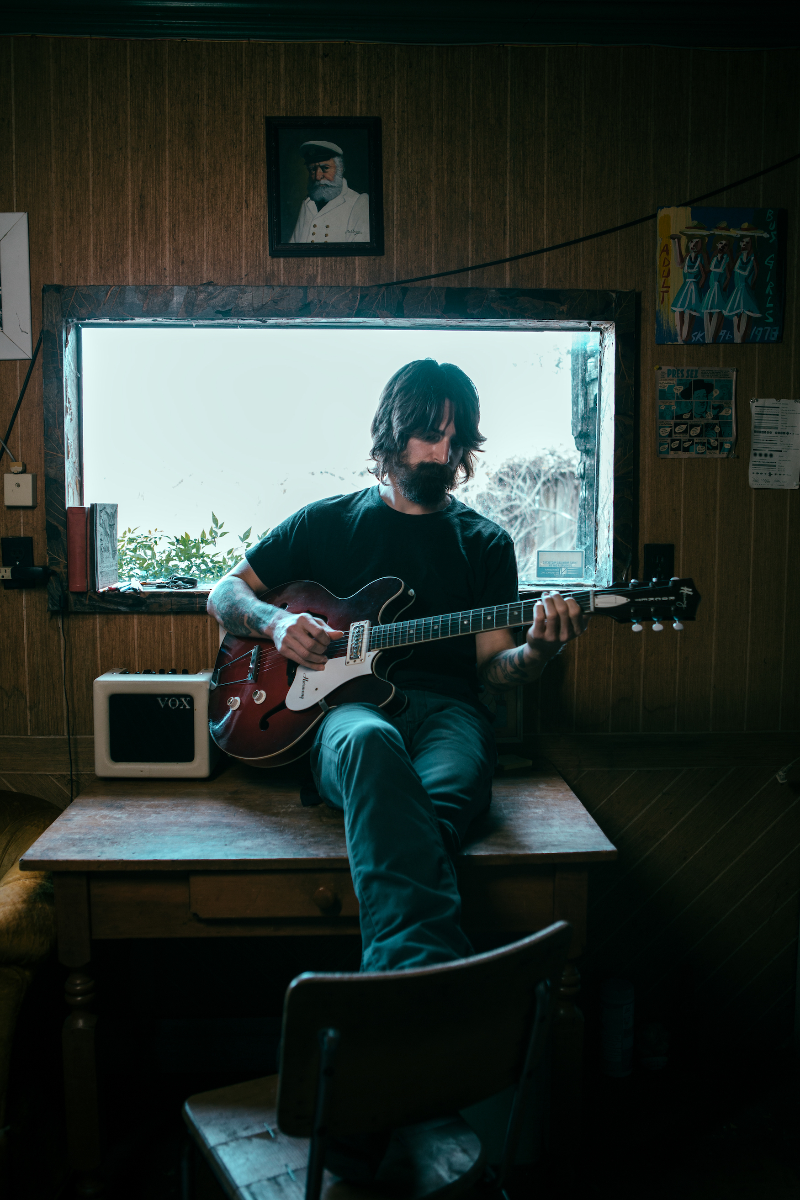 $20.00
John R Miller is a true hyphenate artist: singer-songwriter-picker. Every song on his thrilling debut solo album, Depreciated, is lush with intricate wordplay and haunting imagery, as well as being backed by a band that is on fire. One of his biggest long-time fans is roots music favorite Tyler Childers, who says he's "a well-travelled wordsmith mapping out the world he's seen, three chords at a time." Miller is somehow able to transport us to a shadowy honkytonk and get existential all in the same line with his tightly written compositions. Miller's own guitar-playing is on fine display here along with vocals that evoke the white-waters of the Potomac River rumbling below the high ridges of his native Shenandoah Valley.
Depreciated is a collection of eleven gems that take us to his homeplace even while exploring the way we can't go home again, no matter how much we might ache for it. On the album, Miller says he was eager to combine elements of country, folk, blues, and rock to make his own sound.
For the creation of the album Miller joined forces with two producers who shared his vision for a country-blues infused record: multiple Grammy nominee Justin Francis, who has worked with everyone from Leon Bridges to Kacey Musgraves, and Adam Meisterhans, a renowned guitarist whom Miller has known since their days as roustabout musicians in West Virginia. They recorded Depreciated in the legendary Studio A of Sound Emporium in Nashville.
The eleven songs, all penned by Miller, provide an album that stands strong as an entity but also provides tight singles that announce a major new voice. Miller possesses a rich voice, a flair for leading a band, and perhaps most of all, a startling ability for songwriting that results in Depreciated being an album that will have widespread appeal. Miller has achieved that most difficult yet most important thing: presenting the universal in the specific, paying attention to the cool beneath the pines along the rivers of the Shenandoah Valley while also pulling the camera back to reveal the longings that unite us all. – Silas House
John R Miller & the Engine Lights
John R Miller grew up in Hedgesville, a small town in the eastern panhandle of West Virginia where the mountains meet Interstate 81. A co-founding member of hard-traveling bands Prison Book Club and The Fox Hunt, and crafting a unique-and-familiar blend of country blues & folk, he has performed music in nearly all 50 states, Canada, Ireland, the UK, Japan, and much of Europe. He has twice appeared on NPR's Mountain Stage with The Fox Hunt. He has also been a featured songwriter and performer on the Travelin' Appalachians Revue. John can often be found performing solo, alongside fiddle player Chloe Edmonstone, or with his band The Engine Lights. New album The Trouble You Follow is available now via Emperor Records.
Press for The Trouble You Follow:
" Stylistically, the music on the new album is there to support Miller's ample lyrical gift. In this respect, The Trouble You Follow immediately brings to mind the most recent John Prine record, The Tree of Forgiveness. Both men are more than capable of presenting their songs with only a guitar. An artist who does that for a lengthy amount of time, however, almost inevitably find himself/herself playing with a band again. The Trouble You Follow does well to start with the song "Holy Dirt." Miller finds transcendence in the grime of an imperfect world. The song embraces this world and recognizes that it's vital to the creative process in all of our lives. We find the pieces needed for rebirth in the chaos of decay and imperfection. " - Josh Beane, Hold the Note Magazine's review
" This here is one folksy, stripped down, toe tappin', red eyed, good time of an authentic country music record. The 10 original new tracks will leave you talkin' to ghosts, crackin' a smile with the blues, and at times, reflecting on your own subconscious, and the very vices of self-destruction as you burn gasoline by the light of the moon. This dynamic group of talented musicians let it all hang out on this stellar record that is unapologetically country. " - We Hate Pop Country
" ..A mix of dirty country and Appalachian string band racket that's raw and real, and the right style to give the music the type of grime it deserves... John R. Miller weaves his stories of struggle and survival with a poetic wit, honesty and abandon, and a palpable authenticity... You creek open an old ramshackle door on rusty hinges, and there you discover the music you seek that is unblemished by commercial concerns or calculating adherence to current trends. This is music that smells like the smoke from an old wood stove that refuses to draw, and warm Pabst in a can with cigarette butts swimming in it. " - Saving Country Music's review
From Dog Man by Howard Parsons:
" J.R. Miller's work is distinctly American, and it could sit comfortably with all those other works you might think of. His influences are not covert, and when you notice those influences what you'll hear is mindful admiration, never leaning lazy. With John, you just get the song in its perfect natural form, which is to say good, slow, earnest, real, in line with tradition, uncommon, beautiful, loud, fast, ugly, hard, easy, tender. John's songs save themselves from the embarrassment of being themselves.
...I don't know for sure how best to make my case here, but I can say that there are plenty of lesser songwriters out there in the world. They rhyme where they shouldn't, and they don't where they should. They ride a melody but say something dumb, and beautiful words are always drowned under shit. All I know is John Miller is the real thing, and his work is tremendous the way a river is tremendous next to a trickle, the way sunrise is tremendous next to just about anything else."
From Ninebullets' review of Service Engine:
" 'Service Engine' reminds me of Patterson Hood's Killers & Stars. Both recordings have a living room vibe with stripped-down arrangements and well written-songs. I can't tell if it's just John playing or singing or if he's got a second guitar on some of the songs, but its beauty is in the simplicity and his unique turns of phrase.
John effortlessly blends dirt-under-your-nails realism with genuine human emotion. This kind of thing doesn't happen enough in music, not some kind of hokey songs for the working man but actual songs with an awareness of work." - Charles Hale
Frontier Folk Nebraska
Now 10 years deep, Frontier Folk Nebraska continues to embody the spirit of rock and roll that
has propelled them from their beginnings: verses, choruses and guitar solos that'll make you
punch a friend in the arm. Their most recent release, Warpig, out on Old Flame Records
showcases the muscular rhythm section of the past few years of Matt McCormick and Mark
Becknell while still resting on the childhood bond of the guitar and vocal interplay of songwriter
Michael Hensley and Travis Talbert. 2 time Daytrotter alums, 2017 SXSW showcase artists,
veterans of Pygmalion, Midpoint Music Festival, Whispering Beard Hall of Famers, and earnest
midwestern road dawgs, FFN strives to bring their music to new and broadening fans one show
and one record at a time.
They have opened for Jason Isbell, Damien Jurado, BOSTON, St. Paul and the Broken Bones, and
Polyphonic Spree. RIYL Drive-By Trucker, My Morning Jacket, Flaming Lips, William Matheny
and the Strange Constellations and Guided By Voices
"Brings to mind Chuck Ragan if he wrote sweeping, driving, and chant worthy songs like The
Boss. True Delight." - Austin Town Hall
"Neither from Nenbraska nor a folk group, Frontier Folk Nebraska is instead a Cincinnati band
that sounds like the Replacements attaking power pop with their thrashing guitar-and- drum
energy kept in check by their love for melody and appealing song structure." - Steve Rosen
BLURT Magazine