Iron Fest XII Night Two
Sat
November 13, 2021
6:30 pm
(Doors:

6:00 pm

)
The Southgate House Revival - Sanctuary
Ages 18 and Up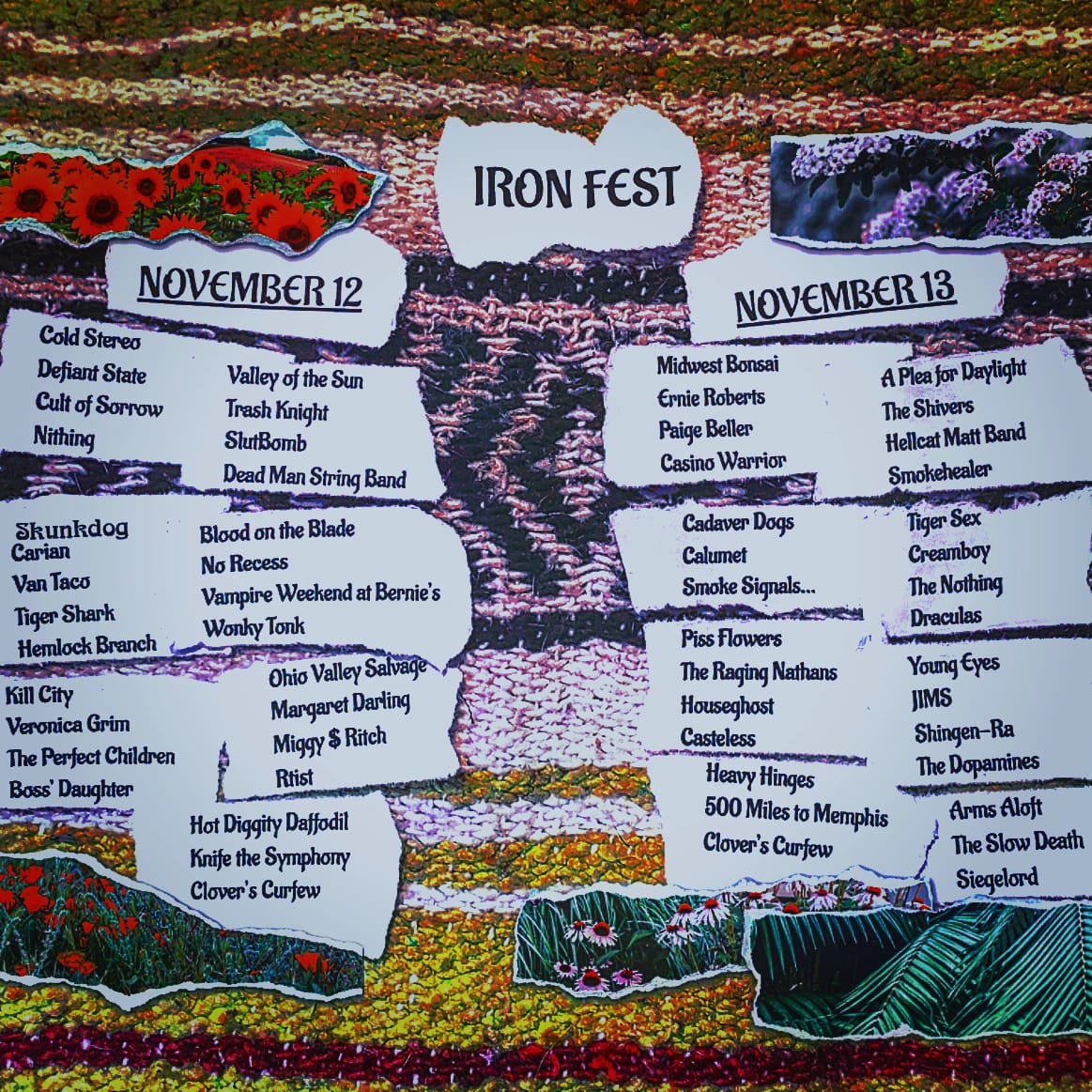 $5 Advance $10 Day Of
Iron Fest
Midwest Bonsai
A Plea For Daylight
Ernie Roberts
The Shivers
Paige Beller
"Very few musicians can deliver songs that are emotionally vulnerable and simultaneously epic. Very few activists can help organize massive events like Ladyfest Dayton but also find time to tour and juggle multiple bands. Very few people can radiate boundless creativity and power, while still maintaining their inherently friendly, humble nature. Paige Beller captures all of these qualities and more in her songwriting, live performances, and attitude.

Deeply rooted in Dayton, OH's eclectic music scene for well over a decade, she returns with her newest solo EP, Paige Beller…Space Cadet. Like the five of her other major releases, these songs sting you straight in the heart and rock your soul. Imagine drifting endlessly through outer space, with only a strange concoction of thoughts and feelings to entertain you. The live set is equally dynamic, as Beller deploys everything in her instrumental arsenal; from acoustic and electric guitars, to drum kits, a tiny piano, and of course, her iconic voice. "
Hellcat Matt Band
Casino Warrior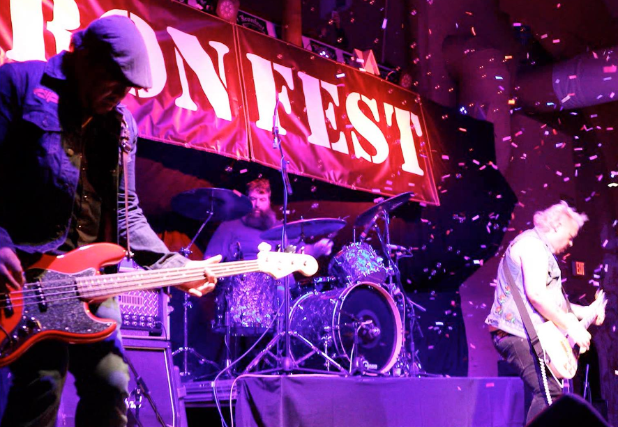 Four dudes made from multiple animal parts that rock harder than the normal humans.

Hailing from the sewers of Cincinnati OH, only to load their gear in your face again and again to sacrifice your melting skin to the many mythical beasts that are summoned
Smoke Healer
Smoke Healer was founded in the fall of 2014 by five close friends from the Northern KY/Cincinnati music scene.

From the start, the band wanted to create music that honored the classic heavy music they were influenced by, while maintaining their own unique sonic signature.
Drawing mostly from a deep well of classic rock, hard rock, & heavy metal, Smoke Healer went into overdrive writing their entire full-length record over the course of just ten writing sessions.
The band continued to rehearse and record pre-production demos for the next several months before entering the studio to capture the magic they had created.
With an arsenal of finely crafted songs, Smoke Healer forged through recording, mixing, & mastering at a furious pace in order to keep the newly written material fresh.

During the mixing phase of the recording sessions, the band launched a Kickstarter campaign to help fund the final steps of production, duplication, packaging, & marketing of their record. Though not having any official music yet released to the public, the band still managed to exceed its funding goal within the campaign's short 30 day run.

After securing the funds to complete their record, the group then proceeded to book a CD release show with local music heavies Moonbow, which features David McElfresh (Hank III, Lethal, Killing Rabies) in their ranks. A longtime friend of the band, David also graciously contributed his violin mastery to three of the ten tracks on the record, adding a unique texture to the songs that is rarely seen in modern heavy music releases.

Smoke Healer is ready to share their music with heavy music fans worldwide. The future looks promising and people are about to be healed!

The band's debut release is currently available at the following locations: iTunes, CD Baby, Amazon, Spotify, Rhapsody, eMusic, and more locations soon.
Cadaver Dogs
Tiger Sex
A great mixture to the sound with many influences from 70's punk, 60's garage, Proto-Punk, Blues...etc.
Calumet
Calumet recalls the sounds of some of it's members previous efforts (Alone at 3AM, 500 Miles to Memphis, The Frankl Project) but looks to the beginnings of american music for its inspiration. The result is catchy and comfortable, familiar like you've met before, but rest assured you haven't.
Creamboy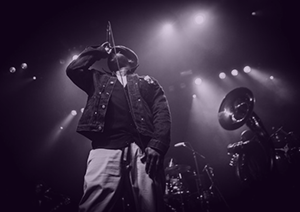 Smoke Signals...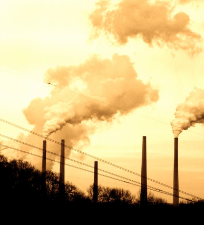 Smoke Signals… are a Newport, Kentucky based trio formed in 2010. They started touring in 2011 and in 2012 they began releasing a series of singles. First a covers maxi-single, 9195, was released in the summer of 2012 and then the single, "Silent War," was released in the fall, both issued by And Recordings. An EP, The Collapse, was released in March, 2013 on And Recordings, then re-released in August on Phratry Records. Smoke Signals… are slated to release a 7" via Phratry Records in early 2014.

Featuring members of And Recordings Artists: Ethicist, Sweet Ray Laurel, Silver Bridge Disaster, Elks On Acid, Menarche and Good Night Noises.
The Nothing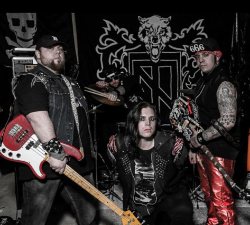 Heavy in your face rock n' roll from Cincinnati.
Draculas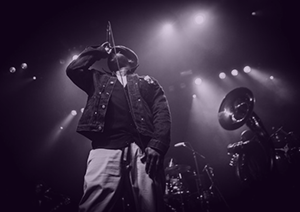 Piss Flowers
The Raging Nathans
Voted #2 punk band in Dayton, OH by some website. But they didn't take our winning personalities and striking good looks into account.
Young Eyes
JIMS
aka JIMS & his Mandareenians
Since 1996, at the ripe age of 11, JIMS has been performing his unique blend of styles and movements that have held a profound influence through the years. Holding frontman/guitar duties with his early projects Code Red, GDS and Prick B. Mafia, once he reached his 20s he started up his longest project to date, Sweet Ray Laurel.

During the same period he was moonlighting as a drummer in Silver Bridge Disaster then as guitar and vocalist in Good Night Noises. Soon after he picked up the sticks again for Martin Luther & The Kings and then Smoke Signals… respectively.

In addition to two unnamed new secret projects, JIMS continues to play with Sweet Ray Laurel and Smoke Signals… while also performing solo.

Alone on the stage armed with just an acoustic guitar and loop station, his songs reflect a love for all styles of music ranging from punk, world, folk and everything in between. The years of influence and experimentation with various groups has helped mold a unique, concise and focused approach which, is evident in his compositions.

Always opting for the most visceral and vulnerable outlet, his solo output is every bit of raw, in-your-face, personal and delicate as you may expect as a document of such a storied sonic past.

JIMS is currently in the process of producing his debut solo album which, should see a release during Summer of 2015 on the label//collective he helps curate with his older brother, AndRecordings.
Houseghost
Shingen-Ra
Casteless
The Dopamines
Heavy Hinges
Heavy Hinges is a sublime ruckus… a beautiful collision of rock, soul, gospel, and roots music. When Heavy Hinges came about in early 2012, their earliest sessions were taken on with heavy hearts. Three of the five members had recently suffered heartbreaking and unexpected loss of loved ones and were still very much coping. While the music they were creating was conceived from a place of sadness, what came forth from them was rather spirited and in a way celebratory… a revival of sorts.
Initially, the group gravitated toward playing old traditional numbers, unearthed from field recordings of chain gangs, gospel groups, and fishing boat crews. They found the coarse and rustic nature of the music and the dark, yet hopeful imagery of the lyrics suited them well. While songs from the past proved inspiring and fruitful, it was never their intention to travel down a musical path quite that narrow. So, they began writing their own story, adding more layers to their evolving style. They frequently referenced the gospel groups, chain gangs, and fishing crews from those old recordings, all the while remaining true to their existing foundation of r&b, blues, and rock & roll…
Heavy Hinges have just released the follow-up to their acclaimed albums Mean Old City and Cause a Scene with their latest effort entitled Lonely. The band is currently supporting the newly released EP with live performances and a series of radio interviews and on-air performances. Heavy Hinges is planning a fall/winter tour later this year.
Arms Aloft
500 Miles To Memphis
"They don't sound like anyone else. At all. Or at any point."
"500 Miles To Memphis have constructed something wonderful here."
""Blessed Be The Damned"? Hell, yes. The Devil always has more fun, you see, and damn me, this is good." - Andy Thorley, Maximum Volume Music
"Blessed has so many catchy songs, it's easy to find yourself tapping your feet along with the groove instead of taking notes or writing a review, and nearly impossible to find a favorite. In short, if you like rock, you'll like this album. The mean mountain riff of the title track, the 90s punk of "No Doubt About It," the bluegrass-cum-cowpunk of "In My Chest" – the album is just good from front to back and might be 500 MTM's best yet." - Brandon Wheeler, CincyMusic.com
"Guitars crunch madly, spurred to high gallopby the same splendidly indomitable beat that's always propelled rock'n'roll. And robust vocals make fine topping for sometimes Celtic-informed "Americana Punk"-DC Larson's Jukebox
"this bunch blows their sound wide open as this sounds nothing like the last 4 entries. Aggression is always in fashion and the malcontent vets brought in as ringers here know how to turn it up to 11." -MidwestRecord
"500 miles to Memphis is a great American rock band that has been making infectious roots and punk music for years while managing to stay under the radar of the mainstream. This new record is everything that is good about rock 'n' roll." - Ryan Smith (Soul Asylum, The Melismatics)
The Slow Death
Clovers Curfew
Siegelord