The Punks Care 2
Sat
June 4, 2022
7:00 pm
(Doors:

6:30 pm

)
The Southgate House Revival - Sanctuary
All Ages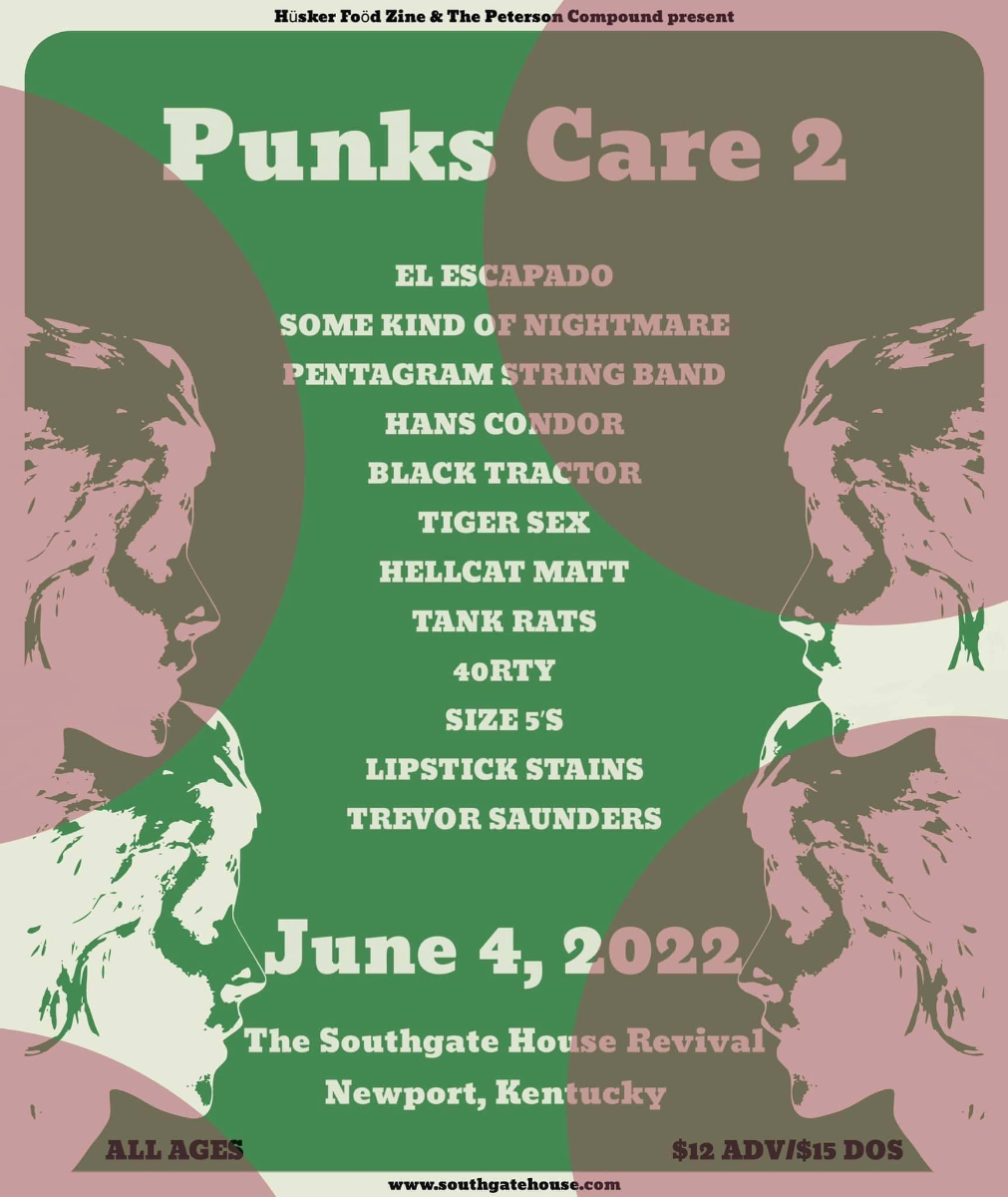 $12 Advance $15 Day Of
In accordance with CDC guidelines, and so that we may all enjoy live music, masks are strongly recommended when attending events at SGHR. COVID protocols will be in place.
Taking place on the Sanctuary and Lounge stages
El Escapado:
https://www.facebook.com/elescapado
Tank Rats:
https://www.facebook.com/tankratsmcp/
Hons Condor:
https://hanscondor.bandcamp.com/album/breaking-entering
Johnny Lawhorn and the Pentagram String Band:
https://www.facebook.com/thepentagramstringband
Some Kind of Nightmare:
https://www.facebook.com/somekindofnightmareband
Tiger Sex:
https://www.facebook.com/tigersexband
Size 5's:
https://www.facebook.com/size5s
40RTY:
https://www.facebook.com/40RTYmusic/
Hellcat Matt:
https://www.facebook.com/WhatTheHellcat
Black Tractor:
https://www.facebook.com/WhatTheHellcat

Lipstick Stains:
https://www.facebook.com/lipstickstains901

Trevor Saunders:
https://www.facebook.com/musicbytrevorsaunders/
El Escapado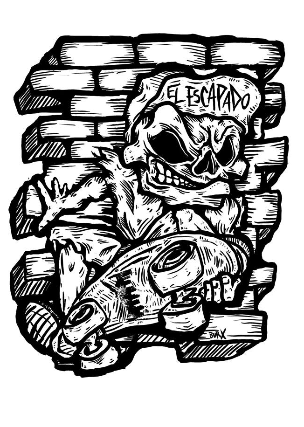 The incarnation of El Escapado came about simply enough. It all started over a conversation amongst close friends in a bar one night in 2015. Each member, withered and over worked from the daily grind of their day jobs, was ready for a long overdue vacation. The answer to their woes was so simple. It had been right underneath their noses all this time. They could take time off, see the world, enjoy fine food and take in the sights for little or nothing at all. They just had to form a band. And from that night, El Escapado began to take shape
Tank Rats
Hans Condor
Johnny Lawhorn and the Pentagram String Band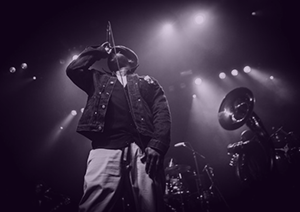 Some Kind of Nightmare
Size 5's
40RTY
Hellcat Matt Band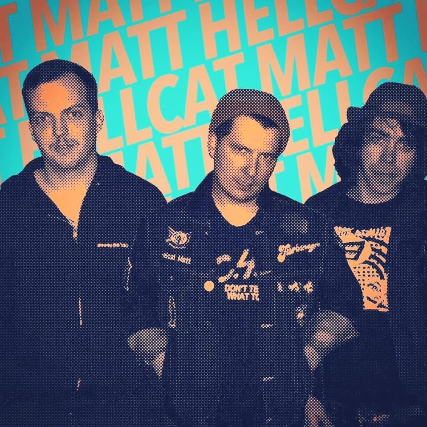 Black Tractor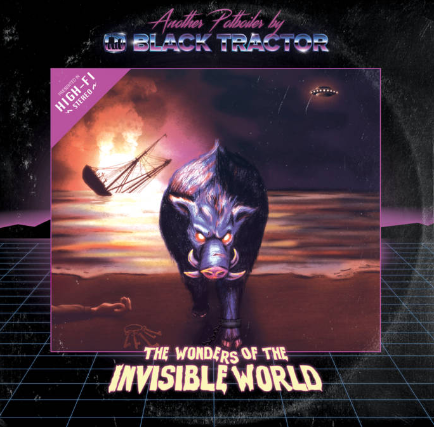 As far as regional heavy metal bands go, Black Tractor has had a fairly good run. An award here, a positive review there, hundreds of drunken shows later they have shown no signs of waning. The past 15 years have seen the band releasing music at an absolutely frenetic pace. 2003 saw the band's debut E.P. "Skidmark of the Beast." Skidmark found favor with both the local press and local drunk metal guys at shows. Knowing they had to release new music while the iron was still hot three years later in 2006 the band released the full length "Someone Call A Priest." Another hit with drunk bar patrons, Black Tractor knew they had found the formula for success and wanted to cash in so in late 2006 the band returned to the studio. They locked themselves in and commited to eighty hour work weeks. After a breakneck 21,600 hours, in 2011 "Applaud My Friends-The Comedy Is Over...A Potboiler By Black Tractor" was dropped on an anxious public. This latest release was a concept album so local critics thought it was arty but local drunk metal guys in battle vests thought it was just another pretty cool Black Tractor record.

In March of 2017 the first negative review of Black Tractor found it's way to the band. James Smith (not LL Cool J) from Dayton, Ohio sent the following message to the band's management after watching Black Tractor open for Jackyl...

"Wow! With out a doubt the worst thing I've ever witnessed. Lead vocalist is a 'complete' a__hole. Soul crushing trash!"

No one knows why James put quotes around complete. But we all appreciate how he spared us his vulgarity.

James' scathing review caused the band to sit down and reflect. After seriously thinking about what James had said the band set out to make their masterstroke. An album that would appeal to critics, drunks, and even the lofty musical pallette of James Smith of Dayton, Ohio.

Enter: "The Wonders Of The Invisible World"

"The Wonders Of The Invisible World" is Black Tractor's newest effort. Eleven songs of uncompromising artistry and verse. The band features a new rhythm section featuring bassist Buzz E. McBeerbringer (Crooked Rook, Another Tragedy) and Tungsten Steele (Bagg, The Scoundrels) on drums. The two players have brought a new vigor to the band even James from Dayton would find hard to defy.

The album is due for a mid to late 2018 release via Shotgun Casserole Records and will be available everywhere.

This author would be remiss if this biography of Black Tractor ended here. Rumors about the band's whereabouts have been swirling about the midwestern music scene for years. It is whispered the band fell on financial hard times in late 2009 and, in an attempt to relieve their financial woes, entered into employ with a struggling Evangelical traveling tent revival. The band was to serve as musical accompaniment and an orator after a fire had claimed the lives of two previous employees. It was here the band saw the money the revival was incurring. It was also here the carnal temptations of the road gripped the band. It is rumored that, in a violent haze of alcohol, christian boobs, cocaine and greed, the band beat their employer, leaving him for dead. Now they restlessly tour the countryside as some kind of heavy metal revival, extracting tax free money from innocent attendees in search of redemption and healing.

Religious fraud charges mount but somehow the band manages to stay ahead of the police and the FBI. They release an incredible album every eight years and keep up a relentless revival/touring schedule. If Buzz E. McBeerbringer, Rock High, El Sid, Tungsten Steele and The Right Reverend Johnny Potatoes come to your town, be warned. It looks like a heavy metal show. It feels like a heavy metal show. It even sounds like a heavy metal show. But know this: what once was a struggling Cincinnati heavy metal band, is now a band of callous criminals. Criminals whose sole purpose is to relieve you of your money, your girlfriend and your weed. My advice to you is stay home. The only thing one stands to gain at a Black Tractor show is an empty wallet, tinnitus and damnation.

That being said, "The Wonders Of The Invisible World," the new full-length LP, is out summer 2018.
​Lipstick Stains
Trevor Saunders