Mad Anthony, The By Gods, JIMS
Fri
June 3, 2022
9:00 pm
(Doors:

8:00 pm

)
The Southgate House Revival - The Lounge
Ages 21 and Up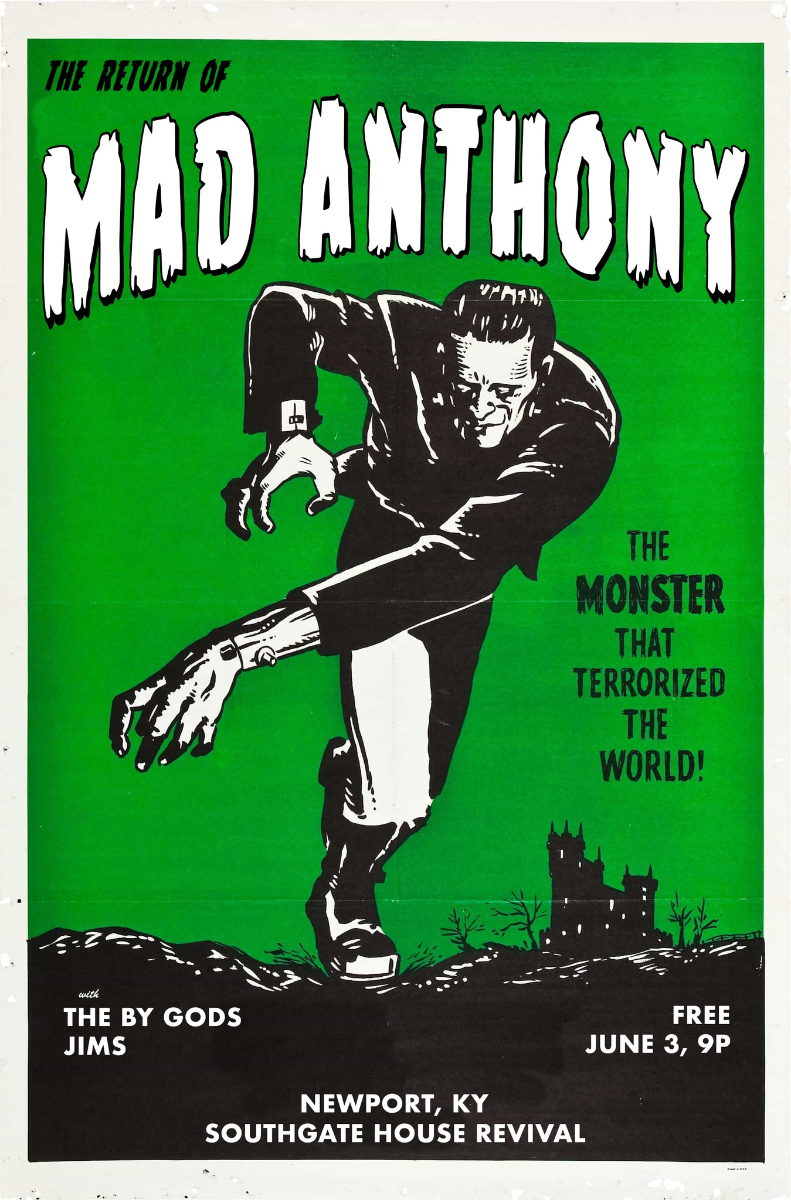 FREE
Mad Anthony
The ferocious three pieces that make up Cincinnati's volatile rock n' roll unit, Mad Anthony, are driven and true. They have enough gumption to fill their big yellow van till it burst at the seams, and enough pride to carry themselves across North America to hundreds of shows year-in and year-out, grabbing headlining spots at North by Northeast, Midpoint Music Festival and Canadian Music Week, they're road worn and quality tested. Dropping 70,000 units of their single 'Bear Attack' in Classic Rock Magazine across Europe, placing songs in the PBS distributed documentary Roller Derby Queens, and regular rotation on college radio airwaves in the towns they infect; Mad Anthony is the RustBelt Revivalists that the next generation of Rock n' Roll needs.

Much has been said about us, but a review of our 2010 Midpoint Music Festival Showcase says it best:

"So what does Mad Anthony play exactly? From its volume and breakneck vigor, it's Punk, pure and simple, but there is so much more at work here. Vocalist/guitarist Ringo Jones is like Iggy Pop channeling the spirit of Mississippi John Hurt in a Dead Boys tribute, screaming until the veins in his neck stand out like bridge cable under his skin. When Jones and guitarist/vocalist Adam Flaig start trading riffs, there's a galloping rhythm that suggests Dave Alvin in his seminal Blasters days with a live power line down his trousers. And the rhythm section of power bassist Dave Markey and new drummer Marc Sherlock is thunder personified... If you see the name Mad Anthony on a telephone pole, get the information and get there. It will change you. "
The By Gods
If it feels like Nashville's The By Gods are trying to drill through your skull to plant their hook- laden songs in your your grey matter, that's precisely the point. Squalls of feedback interrupting repetitive chords signaling the return to a chorus, it's what we've come to recognize as the formula; a recipe for loud/quiet/loud. On their latest outing, Phone Calls, The By Gods have bucked such formulae by purposely pushing the repetition.

The By Gods, composed of Tye Hammonds and husband and wife duo, Natalie and George Pauley, sound at times to meld into a single organism. This is certainly the result of their skills being honed by a steady touring regimen. Tightening the screws an extra turn on an already tight unit seems to have allowed the band to loosen up; favoring mid-tempo chugging to a frantic burnout.

Despite the vibrance of the music there's a vein of anger masked behind the songs' hooks, like a polite smile to accompany a middle finger. The chorus of the titular track, "Phone Calls", "Please pick up my phone calls... Please pick up my phone calls." invokes the image of a phone ringing in another room, like an itch you can't scratch, as the song gradually builds into a fury. The song "Good Lie" wraps a bitter pill in a sweet melody as it serves up an admonishment of the age-old annoyance of the "humble brag", a phenomena that has only worsened with the advent of the ability to curate, via social media, how others see your life.

The Phone Calls EP is the third release in as many years from the Nashville-based band and the second as a trio. The EP manages to capture the urgency of their live show as expertly recorded by Mike Purcell at County Q in Nashville.

With this release, The By Gods show no signs of slowing down or settling in. Unlike an actual phone call, ignoring them is not an option.
JIMS
aka JIMS & his Mandareenians
Since 1996, at the ripe age of 11, JIMS has been performing his unique blend of styles and movements that have held a profound influence through the years. Holding frontman/guitar duties with his early projects Code Red, GDS and Prick B. Mafia, once he reached his 20s he started up his longest project to date, Sweet Ray Laurel.

During the same period he was moonlighting as a drummer in Silver Bridge Disaster then as guitar and vocalist in Good Night Noises. Soon after he picked up the sticks again for Martin Luther & The Kings and then Smoke Signals… respectively.

In addition to two unnamed new secret projects, JIMS continues to play with Sweet Ray Laurel and Smoke Signals… while also performing solo.

Alone on the stage armed with just an acoustic guitar and loop station, his songs reflect a love for all styles of music ranging from punk, world, folk and everything in between. The years of influence and experimentation with various groups has helped mold a unique, concise and focused approach which, is evident in his compositions.

Always opting for the most visceral and vulnerable outlet, his solo output is every bit of raw, in-your-face, personal and delicate as you may expect as a document of such a storied sonic past.

JIMS is currently in the process of producing his debut solo album which, should see a release during Summer of 2015 on the label//collective he helps curate with his older brother, AndRecordings.