D Boone Pittman
Fri
May 26, 2023
10:00 pm
(Doors:

9:00 pm

)
The Southgate House Revival - The Lounge
Ages 21 and Up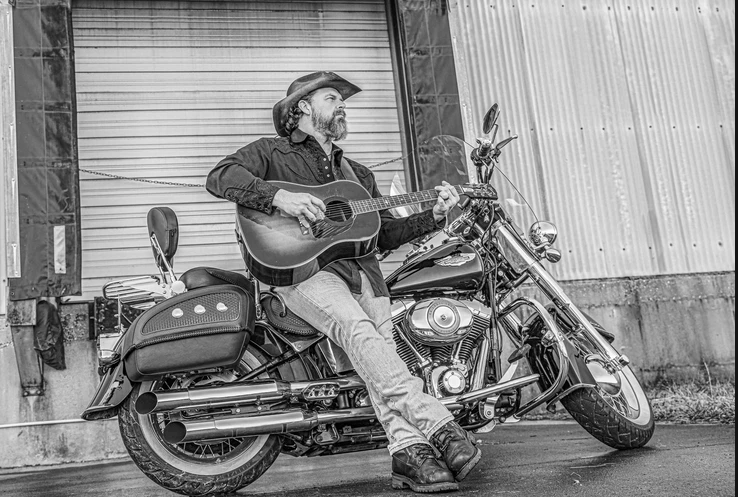 FREE
D Boone Pittman
With his sophomore album Emerge, D. Boone Pittman once again makes Eastern Kentucky seem as mythical, alluring and inviting as any setting that's ever been immortalized in song.
We've all come to know and love places because songs have inspired us to daydream about them: Memphis, El Paso, New Orleans, San Francisco, L.A.—from "Sweet Home Alabama" to "the South South Bronx." But the scenery we encounter in Pittman's songs is distinct in that he's not just a troubadour passing through and observing for a night before heading for the next show. In fact, any place would be lucky to have a D. Boone Pittman to reveal its charms, its limitations, its stories, its humanity—its truth—to the world.
Having grown up in the Powell County town of Stanton, it's as if the lay of the land has soaked into Pittman's bones. And even when he touches on travails—be they his own or the more collective challenges he addresses for all of our benefit on Emerge—his love of home pours into every note of his rockin' blend of country and bluegrass.
On the title track, for example, Pittman (who is also a pastor) grapples with the disintegration of our social fabric over a smooth, anthemic—and rather upbeat—Tom Petty-inspired country rock groove. Conversely, Pittman closes the album by extolling the value of resilience over a plaintive piano ballad on "Rise." And of course, he takes us to the Kentucky of his childhood on songs like "Jordache Jenny" and "Casey Jones," which weaves youthful nostalgia together with old lore, reminding us that the figure made famous by the Grateful Dead was actually a native of the area.
Pittman's musical story begins in the early 1970s at the grand opening of the local town drug store. His late father, from whom Pittman would later inherit his trademark Martin D-28 acoustic guitar, basically forced him to sing a Johnny Cash song, much to the delight of the crowd that had gathered there. Pittman, though he immediately received enthusiastic accolades and even tips, wasn't havin' it.
"I hated it," he recalls, "but I secretly loved it. In my room, I'm playing air guitar and pretending to be Elvis, but to do it in public as a kid was really tough. It wasn't that I struggled doing it, it was just more the fact that I was being made to do something. That ended up driving me into a phase where I refused to sing out in public at all."
Even going to a Johnny Cash concert at the age of 5 with his mother wasn't enough to lure Pittman back into the spotlight, and transcribing the lyrics to hit songs off 45s for his father didn't quite do the trick either—but it did lay the groundwork for the lyrical depth and flair that Pittman showed so effortlessly right off the bat with his 2019 debut Bluegrass American Dream.
"My dad would pay me a dollar a song to sit down and figure the words out for him," Pittman chuckles. "I have to really question how good I was at it because I was so young, but I guess he was able to use it. Who knows how many of the lines I'd get right at the end of the day, but I think that's when I got my first appreciation for lyrics."
"Back when I was 7 or 8," he continues, "country rock was really big, and 'Lyin' Eyes' by The Eagles was a big hit. I remember that song specifically because there were so many verses in it. Even at that age, I could appreciate the darkness behind the cheating and the lying and everything in that song."
Pittman's resistance to performing in front of people went out the window, however, when he got the opportunity to go on a field trip as a freshman in high school.
"All the girls were going," Pittman laughs. "It was an academic competition and they had a talent category. I specifically remember the teacher saying, 'I need somebody to fill the talent spot. You get to go on this three-day trip to Louisville and compete.' So I raised my hand. 'Well what's your talent?' he asked. And I said, 'I sing and play guitar.' Nobody knew I sang and played guitar—because I didn't! So I'm thinking I've got six weeks between now and this talent show, and that was when I had to swallow my pride. I go to my dad and I'm like, 'Look, I'm ready to learn how to play guitar. I want to do this.' And my dad was like, 'You're crazier than hell—I can't teach you how to play in six weeks!' I was like, 'Just think of the easiest two-chord bluegrass tune that you know and I'll run with it.' So he taught me how to play a medley of Jimmy Brown The Newsboy and Wildwood Flower, but his style of playing was like Maybelle Carter, where they played the melody and the rhythm at the same time."
The trip, alas, got cancelled, but Pittman's life path was set. (By the way, he learned the song in four weeks.)
"There was just no running from it," he muses. "I had an undeniable love for music, and singing came naturally to me. I've never put it down since."
As a tribute to his father, Pittman adopted The Fugitives band name, but he sees his work as carrying-on an even broader legacy.
"I grew up in an environment where it was a common thing for people to bring their instruments over on the weekends—banjos, fiddles and guitars where everybody was singing and just having a good time. That was a really crucial aspect of my childhood. I really miss that. You don't have that front-porch picking kind of spirit anymore, at least not where I'm at. So whatever I can do to bring it back with my music, I feel like I have to at least try."
In other words, Pittman is inviting you back home—back home to a world that still has room for community, back home to the most cherished aspects of your past and back home to yourself. You don't have to be from Kentucky for Emerge to take you there, but D. Boone Pittman sure does make it seem like a wonderful place to explore on the way.