The Deslondes, Esther Rose
Wed
June 28, 2023
8:00 pm
(Doors:

7:00 pm

)
The Southgate House Revival - Sanctuary
Ages 18 and Up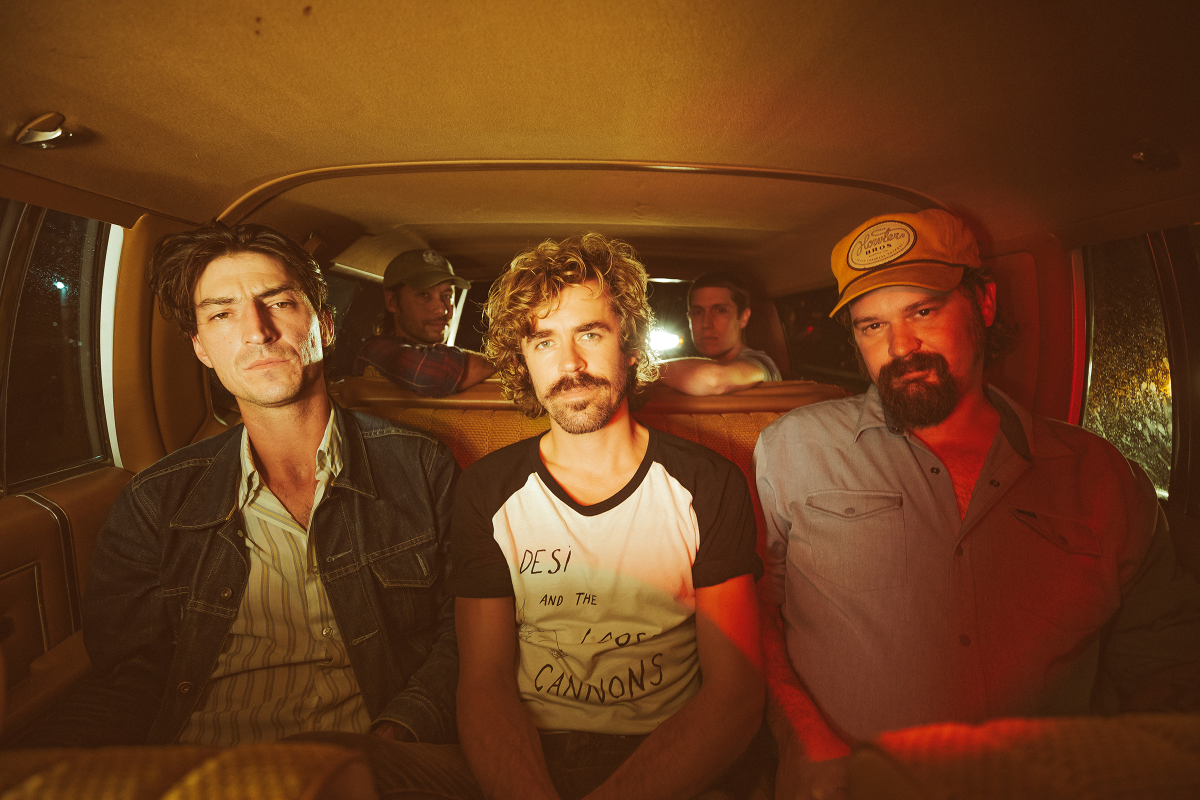 $15 adv/ $20 dos
We shed old skin in order to evolve and move forward. We let go of who we were in the past and embrace who we're meant to be now. The Deslondes have taken such steps as not only bandmates, but as brothers. The New Orleans quintet—Dan Cutler, Sam Doores, Riley Downing, Cameron Snyder, and John James Tourville—have weathered ups, downs, and everything in between only to strengthen the bond between them.
Infusing everything from saxophone, flute, and synth to string arrangements and a full drum kit for the first time, the group naturally progress and evolve in real-time on their third full-length offering, Ways & Means [New West Records].
The Deslondes
We shed old skin in order to evolve and move forward. We let go of who we were in the past and embrace who we're meant to be now. The Deslondes have taken such steps as not only bandmates, but as brothers. The New Orleans quintet—Dan Cutler, Sam Doores, Riley Downing, Cameron Snyder, and John James Tourville—have weathered ups, downs, and everything in between only to strengthen the bond between them.
Infusing everything from saxophone, flute, and synth to string arrangements and a full drum kit for the first time, the group naturally progress and evolve in real-time on their third full-length offering, Ways & Means [New West Records].
"The title reminds me of being young, getting into the music business, going through everything, and coming out of it," Riley observes. "We're taking a look right, left, and back at ourselves."
"We were letting go of a bunch of old dynamics that left us burnt out," adds John James. "However, we're focused on being productive and on the other side."
The "other side" might just be their brightest yet. The Deslondes revealed their self-titled debut to widespread tastemaker applause during 2015. However, they really hit their stride on Hurry Home in 2017. Right out of the gate, Noisey proclaimed, "The Deslondes have found a comfortable sound to create art in, and it serves them well," while Rolling Stone noted, "The Deslondes' take on country relies on a gritty, grimy mix of early rock 'n' roll and lo-fi R&B." In addition to praise from American Songwriter, Paste, The Boot, and more, the record closed out the year on Uncut's "Favorite Albums of 2017."
Then, the musicians opted to quietly take a break. In the meantime, Sam shared his self-titled debut as Riley also served up his solo album, Start It Over. Maybe it was something in the air, but 2021 seemed like the perfect moment for the boys to pick up where they left off.
"I reached out to everybody individually," recalls John James. "Dan's got kids, and I've got kids. We'd been touring for a long time. Once I called, it seemed like everyone was really into it. We were excited about doing it again."
"I was in Lawrence, KS visiting my folks at the height of the Pandemic," Sam remembers. "I was walking down Massachusetts Avenue on a Sunday morning and wondering what I had left to give the world. Perhaps, I was experiencing a mild existential crisis from living off unemployment and facing the cancellation of my album release tours. Luckily, my phone rang. John James asked how I'd feel about making another Deslondes record with so much genuine enthusiasm it was contagious. We all owe it to him. Instinctually, a resounding 'Hell Yes' came out of my mouth."
Missing the camaraderie, the guys congregated at old haunt The Tigermen Den. Together, they worked out the songs before they entered the Bomb Shelter with longtime producer Andrija Tokic. This time around, members brought in a host of ideas and agreed upon the process before recording.
"We came to some personal agreements about how everything was going to go down in advance," Dan elaborates. "From experience, we realized what we liked and who was good at what. In terms of the studio, it was probably the easiest album we've ever made. Usually, we're too busy touring to put a lot of thought into pre-production and ideas. This was definitely the most prepared we've ever been beforehand."
The preparation shines on the likes of the first single "South Dakota Wild One." On the track, harmonica wails over acoustic strumming. Simultaneously, Riley's grizzled and gruff delivery simmers above a slow burning beat punctuated by a soulful lead.
"It's a nostalgic song about getting into music, traveling, and running into the special people who were around then, but aren't around now," notes Riley.
Elsewhere, the opener "Good To Go" saunters on airy electric piano towards a heavenly and hummable saxophone solo.
"If 'South Dakota Wild One' was the beginning of traveling and playing music, 'Good To Go' is where we're at now," Riley continues. "We're still out here. We're still good to go. The songs bookend each other."
Then, there's "Dunes." A twang-y riff underscores a fifties-style melody as guitar echoes. "It's about the arc of a love affair—a relationship that went wrong eventually," Dan says. "It explores the symmetry of a relationship and how things come full circle in our life."
The dreamy "Five Year Plan" nods to Harry Nilsson with its dusty bliss, plinking keys, and cinematic orchestration. Album closer "Hero" takes flight on soaring slide guitar and wistful vocal delivery.
"I grew up in a real tight-knit family in the country," Riley goes in. "We all pitched in to take care of my grandmother at the end of her life. We're our own heroes to our families and friends. I needed to write the song to remind myself you can be your own hero. If it helps me, maybe it will help someone else."
In the end, The Deslondes draw on their own familial union to forge a similar connection with listeners.
"To us, this is family," John James leaves off. "It's a part of our lives. When you hear our music, I hope you feel like you're hanging out with us. The band's back together now, and it just feels good."
"Riley, JJ, Dan, and Cam are my brothers," Sam concurs. "We've all been through so much together. I don't think any of us will have that experience with another group of people again in our lives. Sometimes, we drive each other crazy of course, but we're family. I'd take a bullet for any of those geezers."
Esther Rose
"I'm always changing," Esther Rose sings at the top of her sophomore album, 'You Made It This Far.' The line is at once a promise and a plea, a concise distillation of her commitment to evolution as well as her dogged determination to meet every challenge in her path with unconditional acceptance. Laid-back yet deliberate, her delivery here marries old-school country and rural folk with a plainspoken philosophy that's thoroughly modern, and the end result is a record that's as joyful as it is restless, one that weaves fiddle and lap steel around profound revelations, late night conversations, and all the moments in between.
"There's this theme of radical acceptance running through the whole album," Rose explains. "I didn't realize it until after I'd finished writing the songs, but they all came from this place of trying to understand and truly accept myself and others in our most vulnerable moments of confusion or despair."
A New Orleanian for the last decade, Rose first gained national prominence with the release of 2017's 'This Time Last Night,' an intoxicating debut that prompted Fader to praise her "honest, gorgeous country songs" and rave that "her voice has a pitched-up June Carter quality, her melodies are simple like Jimmie Rodgers's, and her tone is reminiscent of bluesy, lovelorn greats like Rex Griffin and Patsy Cline." The record earned Rose festival performances from Savannah Stopover to AmericanaFest alongside dates with The Punch Brothers, Pokey Lafarge, and The Deslondes, and it even caught the ear of fellow Detroit native Jack White, who was so taken with the music that he invited Rose to duet with him on his 'Boarding House Reach' album.
"Recording with Jack was a really great fit because he likes everything to be a little messy and a little improvised and a little raw," says Rose, who would go on to share the stage with White at Jazz Fest. "That's exactly how I like to work, too."
Rose's journey from Michigan to Louisiana was nothing if not a little improvised. Though she grew up adoring musicals and singing three-part harmonies with her sisters, she never considered music to be a serious career option, instead spending her early 20's letting the current carry her from town to town and job to job.
"I was just floating around kind of aimlessly," she reflects. "I moved to Vermont for a while, and then I came back to Michigan and lived in Flint and Ann Arbor, where I would waitress during the day and stay up all night writing songs in my bedroom. I met a guy who lived in New Orleans and it sounded like fun, so I moved down there."
While the relationship ultimately didn't last, Rose's connection with the city did, and for the first time in her adult life, she began planting roots.
"I found what I always needed in New Orleans," she says. "The slow pace, the low buildings, the walkable neighborhoods, the weekly music events. I was always searching for a place like this."
Embracing the local spirit, she found work singing traditional jazz and blues tunes, channeling Memphis Minnie and Ida Cox as she performed in the bars and clubs lining Frenchmen Street. As much as she loved that music, though, Rose never really saw herself as an interpreter of song.
"The original recorded versions of those old blues songs were so beautiful and perfect that I never felt any accomplishment in singing them myself," she explains. "I was writing my own songs at the time, but they always got swept under the rug for being a little too different or a little too weird. I was lonely for a community until I discovered the folk scene and met all these other artists writing and singing their own music."
Rose was itching to dive in headfirst, but there was a problem: she didn't know how to play guitar. Up to that point, she'd primarily been an accompanist, singing other people's songs and playing percussion in other people's bands.
"It was daunting to pick up a guitar for the first time at 27," Rose reflects, "but something switched inside of me and I began to feel this vast, unlimited potential that made me question everything and wonder what was possible. I devoted every spare minute to figuring out the guitar, and I loved the sense of discovery that came with learning how to play all these songs I'd written through the years."
While writing the songs that would become 'You Made It This Far,' Rose found herself working through a period of tumultuous change, grappling with a breakup, a move, and a family illness all at once. Splitting her time between New Mexico and New Orleans, she pondered what it takes to love and to be loved, to be vulnerable enough to let someone in and brave enough to face the pain when they're gone. When it was time to record, she teamed up with the analog gurus at Mashed Potato Records in New Orleans and cut the entire album live to tape in just four days.
"The record starts and ends solo acoustic," Rose explains, "but in between those moments, it's me and the band. I used to feel a lot of anxiety about opening up and expressing myself, but my band really helped me find my voice."
Throughout the record, Rose's voice shines on playful, seesawing melodies, channeling the idiosyncratic twists and turns of Joni Mitchell on tunes like the infectious "Only Loving You" and tapping into loping delivery of Hank Williams on tracks like the timeless "Rio En Medio." "Handyman" is a question of a song that finds Rose yearning for a fresh start, while "Don't Blame It On The Moon" (written just days before the final recording session) searches for clarity within the free-fall of a disintegrating relationship, and "Always Changing" is an ode to empathy.
"I wrote that song as a reminder to myself," she explains. "It's about treating yourself and those around you with kindness, looking for the best version of yourself, and striving to always do a little better next time.
Rose tackles nostalgia and regret on "Three," grappling with her parents' decision to sell the family farm while she remained a city-dweller in New Orleans, and sinks into the icy Michigan winter on "Five Minute Drive," harkening back to morning drives with her sister as a teenager, when the days seemed to last forever and she could barely wait to get out into the world on her own.
"Those are both memory songs," Rose explains. "I think of songwriting as time travel, and writing those tunes was a way for me to visit places and moments that are long gone and to keep track of everything that's happened to me over the years."
While Michigan turns up throughout the record, New Orleans and New Mexico are Rose's most frequent settings, serving as both literal and metaphorical backdrops as she seeks balance between the wild and isolated natural beauty of the southwest and the romance and electricity of city life. "Lower 9 Valentine," for instance, plays out more like a love song to a neighborhood than a person, and the sultry "Sex and Magic" gives voice to lust and desire in a way that would have seemed impossible to Rose before she landed in New Orleans.
Perhaps, ultimately, that freedom helps explain why Rose became a songwriter in the first place. With a guitar in hand, she's free to say the things she's always felt but never known how to express, free to access the feelings and thoughts and memories that might otherwise be out of reach, free to, quite simply, be herself. "Can't you feel me changing?" Rose sings on the album. The answer is a resounding yes.