The Hooten Hallers & Tejon Street Corner Thieves
Sun
April 30, 2023
8:00 pm
(Doors:

7:00 pm

)
The Southgate House Revival - Sanctuary
Ages 18 and Up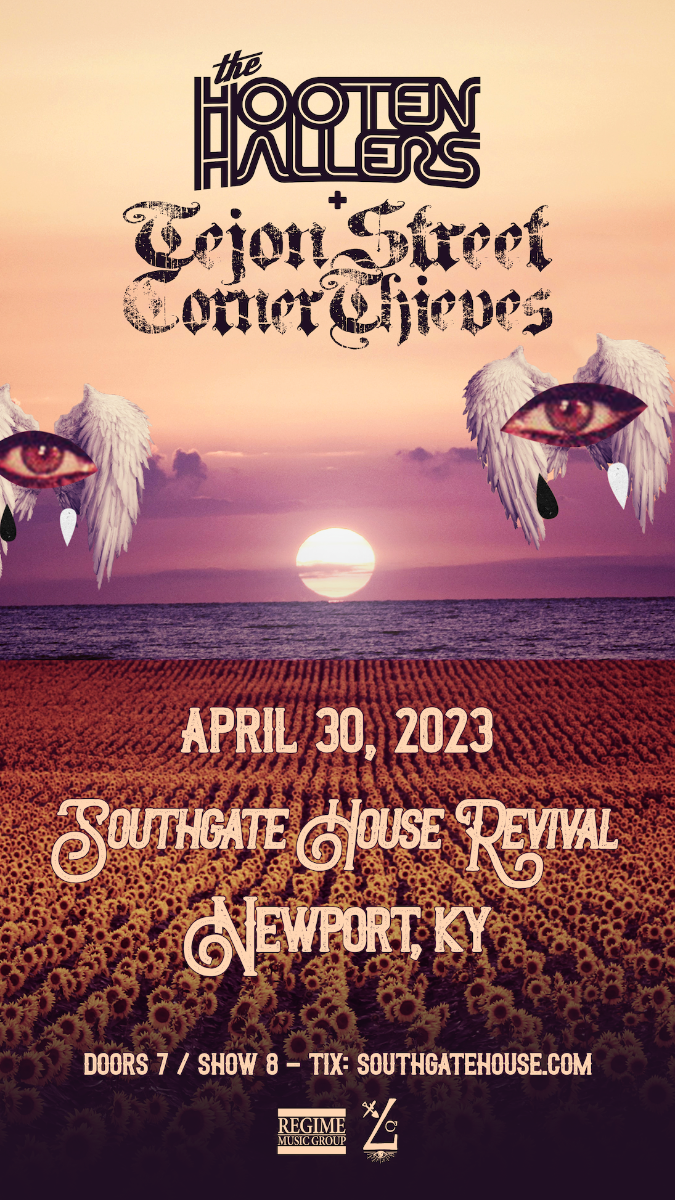 $20 adv/$25 dos
The Hooten Hallers
For the past fifteen years, The Hooten Hallers have been crisscrossing the country as inveterate road warriors, bringing their peculiar vision of Americana–a fiery rock and roll fever dream birthed in Missouri's fertile musical heartland. They've put so many miles into the road that they've burned through multiple tour vans and left twisted metal and frayed rubber strewn across the road behind them. With their aptly named new album, Back In Business Again, the trio roar back on to the international stage with ten incendiary new original songs drawn from their many travels and inspired by the hardships that all touring musicians have faced throughout a seemingly never-ending pandemic. There's hope in these new songs, but tinges of madness too, driven by the raw drumming and falsetto howl of Andy Rehm, the infernal growl and swirling guitars of John Randall, and the low rolling baritone and bass saxophones of Kellie Everett. The Hooten Hallers have always been musical colliders, smashing together everything from pre-war jazz to Chicago blues with jaunts around New Orleans and garage rock explorations with hints of punk rock. It's Morphine meets ZZ Top mixed a dash of George Thorogood and Tom Waits along St. Louis' Mississippi waterfront. Produced by bassist Dominic Davis (Jack White, Greensky Bluegrass), Back In Business Again takes a match to The Hooten Hallers' fuse and explodes the renegade power trio to the edge and back again, one vigorous, swinging, perfectly peculiar song at a time. Bubbling beneath the rip-roaring surface of the new album are all-original songs of outsider Americana delight, from tall tales about near-mythological characters, to a eulogy commemorating the demise of 15 years worth of tour vans, to heartfelt blues, thoughtful love songs, and well beyond. Listening to the howls and growls of The Hooten Hallers' new album, to the burning sax lines and powerful drumming, you'll hear the pure joy of this band reveling in their newfound groove.
Tejon Street Corner Thieves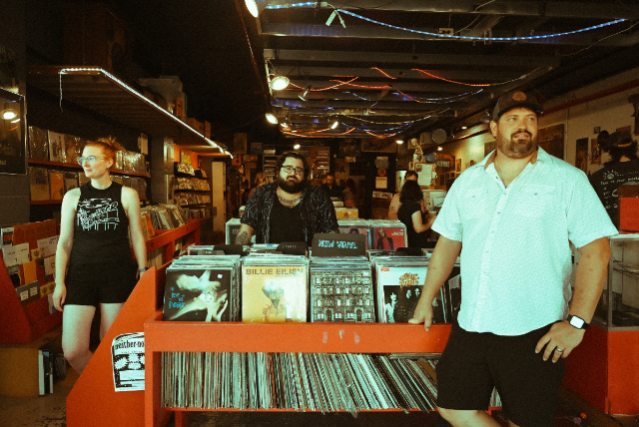 Outlaw Alt-Folk group Tejon Street Corner Thieves hails from the Rocky Mountains of Colorado, bringing new energy to the Bluegrass genre by mingling darker subjects and tones with depth-driven lyricism and performative musicianship.
The musicians behind Tejon have been playing together since 2013, where they gained momentum in the local Colorado scene with accolades and press coverage around the state, spanning from Colorado Springs' Colorado Springs Gazette to Denver's 303 Magazine. The band eventually caught the eye of Banjo-attacking murder folk troubadour Amigo The Devil and signed to his recently-launched record label Liars Club.
Tejon Street Corner Thieves released their latest project 'Thick As Thieves' on May 20th, 2022 a 12-track LP. The record was recorded at Royal Recordings in Colorado Springs with producer Bill Douglas, and combines Americana, folk, and bluegrass into an intoxicating mix with a unique outlaw, trash-grass twist.
Over the past few years, Tejon has grown out of their local acclaim, becoming a national voice amongst the Bluegrass community for both their unique sound and charming antics. Following the COVID-19 shutdown, Tejon got extensive news coverage when the band took to the road (on a school bus), performing their music for fans from a safe distance. Their ingenuity brought in a stream of new fans, propelling their music mainstream.
Tejon is set to embark on an extensive tour in 2023, headlining a string of dates.
For all upcoming TSCT tour dates, head to: https://www.cornerthieves.com/tour