J.D. Pinkus, Joecephus and The George Jonestown Massacre, Dead Man String Band
Fri
July 28, 2023
9:00 pm
(Doors:

8:00 pm

)
The Southgate House Revival - Sanctuary
Ages 18 and Up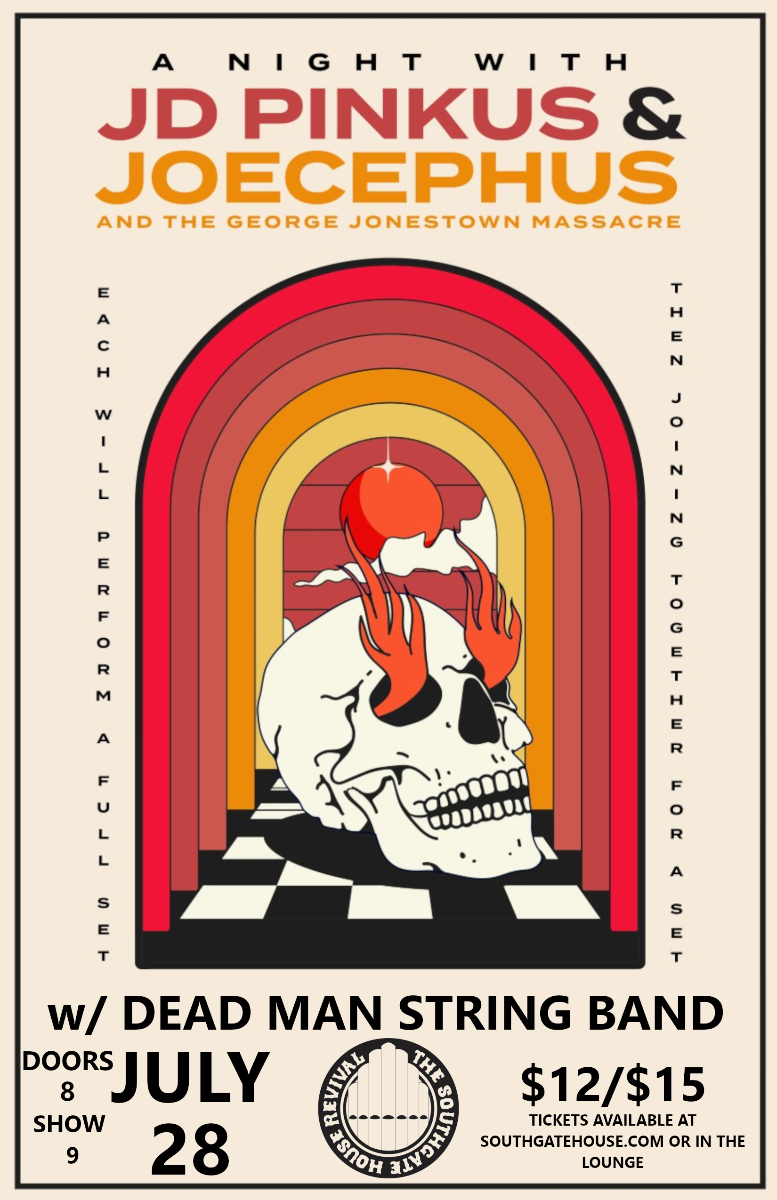 $12 adv/ $15 dos
J.D. Pinkus
Jeff 'J.D.' Pinkus is an American bassist best known for his work with American punk band Butthole Surfers from 1985 to 1994 and since the 2009 reunion.
In 1990, he and Butthole Surfers' lead vocalist Gibby Haynes released Digital Dump, the only album from their psychedelic house music side project The Jackofficers.
Upon leaving Butthole Surfers, Pinkus worked full-time with the Austin trio Daddy Longhead, which he had assembled during his waning months in the band, and which included longtime Atlanta associate Jimbo Young on guitar and Rey Washam on drums. Daddy Longhead retired after 10 years, leaving Pinkus free to explore other projects including Skinny Leonard and Areola 51. Pinkus played with Helios Creed on his albums 'NUGG: The Transport'[1996] and 'Activated Condition' [1998], and has also collaborated with Bad Livers frontman Danny Barnes several times in a live setting.
He currently appears with Honky and has in the past played weekly on Monday nights at the Jackalope, in Austin, Texas, with an assortment of other musicians called the Guit Down Syndrome.
​Pinkus also performs with Pure Luck,who released a self-titled release in 2017 on Heavy Feather Records. He leaves his bass to play Banjo and Guitar in this project.
On their 30th anniversary tour in 2013, Pinkus joined the Melvins[3] in place of Jared Warren (on paternity leave) as well as performing with the opening Honky. He subsequently joined the Melvins full-time, touring with them in 2014 in support of the album Hold It In, which also featured Butthole Surfers founder Paul Leary, and again in 2015. He also plays on the song "Captain Come Down" which was first released in 2015 on Chaos as Usual, a split release with Le Butcherettes, and later included on the 2016 album Basses Loaded.
In 2018, J.D. Pinkus released a solo album, "Keep on the Grass" on Cassette tape on Minner Bucket Records and Compact Disc on Heavy Feather Records. It was recorded entirely on banjo and features a rendition of the song "Bride of Crankenstein" from the Melvins album Hold It In. The C.D. release show is with Sleep in San Pedro on September 15th 2018.
On February 12, 2018, the Melvins announced that Pinkus would be joining them, alongside current bassist Steven McDonald (Redd Kross), on their next album and subsequent tour. Released on April 20, 2018, the aptly titled Pinkus Abortion Technician features both bass players and four songs written or co-written by Pinkus.
Joecephus and The George Jonestown Massacre
Blazing a trail out of Memphis, Tennessee, Joecephus and the George Jonestown Massacre are on a
roll. Having been referred to as "a cross between Motorhead and Merle Haggard," the band in their 13
years of touring can be heard regularly on Sirius XM and have shared the stage with such diverse artists
as Johnny Winter and Shooter Jennings to Rev. Horton Heat, HR of Bad Brains, Antiseen and many
more, Joey "Joecephus" Killingsworth and his revolving band are bringing their full auditory assault to
any venue that can take it. Their latest release now available from Saustex Records is called 5 Minutes
To Live : A Tribute to Johnny Cash and features guests from original Cash drummer WS Holland to
members of The Butthole Surfers, Melvins, Nick Cave's Bad Seeds and The Birthday Party. All the
bands profits from this release is going to The FSH Society for Muscular Dystrophy Research.
Dead Man String Band
Down to hell and back again is one way to put the feeling behind a lot of the songs currently coming from Dead Man String Band fronted by Northern Kentucky's Rob McAllister. With songs of loss, persistence, and a little tongue in cheek.
Dead Man String Band has headlined the stage at Fountain Square (Cincinnati), played Bunbury Music Festival, headlined the CincyMusic Relaunch Party (2016), and is a staple in the Northern Kentucky and Cincinnati Music Scene.