Black Owls, Heavy Hinges, Tigerlillies
Sat
August 19, 2023
8:00 pm
(Doors:

7:30 pm

)
The Southgate House Revival - Sanctuary
Ages 18 and Up
$5 adv/$10 dos
Black Owls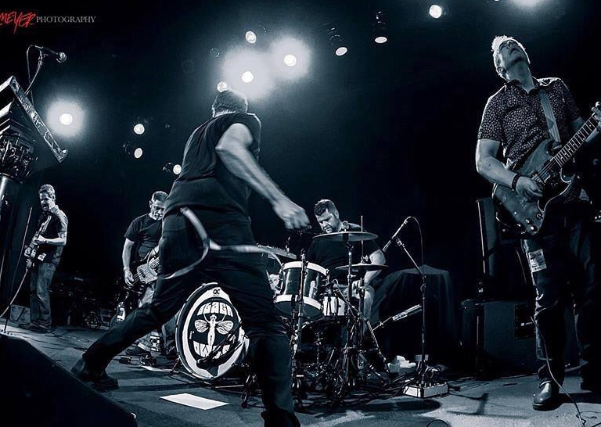 "The thing that Black Owls does infinitely well is mash their British Invasion/Punk influences into a thick paste and apply it in broad trowel strokes to their distinctly Midwestern presentation, crafting a sound that is both maddeningly familiar and strikingly original. Dig: A parallel-earth Ian Hunter is born in Detroit and forms a garage-band Mott the Hoople after seeing Mitch Ryder and Iggy Pop, and still manages to obsess over Dylan and Bowie."
- Midpoint Music Festival Critic's Pick
Heavy Hinges
Heavy Hinges is a sublime ruckus… a beautiful collision of rock, soul, gospel, and roots music. When Heavy Hinges came about in early 2012, their earliest sessions were taken on with heavy hearts. Three of the five members had recently suffered heartbreaking and unexpected loss of loved ones and were still very much coping. While the music they were creating was conceived from a place of sadness, what came forth from them was rather spirited and in a way celebratory… a revival of sorts.
Initially, the group gravitated toward playing old traditional numbers, unearthed from field recordings of chain gangs, gospel groups, and fishing boat crews. They found the coarse and rustic nature of the music and the dark, yet hopeful imagery of the lyrics suited them well. While songs from the past proved inspiring and fruitful, it was never their intention to travel down a musical path quite that narrow. So, they began writing their own story, adding more layers to their evolving style. They frequently referenced the gospel groups, chain gangs, and fishing crews from those old recordings, all the while remaining true to their existing foundation of r&b, blues, and rock & roll…
Heavy Hinges have just released the follow-up to their acclaimed albums Mean Old City and Cause a Scene with their latest effort entitled Lonely. The band is currently supporting the newly released EP with live performances and a series of radio interviews and on-air performances. Heavy Hinges is planning a fall/winter tour later this year.
Tigerlillies