The Super Satan Show presents SANTAHAIN: The Christmasing 2023
Sat
December 23, 2023
8:30 pm
(Doors:

8:00 pm

)
The Southgate House Revival - Sanctuary
Ages 18 and Up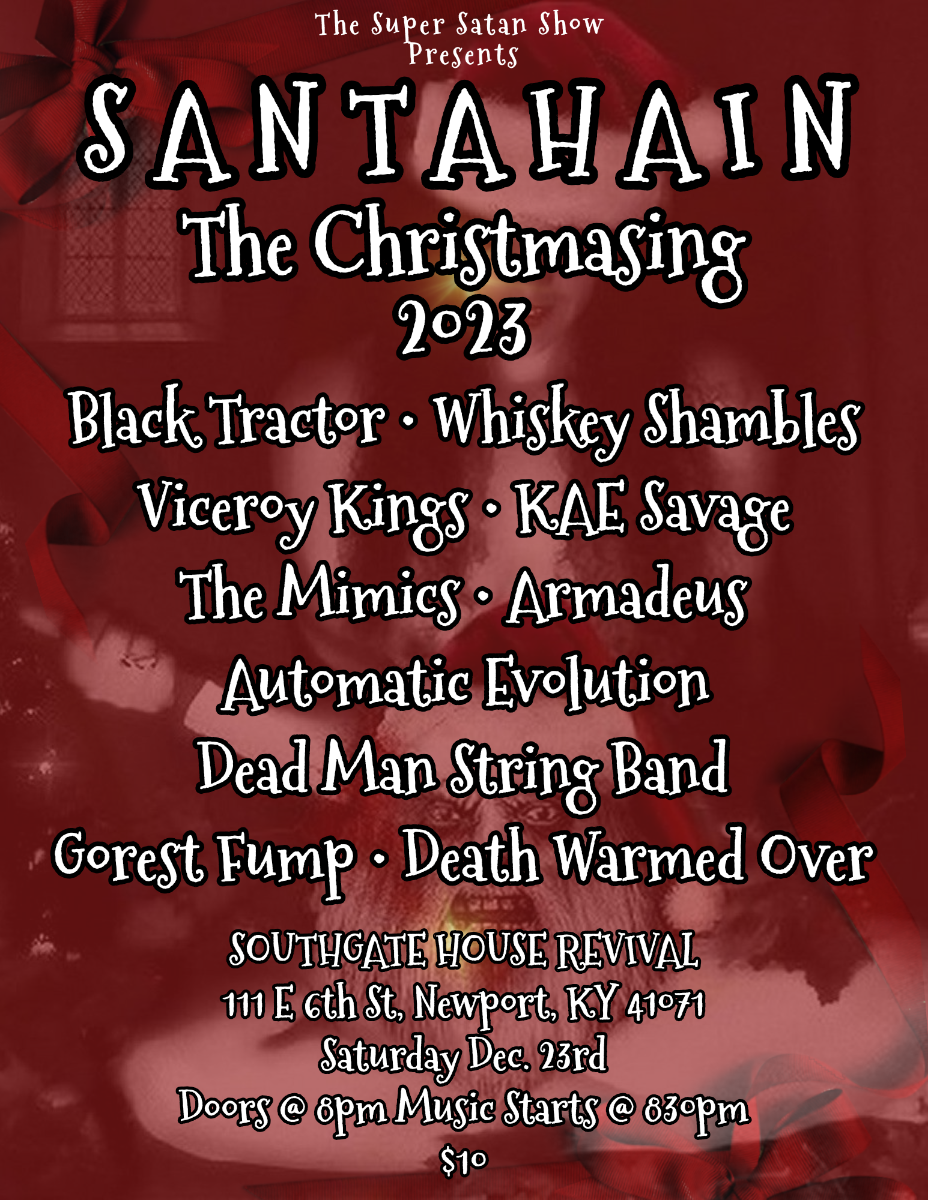 $10
Whole House Event!
Black Tractor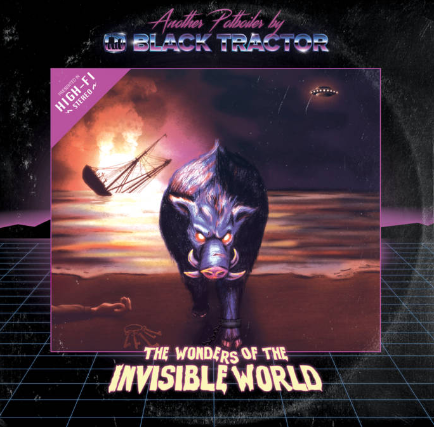 As far as regional heavy metal bands go, Black Tractor has had a fairly good run. An award here, a positive review there, hundreds of drunken shows later they have shown no signs of waning. The past 15 years have seen the band releasing music at an absolutely frenetic pace. 2003 saw the band's debut E.P. "Skidmark of the Beast." Skidmark found favor with both the local press and local drunk metal guys at shows. Knowing they had to release new music while the iron was still hot three years later in 2006 the band released the full length "Someone Call A Priest." Another hit with drunk bar patrons, Black Tractor knew they had found the formula for success and wanted to cash in so in late 2006 the band returned to the studio. They locked themselves in and commited to eighty hour work weeks. After a breakneck 21,600 hours, in 2011 "Applaud My Friends-The Comedy Is Over...A Potboiler By Black Tractor" was dropped on an anxious public. This latest release was a concept album so local critics thought it was arty but local drunk metal guys in battle vests thought it was just another pretty cool Black Tractor record.

In March of 2017 the first negative review of Black Tractor found it's way to the band. James Smith (not LL Cool J) from Dayton, Ohio sent the following message to the band's management after watching Black Tractor open for Jackyl...

"Wow! With out a doubt the worst thing I've ever witnessed. Lead vocalist is a 'complete' a__hole. Soul crushing trash!"

No one knows why James put quotes around complete. But we all appreciate how he spared us his vulgarity.

James' scathing review caused the band to sit down and reflect. After seriously thinking about what James had said the band set out to make their masterstroke. An album that would appeal to critics, drunks, and even the lofty musical pallette of James Smith of Dayton, Ohio.

Enter: "The Wonders Of The Invisible World"

"The Wonders Of The Invisible World" is Black Tractor's newest effort. Eleven songs of uncompromising artistry and verse. The band features a new rhythm section featuring bassist Buzz E. McBeerbringer (Crooked Rook, Another Tragedy) and Tungsten Steele (Bagg, The Scoundrels) on drums. The two players have brought a new vigor to the band even James from Dayton would find hard to defy.

The album is due for a mid to late 2018 release via Shotgun Casserole Records and will be available everywhere.

This author would be remiss if this biography of Black Tractor ended here. Rumors about the band's whereabouts have been swirling about the midwestern music scene for years. It is whispered the band fell on financial hard times in late 2009 and, in an attempt to relieve their financial woes, entered into employ with a struggling Evangelical traveling tent revival. The band was to serve as musical accompaniment and an orator after a fire had claimed the lives of two previous employees. It was here the band saw the money the revival was incurring. It was also here the carnal temptations of the road gripped the band. It is rumored that, in a violent haze of alcohol, christian boobs, cocaine and greed, the band beat their employer, leaving him for dead. Now they restlessly tour the countryside as some kind of heavy metal revival, extracting tax free money from innocent attendees in search of redemption and healing.

Religious fraud charges mount but somehow the band manages to stay ahead of the police and the FBI. They release an incredible album every eight years and keep up a relentless revival/touring schedule. If Buzz E. McBeerbringer, Rock High, El Sid, Tungsten Steele and The Right Reverend Johnny Potatoes come to your town, be warned. It looks like a heavy metal show. It feels like a heavy metal show. It even sounds like a heavy metal show. But know this: what once was a struggling Cincinnati heavy metal band, is now a band of callous criminals. Criminals whose sole purpose is to relieve you of your money, your girlfriend and your weed. My advice to you is stay home. The only thing one stands to gain at a Black Tractor show is an empty wallet, tinnitus and damnation.

That being said, "The Wonders Of The Invisible World," the new full-length LP, is out summer 2018.
The Whiskey Shambles
Hollering tales of murder, betrayal, debauchery, and long, dark Saturday nights of the soul. Stripped raw, bruised, and cracking a bloody, split-lip grin, The Shambles deliver a loud, belligerent style of demonic hill-stomp blues that almost . . . but not quite . . . betrays an air of subtle sophistication lingering just around the edges. "Rough garage rock & dirty basement blues that kicks you right in the gut bucket." Whatever you call it, The Whiskey Shambles sure enough get asses shakin and heads rockin — and that ain't no half-steppin! This is the hard part, nephew. Whooooo well well.


The Tale
One day and many moons ago, Brother James rolled up to Nathan on the street: "Hey, man, I was thinking we should do a heavy garage blues band. And drink. You wanna make with the deep pipes, the guitar, and the face?" Nathan shot back: "Sho 'nuff." Several years later they were still drinking, listening to, and talking about music, but hadn't actually played a note together. Finally they sobered up enough to put together some originals. Nathan then woke up his old pal Aaron and said: "You wanna get drunk and pound on stuff?" Aaron explained that he was already drunk, so they handed him some sticks, and thus The Whiskey Shambles were born.

While recording their first studio album, they were drawn to Miss LaTanya's angelic voice, and after just one session the boys begged LaTanya to join the group. Bringing both her sassy stage presence and classical training to the mix, she simultaneously saved them from mutually assured destruction and raised the collective sobriety level of the group, slightly. And thus The Shambles were complete.

More recently, Aaron has been feeling the ravages of time and self-abuse, and after several shoulder surgeries, is on the road to recovery. In the meantime we fell in with a hip skins man, Tim, who we've decided to Shanghai and keep around after Aaron's back on the kit. In addition to occasionally filling in on drums, Tim will be playing a myriad of roles, from organist, to percussionist, to vocalist… that's a lot of -ists, but we think he can handle it.



The Now
The Whiskey Shambles are currently working their way through the dive bars and juke joints of the Midwest and Rustbelt, with occasional trips to more exotic locales, like Nashville or Buffalo, New Orleans or Asheville, Atlanta or NYC. They won the 2014 Northeast Ohio Blues Challenge, and represented Northeast Ohio at the 2015 International Blues Challenge in Memphis. The band headlined two showcases at the 2015 Millennium Music Conference near Philadelphia, and were invited to showcase at the 2015 Singer-Songwriter of Cape May conference in southern New Jersey, and the 2015 NXNE conference in Toronto.

In addition to winning the 2016 & 2015 Cincinnati Entertainment Award for Best Blues Act (for which they were also nominated in 2014), they were also nominated for Best Live Act in 2016, as well as CityBeat magazine's Best of Cincinnati (Best Original Band) in 2016, 2015, & 2014, and several of their song releases have earned critical acclaim.

In 2012 The Whiskey Shambles released the EP, "Live at Mad Frog." September 2014 saw the release of a second live EP, "Stumbling Toward Beale Street." Their first LP "Loose Change for a Broken Man" was released in November, shortly thereafter was named #23 on WNKU's Top 89 Albums of 2014, and is getting regular airplay on college and AAA radio stations. The Shambles are already working on their second full-length album, with plans to release it in spring of 2016.
Viceroy Kings
"Dayton, Ohio cow-punk band Viceroy Kings return with their country tinged punk sound. Musically, they fall somewhere between Social Distortion and Two Cow Garage. Punk informed by the vibe of outlaw country. High energy numbers benefit from the addition of piano. Brian Hogarth's vocals brings to mind early Hot Water Music, Lars Frederickson, or Tom Waits after a couple lozenges. Rough around the edges working class punk." - PunkNews
KAE Savage
The Mimics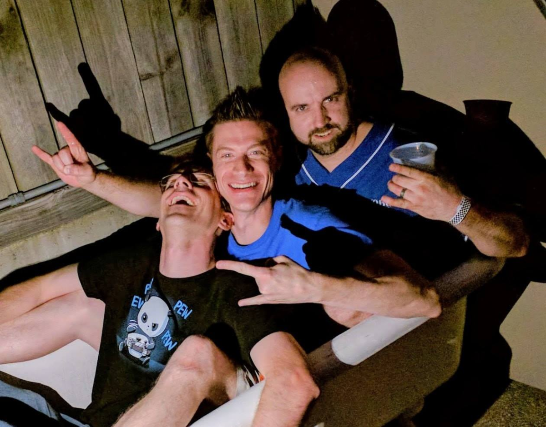 The Mimics
"Hailing from Cincinnati, OH, The Mimics took the style of 90's surf rock revival scene, added a hint of metal's ferocity with just a dash punk rock's energy and created their take on Instrumental Surf Rock!
Now after many years, The Mimics have finally released their first studio album for general human consumption. While FDA approval may still be outstanding, all test subjects showed no signs of harmful reactions."
Armadeus
Automatic Evolution
Automatic Evolution is an Industrial/Metal band from Cincinnati, Ohio. You will hear intricate chord progressions in between blast beats, and time signature changes to wake you up hear, and there.This is not your typical metal band. Enjoy the melodic side of things, but when the metal comes out, you won't know what hit you. Evolved in 2013, are booking strong, and pushing for more out of town shows. We hope to see you in your hometown soon.
Dead Man String Band
Down to hell and back again is one way to put the feeling behind a lot of the songs currently coming from Dead Man String Band fronted by Northern Kentucky's Rob McAllister. With songs of loss, persistence, and a little tongue in cheek.
Dead Man String Band has headlined the stage at Fountain Square (Cincinnati), played Bunbury Music Festival, headlined the CincyMusic Relaunch Party (2016), and is a staple in the Northern Kentucky and Cincinnati Music Scene.
Gorrest Fump
Death Warmed Over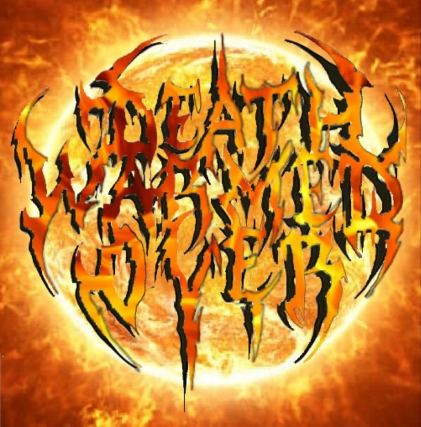 Paul Dahill - lead vox (former Mourning Aftur, Torment the Suffering)
John Reeves - Rhythm guitar
Mark Malloni - Bass guitar
Chris Campbell - Drums (Dominus Obscurum, Elusive Travel)
Josh Gartenman - Lead Guitar