Lo Fi City 10 Year Anniversary Party
Sat
October 14, 2023
7:00 pm
(Doors:

6:00 pm

)
The Southgate House Revival - Sanctuary
All Ages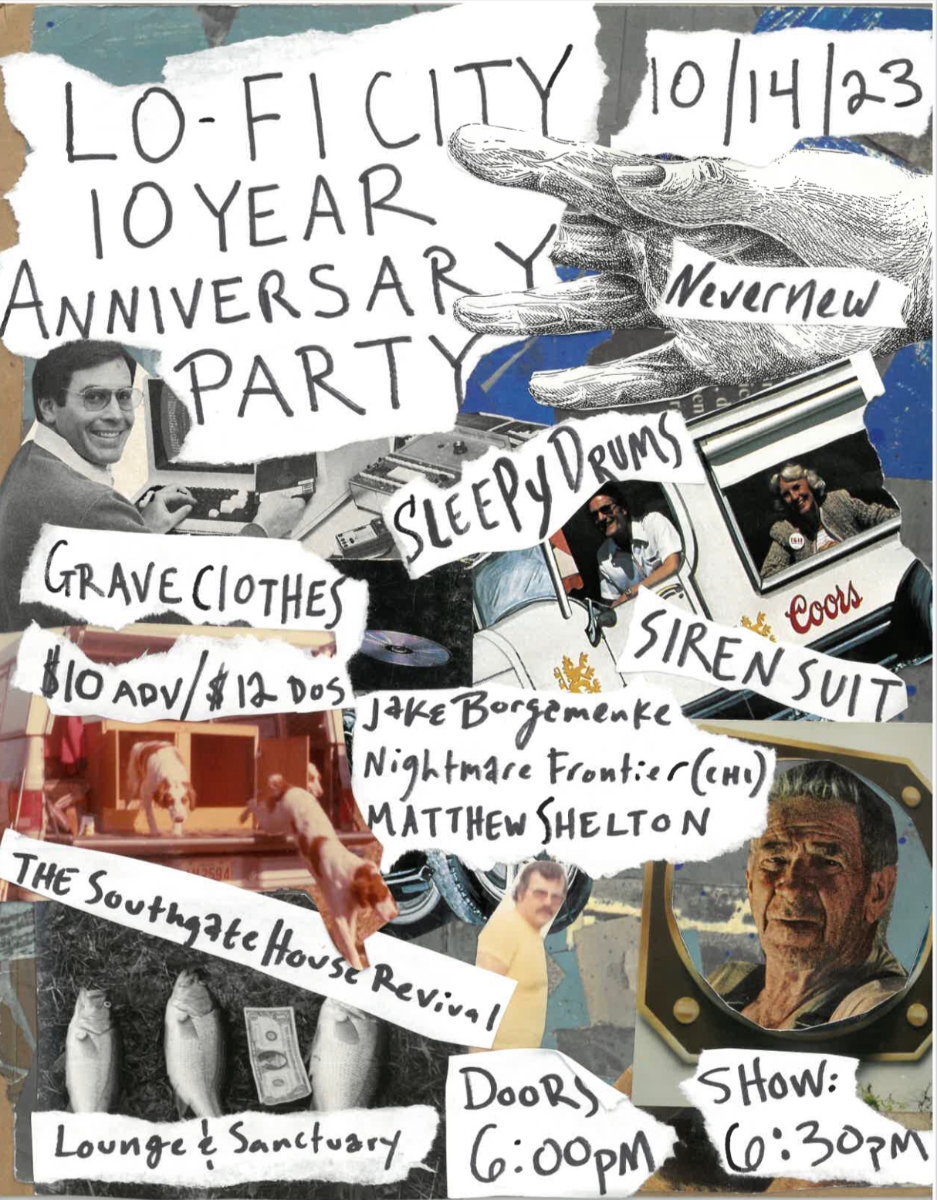 $10 adv/$12 dos
Come celebrate 10 years of Cincinnati's favorite underdog outsider music label, Lo Fi City!

To ring in their 10th year of weirdness, they'll be taking over the Lounge and Sanctuary stages of the Southgate House Revival on 10/14/23!

Featured Performers:
Sleepy Drums
Siren Suit
Grave Clothes
Nevernew
Matthew Shelton
Jake Borgemenke
Nightmare Frontier (Chicago)

The festivities will also include the release of Lo Fi City's 10th annual music compilation, featuring all of the performing artists, as well as:
Mutt Fuzz
A.M. Nice
Tooth Lures a Fang
Black Surfboards
Burnt Cabins
Mythical Motors
Cold Stereo
Rainbows Made Of Meat
and more!

Doors: 6 pm
Show: 6:30 pm
$10 adv/$12 dos
Sleepy Drums
Sleepy Drums brings together a close knit group of friends who have collaborated for years. This project hones in on the creative focus of J. Stout, the founder of Lo Fi City, a Cincinnati based DIY record label; and channels inspirations ranging from punk, grunge, psych and more.

Beginning as a solo side project, J. Stout crafted the first Sleepy Drums album "Spooky" in 2012. This album served as an experimental outlet, with ranging genre styles. In 2015, J. Stout decided to switch the focus from free form experimentation to garage punk and lo fi indie rock, somewhat in the vein of fellow Ohio rockers Guided By Voices. Once again, he recorded and performed the next Sleepy Drums EP "Lucy" on his own, self-releasing it on Lo Fi City Recordings.

Once both Dinosaurs & Thunder and Little Trees (J. Stout's other bands at the time) began to dissolve, Sleepy Drums emerged to the forefront of creative focus. Calling on long time friends Michael J Hamilton (Revenge Pinata, Flux Capacitors) and Christopher Berning, Stout finally turned the project from a solo endeavor to a full fledged-band, releasing "Cosmic Imagination pt. 1" in late 2015. Joshua Bradbury, known for his bass work in Dinosaurs & Thunder, was added to the lineup in 2016, assuming the rhythm guitar position.

"Cosmic Imagination pt. 2" was released on August 5, 2018 and expanded their experimentalism while also honing in on their now trademark sound.

They entered the studio with Todd Uttley to begin recording their next album in 2019, but the pandemic thwarted it's progress, eventually forcing the album to be completed remotely.

In the meantime of finishing this album, Sleepy Drums released a series of singles, many from the sessions with Todd, that solidified their new sound with much more clarity of vision.

"Cosmic Scraps," a collection of previously unreleased demos and b-sides was released exclusively to Bandcamp on August 24, 2022.
Siren Suit
NEVERNEW
Grave Clothes
Jake Borgemenke
Nightmare Frontier
Matthew Shelton