The Resonant Rogues with Mike Oberst and Joe Macheret
Wed
November 29, 2023
7:30 pm
(Doors:

7:00 pm

)
The Southgate House Revival - Revival Room
Ages 18 and Up
$15 adv/$17 dos
Rooted in the mountains of Western North Carolina, The Resonant Rogues are fronted by songwriting duo Sparrow and Keith Josiah Smith, who share a passion for movement and sound. Before meeting, falling in love, and forming the band in 2013, both traveled extensively throughout the U.S.- Keith by hopping freight trains, Sparrow with a circus troupe. In addition to their holler homestead, New Orleans and Nashville are their other musical homes, and the influences of both can be felt on The Resonant Rogues self-titled fourth album. The sounds of Appalachian old-time, classic country, and vintage soul all make appearances in this stunner of an album.
The Resonant Rogues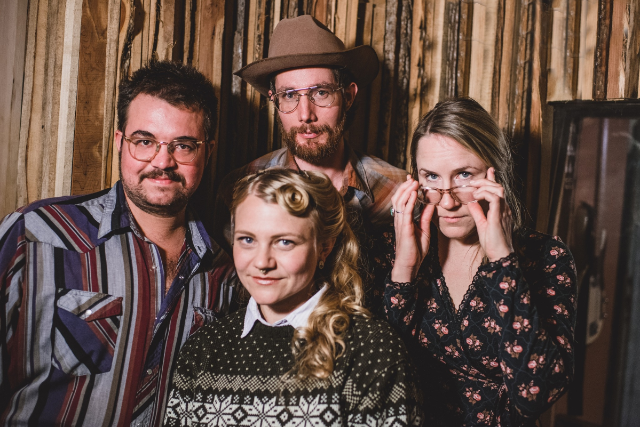 Mike Oberst (of The Tillers)
Mike Oberst is an accomplished multi-instrumentalist, musician, and songwriter best known as a co-founder of the Cincinnati, Ohio string band, The Tillers.

Mike was born and raised in the Sayler Park neighborhood of Cincinnati, a stone's throw from the historic US Route 50 as it winds down the banks of the Ohio River. He was introduced to music at a very early age, starting Suzuki piano lessons at the age of four. At the age of 13, Mike's father showed him some chords on the guitar, and within a year, he began forming punk rock bands with his friends. Over the next decade, Mike's bands "Disarm" and later, "The Resurgence", became fixtures on the local punk scene.

Mike's interest in traditional music began with his membership in the Cincinnati Caledonian Bagpipe and Drum Corps from the ages of 17 to 22. At age 23, Mike became a part of "The Blue Rock Boys", an Irish Traditional Folk band, which gave Mike his first taste of the life of a touring musician.

When The Blue Rock Boys went on hiatus in 2007, Mike began performing solo shows around town. During this time, he became consumed with a love of clawhammer-style banjo playing and an interest in American folk music in the vein of Woody Guthrie, Leadbelly, Pete Seeger, and other Depression-era performers. He soon chanced upon a like-minded musical compatriot in the form of guitarist Sean Geil, with whom Mike formed the band "The Tillers".

The Tillers' rise to prominence in the local and regional folk scene was a rapid one, bolstered by a stroke of good fortune in the summer of 2009, when The Tillers' recording of Mike's song "There is a Road (Route 50)" was featured on veteran NBC news anchor Tom Brokaw's USA Network television documentary on the history and significance of US Route 50.

The Tillers maintained a relentless touring, performing, and recording schedule over the next three years, releasing three more albums, becoming a staple at folk festivals throughout the country, and sharing the stage with luminaries and heroes such as Doc Watson, Ramblin' Jack Elliott, Iris DeMent, Jerry Douglas and many more.

In 2011, Mike released his first solo album, "Mike Oberst and His Five-String Banjo", which featured collaborations with a number of Mike's musician friends from Cincinnati and beyond.

Also that year, Mike was the driving force behind "To Sing with You Once More", a benefit concert to raise money and awareness to fight multiple myeloma cancer, the disease which claimed both Mike's mother Lori and one of his musical heroes, Mike Seeger. The concert, which featured rare appearances by folk giants like John Cohen and Tracy Schwarz, was a rousing success.

Mike continues to play and tour, both solo and with The Tillers. He was recently bestowed with the Ohio Arts Council Traditional Arts Apprenticeship for clawhammer banjo in 2011-12, and again in 2013-14. He also teaches clawhammer banjo lessons from his home to a number of students both locally and regionally.

Mike's appreciation and gratitude to the tradition of Field Recording for its preservation of rapidly-disappearing musical styles and traditions has led him to attempt some of his own. In 2016 he produced and co-recorded an album of original music by North Carolina songwriter Jean Dowell. He is currently in the early stages of recording and compiling the music of legendary Kentucky fiddler Tommy Taylor.

Mike is also interested in traditional American folk art, history and ways of life, and methods of sustainable city living. He enjoys gardening, farming, and raising chickens at his home.
Joe Macheret
..of Joe's Truck Stop & The Tillers

Joe Macheret (Cincinnati, OH), bandleader, has also lent his instrumental skills on stage and in the studio to folks like the Tillers, Woody Pines, JD Wilkes, Rachel Brooke, the Urban Pioneers, Wayne Hancock, Lucky Tubb and the Modern Day Troubadours, Lenny Lashley, and many other musicians and bands. Through Joe's Truck Stop's touring effort and Joe's work as a sideman with several touring bands, Joe's Truck Stop has a following that spreads throughout the United States, as well as numerous other countries.