Buffalo Wabs & The Price Hill Hustle, Joseph Huber
Fri
November 24, 2023
8:00 pm
(Doors:

7:00 pm

)
The Southgate House Revival - Sanctuary
All Ages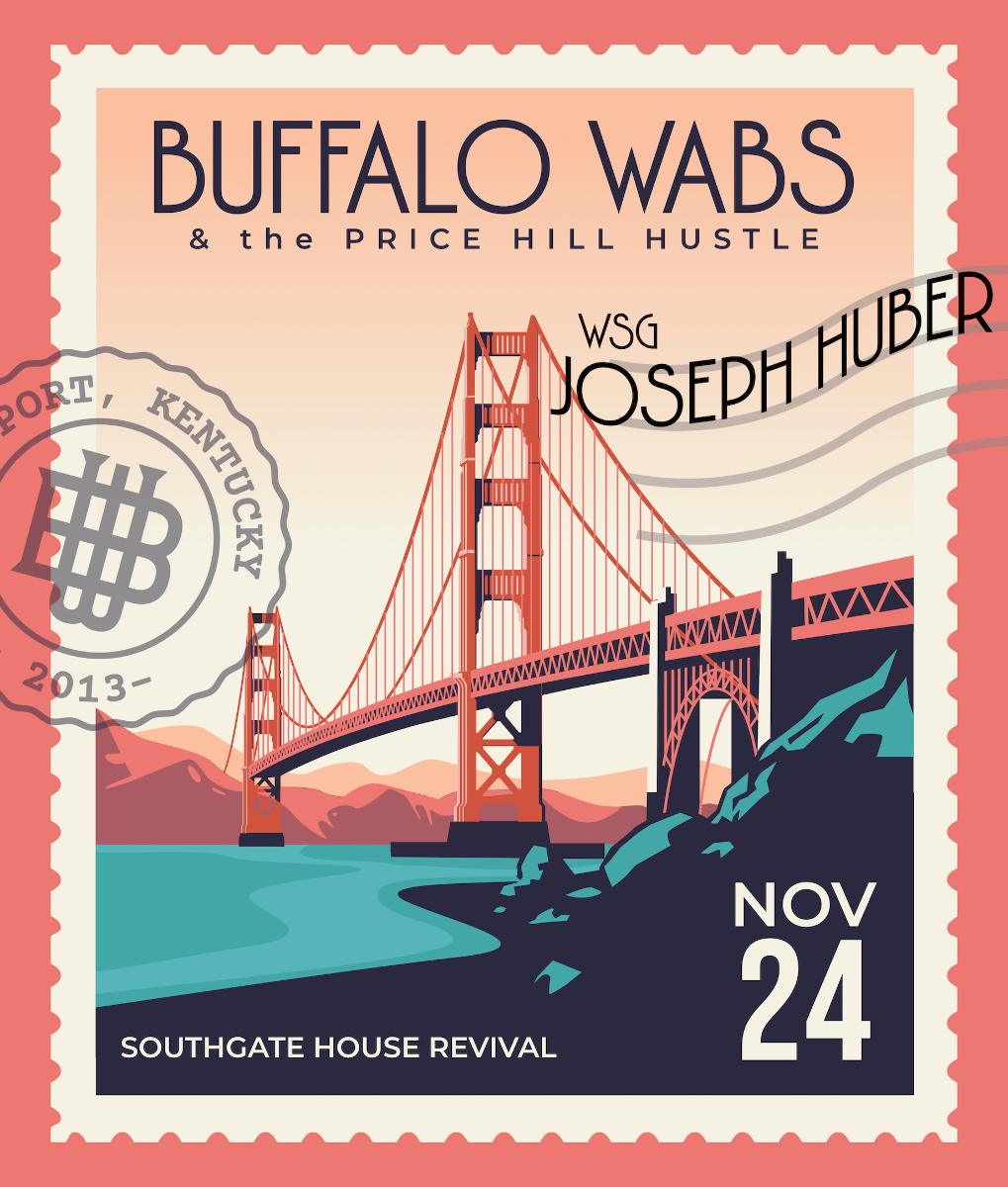 $20.00
Buffalo Wabs & The Price Hill Hustle
The Cincinnati-based ensemble Buffalo Wabs (as in 'mobs') and the Price Hill Hustle can be best described as 'American'-- from the mountains to Music Row, blues-gospel to traditional country, the Hustle combines parts of the American-born genre catalogue to create an energetic experience every single night.
This four-piece moves from fast-paced, foot-stomping anthems to harmony-laden ballads and traditional dirges of spirit and labor. "The group started around the love of music that moves you," says drummer/vocalist and band spokesman, Casey Campbell. "The music accompanies the story; and sometimes the music is the story by which we can all connect to one another."
With the release of their third album, Stranger in the Alps, due March 15th, 2019, the Hustle aims to increase their original music portfolio while paying homage to select tunes that have had lasting impact on the band. "This album explores the first co-writing the band has undertaken," says Campbell. "And through that collaborative process we're beginning to find more complex voices, more adventurous tunes that bridge our influences even more than before."
The new original material featured on Stranger in the Alps is a "cross-section of stylistic influences and voices," says Campbell. "Oh, Ramona!," written by Campbell, hearkens to the Piedmont Blues-era musicians, with tongue-in-cheek lyrics and a wry humor throughout. "Those old pickers knew how to tell a story; that's the kind of vibe we're after."
The band also pays respects to some of the great influencers of American music on this latest album. "The covers we've chosen mean something to us; these are songs that still speak to us, and we want folks who may not know them to become familiar." On the album's third track, the band takes a full-steam-ahead approach to the iconic Leadbelly song, "Stewball," an all-out fest that echoes the frantic speeds of a racetrack. "The intensity, the pace, it all builds from the first note to the last," with help from acclaimed regional musicians Joe Macheret (The Tillers and Joe's Truckstop) on fiddle and John K. Victor on harmonica. Macheret's fiddle plays a pivotal role throughout the album; as Campbell notes, "Having such immensely talented friends is so beneficial when building the sonic landscape of a studio tune."
As "Stranger in the Alps" is just hitting the market, the band already has its eyes set on the next project. "The wheels have been put in motion," Campbell says, "and we're ready to get the next batch out. It's going to be a busy year."
The Hustle has worked relentlessly through the Mid-Atlantic region, playing shows from south Minnesota to Asheville, North Carolina. As 2019 begins ramping up the band is eager to stretch its legs farther west, farther south, and beyond.
From large theaters to tiny bars, the show's the same: heartfelt, real, a little loose, and sincerely fun. As the Hustle says, "If it ain't fun, it ain't worth it."
Founded on the West Side of Cincinnati, the current lineup of the Hustle is starting its third year together. Anchored by the upright, Bill Baldock brings decades of experience and finesse to the
talent pool, having been based around Nashville, TN, for many years while playing for a litany of revered industry professionals. Primary soloist Scott Risner does the same; now based in Cincinnati, Risner has also been a staple in the circuit for over thirty years, playing with such renowned acts as Alison Krauss and JD Crowe and the New South. Founding members Matt Wabnitz and Casey Campbell have been picking out heavy-hearted tunes for a decade together. Campbell, an Alabama native, brings a gospel-vocal sense to the arrangements while Wabnitz' distinct hammering of the strings and raw vocal power sets the tone.
"We play music that we connect to, whether it's an old find or a new line. We want it to mean something, every time."
Joseph Huber
Singer/Songwriter/Multi-Instrumentalist Joseph Huber was a founding member of the .357 String Band--a group that, despite its abrupt break-up, still continues to gain popularity and is known as one of the most influential groups in the recent insurgent underground country and bluegrass movement. Having moved from .357, Huber has honed his songwriting abilities immensely and now continues moving onward and upward captivating folks with his sincere and well-crafted songs under his own name and with his backing band. Whether it's irresistible, fiddle-driven, dancing tunes or honest, heart-wrenching "songwriter" songs, Huber spans the spectrum of 'Roots' music while preferring not to stay within the boundaries of any strict genre classification.

His lyricism and introspective writing style has received high acclaim from many Americana enthusiasts looking for a more substantive substitute to much of today's modern country. Maintaining a solid touring schedule, playing all throughout both the U.S. and all around Europe, Huber continues to gain positive press, including being listed on L.A. Weekly's '10 More Country Artists To Listen To (2014).' Blue Ridge Outdoor writes, "Songwriters like Townes Van Zandt, Chris Smither, and John Prine can marvel listeners in the simplest of acoustic settings,...From time to time, I stumble upon a new singer/songwriter whose work warrants comparison to the luminaries on this list. ...Huber's songwriting has me comparing him to my favorites above."

Huber's 4th solo release, 'The Suffering Stage' is a shift both in writing style and in it's filled-out production style, which looks beyond his usual minimalist folk recordings. It features many of Milwaukee's best players, such as Ryan Knudson on pedal steel; Dustin Dobernig on keys; Andrew Koenig on electric guitar; as well as his long-time touring band members--Jason Loveall on fiddle; and Eston Bennett on bass. It follows his early self-released material--'Bury Me Where I Fall' (2010) and 'Tongues Of Fire' (2012)--and his 3rd album, 'The Hanging Road,' which was released under Nashville's 'Muddy Roots Recordings' label in Spring 2014.