The Southgate House Revival - Revival Room
Tue
October 11, 2022
8:00 pm
(

7:00 pm

DOORS)
Norman Westberg (of Swans) Pete Fosco Planchette
$15 Advance $20 Day Of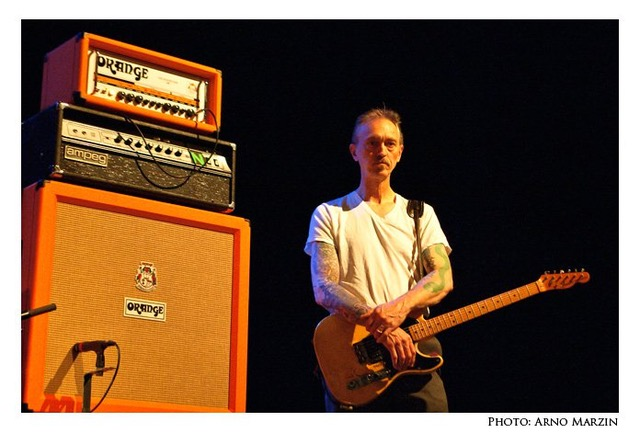 Best known for his work with the seminal outfit, SWANS, Westberg's output beyond that group is sprawling and restless. His name recurs and ripples through many interconnected micro-histories surrounding New York City's music and art scenes. From appearances in film works associated with the Cinema Of Transgression, through to his participation in bands such as The Heroin Sheiks and Five Dollar Priest, Westberg's name is woven deeply in to the fabric of NY, over the past three decades.

A Note from Lawrence English...

"Norman Westberg's guitar playing with SWANS has influenced a generation of musicians across genres. I can personally attest to how his particular approaches to that instrument, in creating both harmony and brute force, have challenged and ultimately influenced my own sonic preoccupations.

What Norman has created with his solo works is an echoing universe of deep texture and harmonic intensity. His solo compositions generate an affecting quality that drives the listener towards reductive transcendence.

His guitar, as a singular source, becomes transformed through a web of outboard processes. He transforms vibrating strings completely, taking a singular gesture and reshapes it through webs of delay, reverb and other treatments. To me, these works echo many of the concerns of American minimalism and sprawl outward towards the work of bands such as Stars Of The Lid. Norman has created a very dense and powerful statement of intent with [his] recordings and I couldn't be more pleased to have some small part in helping to share them"
Norman Westberg

Best known for his work with the seminal outfit, SWANS, Westberg's output beyond that group is sprawling and restless. His name recurs and ripples through many interconnected micro-histories surrounding New York City's music and art scenes. From appearances in film works associated with the Cinema Of Transgression, through to his participation in bands such as The Heroin Sheiks and Five Dollar Priest, Westberg's name is woven deeply in to the fabric of NY, over the past three decades.

A Note from Lawrence English...

"Norman Westberg's guitar playing with SWANS has influenced a generation of musicians across genres. I can personally attest to how his particular approaches to that instrument, in creating both harmony and brute force, have challenged and ultimately influenced my own sonic preoccupations.

What Norman has created with his solo works is an echoing universe of deep texture and harmonic intensity. His solo compositions generate an affecting quality that drives the listener towards reductive transcendence.

His guitar, as a singular source, becomes transformed through a web of outboard processes. He transforms vibrating strings completely, taking a singular gesture and reshapes it through webs of delay, reverb and other treatments. To me, these works echo many of the concerns of American minimalism and sprawl outward towards the work of bands such as Stars Of The Lid. Norman has created a very dense and powerful statement of intent with [his] recordings and I couldn't be more pleased to have some small part in helping to share them"

Pete Fosco

Pete Fosco (b. 1980) is a guitarist, composer, and improviser that has been active on and off in various circles since 2004. He focuses on the sonic potential of electric guitars and the imaginal worlds they can create. Often seen live as a solo performer, he explores sounds ranging from shimmering fields of tonal clusters and warm drones to towers of melodic fuzz and controlled feedback

Planchette

Drawing from extreme frequencies within the sound spectrum, Planchette (Nora Barton) finds warmth in harsh sounds and unexpected inspiration in the minutiae of near-silence through improvisation, delayed loops, and acoustic resonance. The freedom of improvisation and unpredictable nature of extended techniques encourages the detachment from conventional cello and an exploration of new space. Planchette is Nora Barton's solo project and her most recent album release is entitled "Around the Bend."