The Southgate House Revival - The Lounge
Fri
November 18, 2022
9:00 pm
(

8:00 pm

DOORS)
Kelly Hunt with Ray Vietti
FREE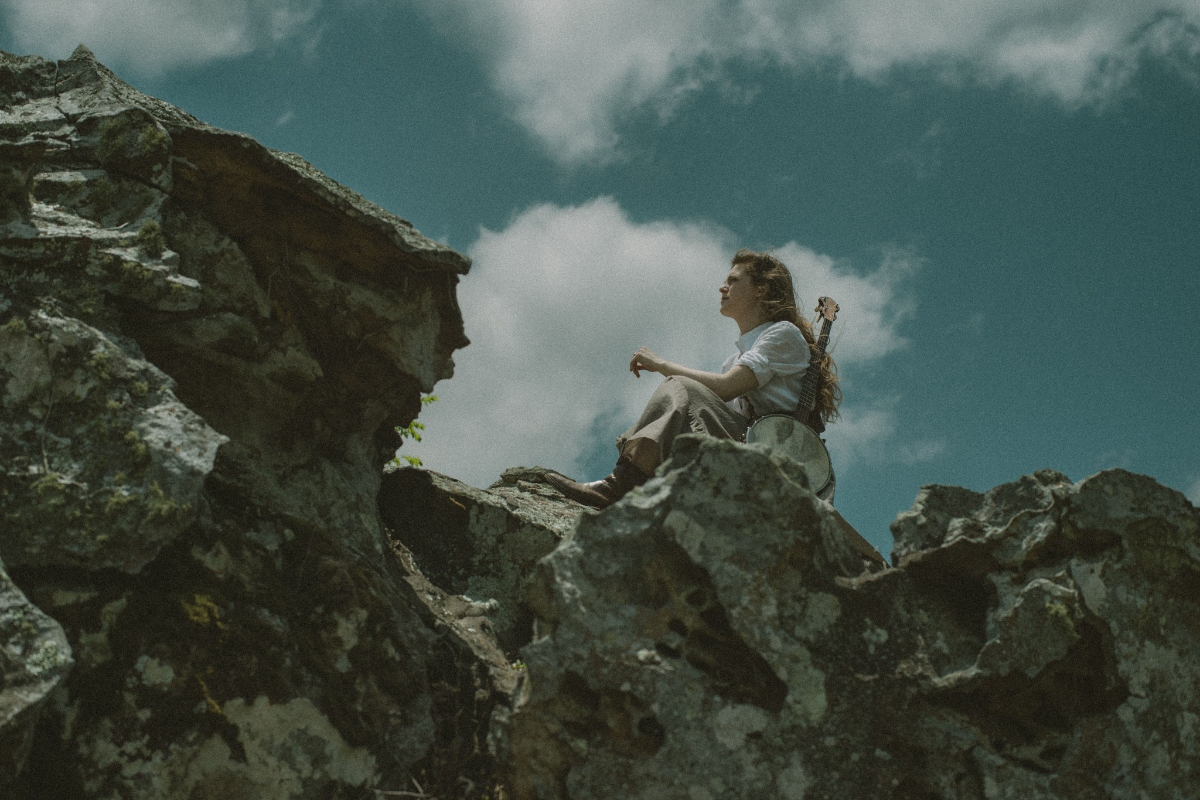 Memphis-raised singer-songwriter Kelly Hunt paints stories as old and offbeat as her Depression-era tenor banjo, reimagining traditions of folk, blues & old-time music in a style that hovers beyond the constraints of genre à la Anaïs Mitchell & Gillian Welch. Hunt's debut album, Even The Sparrow, was released in May 2019 and named as a finalist for the International Folk Music Awards "Album of the Year." Her upcoming sophomore album, Ozark Symphony, was recorded with Grammy-winning musician & producer Dirk Powell and is slated for release in late 2022.
Kelly Hunt

On the walls of any local used music shop there hangs a gallery of mysteries. Picked up and handed down across the decades, each instrument contains the imprints and stories of those who have played it before, most of which remain untold. For Kansas City-based songwriter Kelly Hunt, the most intriguing of these stories is the origin of her anonymous calfskin tenor banjo. "I really wasn't looking for it," she says, "but I opened up the case and found a note saying, 'This banjo was played by a man named Ira Tamm in his dog and pony show from 1920 to 1935.' It was unlike any banjo I'd ever heard…so warm and mellow, with an almost harp-like quality to it, very soulful"—apt words for the Memphis native's debut album, Even The Sparrow, which was released in May 2019 and nominated for the International Folk Music Awards "2019 Album of the Year."

The daughter of an opera singer and a saxophonist, Hunt was raised in Memphis, TN amidst a motley mélange of musical influences ranging from Rachmaninov to Joni Mitchell to Mississippi John Hurt. She grew up singing in choirs, poring over poetry books, and writing her own music as a matter of course, first on piano then 5-string banjo. After being introduced to the banjo in college while studying French and visual arts, Hunt began to develop her own improvised style of playing, combining old-time picking styles with the percussive origins of the instrument. After college, Hunt embarked on a rambling path through career pursuits in farming, French breadmaking, and visual arts, ultimately landing in Kansas City, where she would go on to write and record Even the Sparrow.

This debut work displays Hunt's penchant for storytelling and intriguing arrangement, punctuated by articulate melodies and lyrical deft. While reminiscent of modern traditionalists such as Gillian Welch, Even The Sparrow reveals an ineffable quality that hovers beyond the constraints of genre, à la Anais Mitchell and Patty Griffin. Over the span of a dozen songs, Hunt's penchant for storytelling and intriguing arrangement cast a spell which No Depression describes as "the musical equivalent of a book you can't put down, one you'll want to revisit again and again to catch every nuance and turn of phrase."

In "Men of Blue & Grey," what begins as a Reconstruction-era ballad about the repurposing of Civil War glass plate negatives in a greenhouse roof soon becomes a meditation on the hope that growth and life may one day be able to emerge from the ruins of suffering and haunting of violence. "Across The Great Divide" turns an otherwise traditional accounting of spurned love into a philosophical epic of the ethics offorgiveness and freedom, evoking the ideas of Søren Kierkegaard and Walt Whitman.

As for the original owner of Kelly Hunt's mysterious tenor banjo, not much is known. "I've never been able to find anything about Ira Tamm," she says, "I think he just had a humble little traveling show." What's clear is that the itinerant performer laid down his banjo at the height of the Great Depression, almost eighty years before it would be picked up by Hunt. "That banjo has stories. I wish I knew them all," says Hunt, though the banjo's most intriguing story may just be beginning with Even The Sparrow. "The marks of Ira's hands are still in the calfskin head, so I can see where he played and left his mark," she says. "Now my own marks are there too, in different places, like a kind of portrait."

Ray Vietti

of The Harmed Brothers

Nestled between the rolling farmland of Oregon's Willamette Valley and the impossibly tall trees further south, the gold and timber town of Cottage Grove has always drawn an eclectic mix of dreamers, drifters and prophets to its downtown Main Street.

For about a decade now, many of these frontier misfits have gathered to carouse and quench their thirst at the Axe & Fiddle Pub, and if the Harmed Brothers owe the path they've forged these past few years to any particular beer-soaked barroom along the way, it's got to be the Fiddle.

It's more than likely the place where, in early 2009, singer/songwriter Ray Vietti — already the veteran of one ambitious but ill-fated musical dream — first encountered Alex Salcido, and it's probably where the two musicians first decided to jam. Soon enough, Vietti would come to recognize Salcido as a kindred spirit in both vision and song, and the young tunesmith would help write the Harmed Brothers saga with an insightful, often wistful lyrical and instrumental voice that offers a fitting complement to Vietti's gritty baritone and powerful chords.

The fledgling duo paused in the Grove for a moment, gathering steam, trading tunes and talking possibilities, performing for crowds there and in nearby Eugene before striking out for the open road — their second home ever since and the undeniable inspiration for many of the songs and stories to follow.

Soon after their first meeting, Vietti and Salcido quickly recorded and released their independent debut, "All The Lies You Wanna Hear," and began to tell the tales of love, loss, hard-drinking and redemption that have since endeared them to legions of fans and fellow musicians.

In 2011, the Harmed Brothers' evolution as songwriters and as a touring act showed through with their sophomore effort, "Come Morning," a release from Oklahoma-based Lackpro Records that sways with the rhythms of the road and the forlorn waltzes of a nation's dive bars and dance halls.

These days, they call it "indiegrass," the rustic American musical blend that celebrates and chronicles the physical and emotional gauntlet the Harmed Brothers have always ridden, zigzagging endlessly in vans across the nation. It's an inclusive sound, the melding of two unique voices adorned each night with the contributions of the many pickers, singers and songwriters the Brothers have encountered in their travels.

It's known as the "Harmed Family Roadshow," and it's as much a nightly happening as a sound in constant flux — from a jangly acoustic three-piece one night to a manic mariachi string band the next, a wall of rock-and-roll bombast at times giving way to the whispered incantations of two folk troubadours, often within the span of a single song.

Two years more on the road brought a European tour and a host of new fans, and by 2013, Salcido and Vietti stood poised to offer their most ambitious album to date. "Better Days," recorded in a St. Louis studio and released by Portland, Oregon-based Fluff and Gravy Records, draws inspiration from themes of personal growth and redemption as well as the hurdles, heartbreaks and mishaps that have always accompanied the traveler's search for enlightenment. Praised as "honest and inspired, devoid of posturing and pretense," "Better Days" features some of the Harmed Brothers' deepest grooves and their most plaintive and enduring tunes to date.

In the winter of 2015, the "Harmed Family Roadshow" gathered together in all its tattered glory in Portland, Oregon, the Brothers' adopted home and headquarters, to begin amassing the riffs and recollections that will become their definitive recorded work. Due from Fluff and Gravy in early 2016, the album draws from the tales and talents of many of the duo's closest collaborators and dearest friends. It promises textures never before captured on a Harmed Brothers release, brought together by the two visions and voices that propel the band toward an inspired and undeniable future.