The Southgate House Revival - Revival Room
Wed
March 8, 2023
8:00 pm
(

7:30 pm

DOORS)
Dylan LeBlanc and David Ramirez
$20 adv / $25 dos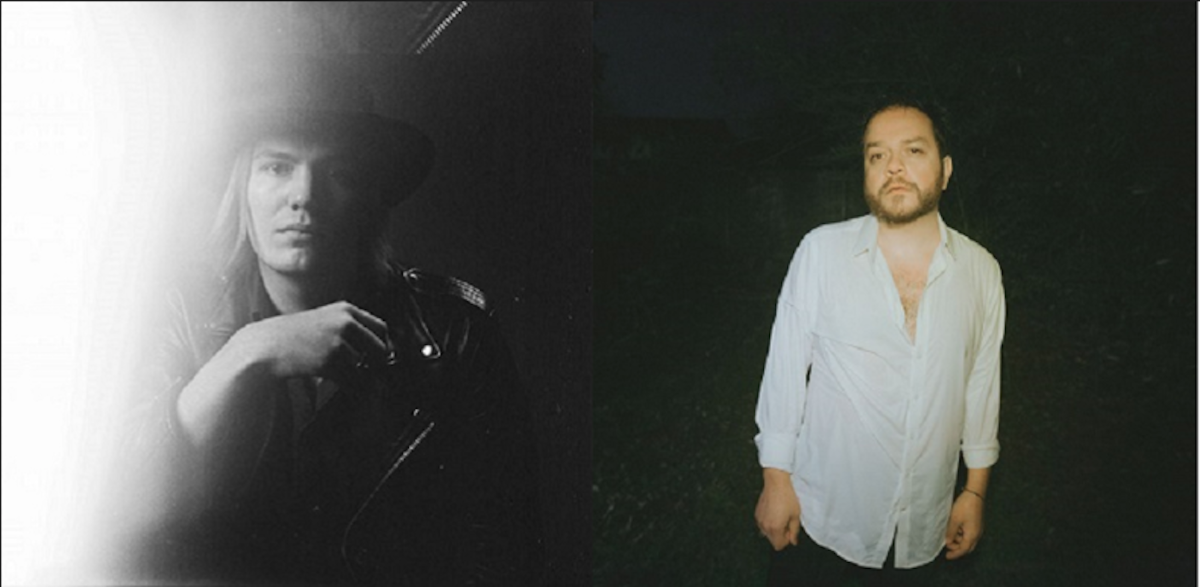 Dylan LeBlanc

DYLAN LEBLANC KNOWS SECOND CHANCES DON'T COME AROUND OFTEN.
BUT, NEITHER DO VOICES LIKE HIS.
Overwhelmed by the speed at which his gift took him from Applebee's server to "the new Neil Young" in a matter of months, he walked away from an unlikely major label deal after releasing two critically acclaimed albums. He slipped into a blur of booze and self-doubt. Exhausted and damaged at just 23-years-old, Dylan came home to Muscle Shoals, Alabama to write a new life for himself.

In between the moments of clarity and a few familiar falls, he also wrote a new album, Cautionary Tale: a collection of shimmering, arresting songs with the same haunting vocals that caught the attention of Lucinda Williams and Bruce Springsteen, now with a sharpened edge honed by hastened maturity.

"THIS RECORD IS ABOUT ME GETTING HONEST WITH MYSELF," SAYS DYLAN. "I HAD TO LET THE GUILT ABOUT THE PAST GO AND FIND A NEW TRUTH WITHIN MYSELF. THIS TIME, I FELT LIKE I REALLY HAD SOMETHING TO SAY."
To help him say it, he sought out long-time friend Ben Tanner, the same guy who had secretly helped Dylan record his first songs after hours while working at fabled FAME Studios. (He also introduced a 16-year-old Dylan to Wilco, George Harrison, and Ryan Adams by way of an external hard drive). In between touring with Alabama Shakes, Ben was beginning to engineer records again at the label he started with another friend of Dylan's, Grammy Award-winning musician John Paul White, formerly of the Civil Wars. The two both produced and played on Cautionary Tale.

"They prevented me from burying my words," says Dylan. "Doubt can often be my first instinct, and I'll try to cover things up with more elements to hide my voice, but I made up my mind to trust them. I heard Merle Haggard say once that the singer is secondary to the song, and they both helped me build a strong foundation for the emotions I was feeling."

The stripped down aesthetic that John Paul and Ben have made their label's calling card sets Dylan's voice in a light bright enough to see the patina the last few years has left behind.

"I SPENT A LOT OF TIME WRITING ABOUT PROGRAMMING AND CONDITIONING AND THE IDEA OF EGO," SAYS DYLAN. "I DON'T WANT TO RELY ON MY CIRCUMSTANCES OR THE PAST TO SAY WHY I AM THE WAY I AM ANYMORE. A LOT OF MY SONGS LIKE 'CAUTIONARY TALE' AND 'LOOK HOW FAR WE'VE COME' ARE ABOUT TRYING TO BREAK OUT OF A VICIOUS CYCLE. I WAS WONDERING IF I COULD FIND MY SOLUTIONS FROM WITHIN—IF I COULD BELIEVE IN SOMETHING BEYOND THE PRESENT."
If Dylan was wandering through a cemetery with his first album Paupers Field ("Songs are like headstones to me," he told The Guardian), Cautionary Tale is an abandoned desert town. He reflects on what once was, and if anything could be again. At times, he wonders if the signs of life he sees on the horizon are real or just a mirage. Phantasmic, warbling voices in the background rise to meet his own and fade into the ether; ghostly guitar riffs echo in the emptiness around him.

Finding the right arrangement and words was a more deliberate effort for Dylan this time. After feeling lost in the "mania" of recording his first two albums, he relied on Ben and John Paul to help him collect the pieces of his vision.

"I've definitely become more disciplined. I don't count on things like inspiration anymore," says Dylan. "I learned so much from putting songs together with John Paul. Anything he does, it's always going to be well-thought-out and well-placed. I'm naturally an improv guy, but now I see how that can be more limiting than planning your next move."

That new-found discipline shows. Never one to write out parts, Dylan methodically scored the stunning string sections with violinist Kimi Samson and cellist Caleb Elliot. To form the polished rhythm section he wanted to drive songs like "The Easy Way Out" and "Beyond the Veil," he paired drummer Jeremy Gibson with Alabama Shakes bassist Zac Cockrell ("I wanted it to feel like a Bill Withers record or Al Green—soulful, but tight.")

While Dylan will be the first to admit he wasn't ready to stand on the stages he played early in his career, there's no doubting he is now. With a recalibrated compass, he's back on the road opening sold-out shows for British singer-songwriter George Ezra, another artist praised for a wisened voice beyond his years.

Dylan will continue to support George through September 2015, including a show at Nashville's legendary Ryman Auditorium. Next, he'll embark on his solo tour with dates throughout the South, Midwest, and New England.

"AFTER EVERYTHING I'VE GONE THROUGH, I STILL LOVE PUTTING RECORDS OUT AND SINGING FOR PEOPLE, NO MATTER HOW BIG OR SMALL THE CROWD," SAYS DYLAN. "IT'S THE ONLY THING I WANT TO DO, AND NOW I GET TO KEEP DOING IT AS A MORE WELL-ROUNDED PERSON. I GUESS I'M BLESSED... OR WHATEVER THE HELL YOU WANT TO CALL IT."

David Ramirez

David was born in Houston, TX and grew up in a suburb called Sugarland. Although he took piano lessons as a kid, it was baseball that was his first love. He played baseball until his junior year in high school, when upon changing schools was invited by his new fellow classmates to audition for a school play. He got the part and realized how much he enjoyed performing. This new love of performing motivated him to pick up an acoustic guitar and begin writing songs.

While attending college in Dallas, he formed the David Ramirez band, an acoustic folk-pop act. After receiving local acclaim for his songwriting, he decided to move to Nashville to try his hand at becoming a professional songwriter. After about a year in Nashville, he realized the Music Row songwriting game was not his cup of tea. And after being fired from his job at a coffee shop, he packed his belongings into his Kia Rio car and hit the road. Without a booking agent or manager, he toured from city to city playing open mics, house shows and dive bars…anywhere that would pay enough money to make it to the next town. He got by on the help of strangers, new friends and local songwriters, sleeping on couches, in his car at truck stops or sometimes not at all. He was looking for something…for those experiences you cannot have in a college environment or working the same job every day. He was looking to experience life and humanity.

It was those experiences that inspired the songs on his first solo release, the 2007 EP, Birmingham, which included an early solo recording of the fan favorite "Fires".

In 2009 he returned to Nashville to record his first full length album, American Soil. This album and his constant touring helped build a small fanbase in most major cities throughout America. In 2011, the full band recording of "Fires" from this album was featured in the popular Grey's Anatomy spin-off show Private Practice.

2011 saw the release of his second EP entitled STRANGETOWN, inspired by his experiences in his new home of Austin, TX. The song "Shoeboxes" received much critical and fan acclaim and for the first time he began to receive national press and attention. PASTE magazine tweeted after the release of the EP "David Ramirez – the best damn songwriter you don't know yet". He was also asked to open a few shows for The Civil Wars during this period, which also helped raise his profile.

In August 2012, David released his second full length album, Apologies, which entered the Billboard Folk Charts at #4 and received rave reviews from The New York Times and PASTE. A co-headline tour with Noah Gundersen and a series of shows supporting Gregory Alan Isakov helped raise David's touring profile during this time. He also began to sell out venues on his own in cities like Austin, Dallas, Atlanta and Nashville.

2013 saw the release of his third EP, The Rooster, which featured the fan favorite "The Bad Days". Go to any shows of David's and almost the entire crowd will sing the chorus to the song. All releases thus far had been completely self-funded and self-released.

In 2015, FABLES was released. This marked the first time an album was released with a label partner, Nashville-based Thirty Tigers. And also for the first time, David had a proper budget to record an album and hire a band to tour with. The album was produced in Seattle by friend Noah Gundersen. The release gained critical acclaim from NPR, The Wall Street Journal and Stereogum. The lead single, "Harder to Lie" was a big hit on Spotify, being featured on New Music Friday and peaking at #9 US Viral Hits. It currently has almost 5 million streams and has become a favorite of fans. The FABLES Tour saw many sell out shows including for the first time, cities like Toronto, Seattle, Los Angeles, Oklahoma City and many more. He also sold out his very first UK show at Hoxton Square Bar in London on this album cycle, as well as receiving airplay and accolades by BBC's Bob Harris. During this album cycle he also made his first major festival appearances at Shaky Knees in Atlanta and Free Press in Houston.

In the Fall of 2016, David embarked on the BOOTLEG TOUR. A solo tour of 53 cities in North America over 2 months, where…inspired by the Grateful Dead, each show was recorded in full by a sound engineer and offered as a free download link to any person who purchased a ticket to the show. "Buy a Ticket, Get a Download" was the credo of the tour. No opening act, just David playing almost 2 hours every night for 53 nights. The tour was a huge hit with fans, and one that will occur every few years moving forward.

The new album is David's 4th full length, entitled We're Not Going Anywhere and is quite the leap forward, sonically. It's an expansive sound influenced by some of David's favorite 80's bands like The Cars and Journey, and lyrically reflective of the intense political landscape in America and his bi-racial viewpoints . It releases September 8, 2017 via Thirty Tigers.