The Southgate House Revival - Sanctuary
Fri
April 14, 2023
8:00 pm
(

7:30 pm

DOORS)
Alex Williams, Addison Johnson
$15 adv/ $20 dos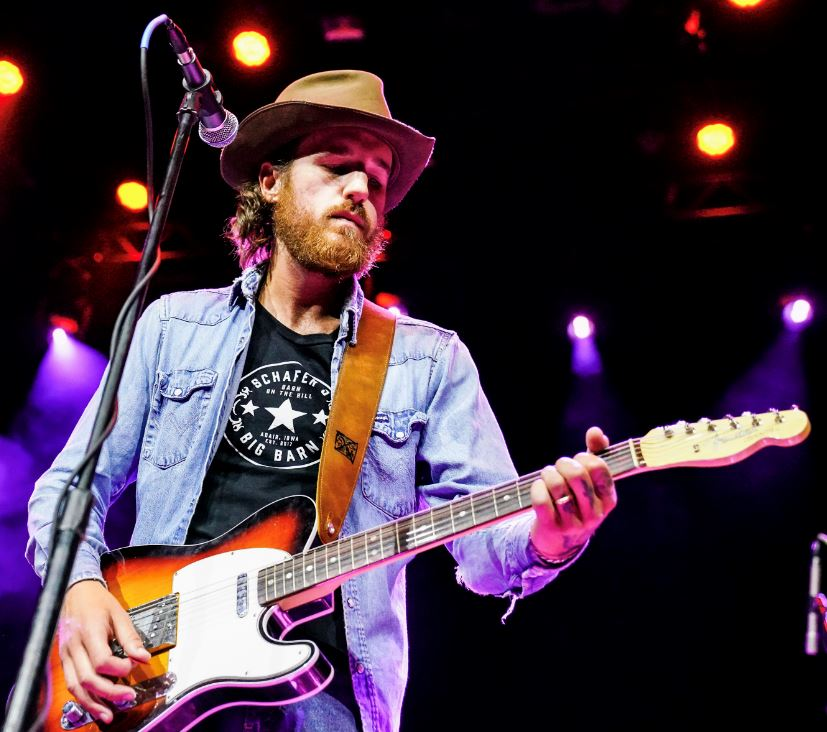 Alex Williams

I grew up on '80s hair metal," Alex Williams says with a laugh. "My dad listened to Cinderella and Ratt, so that was my musical upbringing until I was about 16. That's when my grandparents played me 'Dreaming My Dreams' by Waylon Jennings and 'Red Headed Stranger' by Willie Nelson."

It would be hard to overstate the importance of those records on Alex Williams' life. After hearing them, he traded in his electric guitar for an acoustic, dove deep into classic country music, and, most importantly, began writing his own songs. Roughly a decade later, Williams is releasing his debut album, 'Better Than Myself,' and much like Willie and Waylon, he's doing it on his own terms.

"It seems like there's a lot of people out there just trying to get through the day," reflects Williams. "They're working a job they don't love or following somebody else's dreams just because it's safe and it keeps them comfortable. I didn't want to be like that."

'Better Than Myself' is a distant cry from the sugary pop hybrids currently dominating country radio airwaves, and as far as Williams is concerned, that's a good thing. He's part of a new breed of upstart outsiders, writing music that at once sounds both modern and traditional, channeling the raw, authentic sound that's made stars out of outlaw singers and red dirt rockers. His live show is a force to be reckoned with, earning him dates with everyone from Lynyrd Skynyrd to Hank Williams, Jr., but he's equally at home in the studio. Fat, twangy guitar tones, honky-tonk pianos, and swirling pedal steel lay the framework for Williams' blend of vintage country and southern rock, and his lived-in baritone breathes genuine life and depth into his based-on-a-true-story brand of songwriting.

"This record represents the last ten years of my life," says Williams. "My thoughts, my feelings, everything that I've been through, it's all in these songs. It's what I've wanted to say for a decade."

Williams was born just outside Indianapolis, in the small town of Pendleton, IN. After graduating from high school, he relocated to Nashville for a short-lived stint at Belmont University, but he quickly dropped out after realizing he could learn more about life by hitting the road and experiencing it than he ever could in a classroom.

"I played some in Nashville and did the Broadway thing, and I played locally around Indiana some, too, but my first real gigs were in Texas," remembers Williams. "I went down there because my cousin owned this shrimper bar on the Gulf coast where I could play. That was a big part of what got me so into Texas and all those Texas songwriters like Guy Clark, Jerry Jeff Walker, and Billy Joe Shaver."

Williams had a band with some of his former college classmates, and by the time he was ready to make the leap and go solo, buzz about the group had caught the ear of Big Machine Label Group's Julian Raymond. While Big Machine might be best known as home to crossover stars like Taylor Swift, Raymond's illustrious pedigree as a GRAMMY-winning songwriter and producer included work with old school greats like Glen Campbell and Hank Williams Jr., and he sensed something special in Williams.

"I was worried," remembers Williams. "I was 25, leaving this band, and I had no idea where my career was going to go, but Julian gave me a chance. He invited me to come by and start recording demos of my songs, and we probably ended up doing 50 or 60 of them. We kept slimming it down, but I kept writing."

When it was time to head into the studio for proper recording sessions, Williams and Raymond pieced together an all-star band featuring some of Nashville's finest musicians: drummer Victor Indrizzo (Willie Nelson, Emmylou Harris), keyboard player Matt Rollings (Lyle Lovett, Mark Knopfler), bassist Joeie Canaday (Leann Rimes, Steven Curtis Chapman), pedal steel player Dan Dugmore (James Taylor, Linda Ronstadt), and guitarists Tom Bukovac (Don Henley, Stevie Nicks) and J.T. Corenflos (Dolly Parton, Alan Jackson).

With Raymond at the helm as producer, the band recorded live on the studio floor and wrapped basic tracking in just two days. The result is a rollicking throwback chock full of wit and wisdom, colored throughout by Williams' fierce streak of independence. Album opener "Better Than Myself," which features harmonica legend and longtime Willie Nelson bandmember Mickey Raphael, sets the stage perfectly, as Williams sings, "Truth be told in every note I play / Truth be told I don't care what you say."

"One of my old bandmates was pissed at me one time and he said, 'Man, your songs are better than you are,'" Williams remembers. "That was hard to hear, but I had to save the line. I wrote the song in the back room of a venue before we played one of our last shows together, and it really felt like this new beginning for me."

Williams has never been one to pull a punch in his deeply personal songwriting. On the fingerpicked "Pay No Mind," he imparts hard-won insight about what (and who) really matters, while the folky "Freak Flag" is a devil-may-care ode to being yourself, and "Little Too Stoned" laments the loss of the authentic in favor of our society's obsession with the latest trends and fads. Elsewhere on the album, the hard-charging "Hell Bent Hallelujah" offers up a profane prayer for some good news, the infectious "More Than Survival" insists on living a life that's more meaningful than just getting by, and "A Few Short Miles" draws inspiration from a figure Williams met during those early days onstage in Texas.

"There was a fisherman down there who rescued an old acoustic guitar from a dumpster after a hurricane came through Galveston," remembers Williams. "One day I was in the bar restringing my guitar and he knocked on the door and gave it to me. It was really inspiring getting to know him, and a lot of things he said to me made it into that song."

Perhaps the most personal track on the record, though, is "Old Tattoo," a stirring ode to Williams' grandfather and the strength of his mother and grandmother in the face of his passing. "Time don't heal / It's just fadin' like the floors of an old saloon," he sings. "You can hide the pain away / Even if it's carved right into you / Like an old tattoo."

It's an arresting moment, and an apt metaphor for a songwriter with the ability to lodge his melodies and lyrics deep beneath your skin. Forget fame and fortune, hits and hype. As far as Williams is concerned, the legacy you leave behind with the ones you care about most is the true measure of any man. With that in mind, and with a debut album as good as 'Better Than Myself' under his belt, it's clear that Alex Williams is here to do more than just survive.

Addison Johnson

Neo-Traditional Country Music with Americana and Bluegrass influences is the focus of Greensboro, NC, native Addison Johnson, as he joins the effort of those determined to revive the sounds, feelings and content associated with the industry's pioneers. His music is inspired by the work of legends like George Jones, Lefty Frizzell, and Waylon Jennings. He also draws inspiration from the more modern version of that traditional sound from artists like Alan Jackson, Mark Chesnutt, and Randy Rogers.

Addison is an experienced performer, and brilliant songwriter. He has an impeccable ability to develop a hook when writing a song, while focusing on the story-telling emphasis of the genre's past. He builds a connection with an audience by using his ability to set up a song with a back-story that makes each person feel as though he's speaking to them one-on-one. His gift is to then deliver a song in a way that appears to flow effortlessly from his soul and solidify that connection with the audience.

With strong lyrical content that will draw you into the story he's telling, Addison's songs take you on a journey to a time when country music was reflective of the working class American. Addison's approach to songwriting brings those stories to life once again.