The Southgate House Revival - Revival Room
Fri
March 24, 2023
8:00 pm
(

7:30 pm

DOORS)
Whiskey Bent Valley Boys, Slippery Creek, Mike Oberst
$20 adv/ $25 dos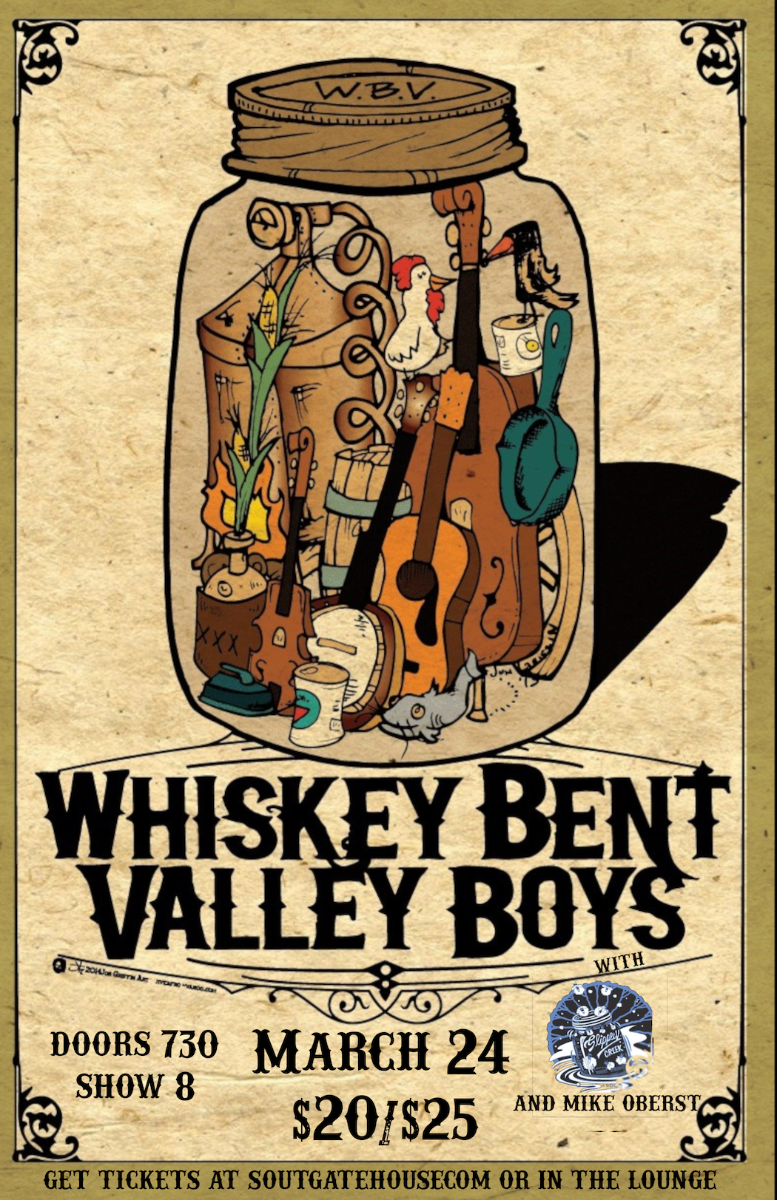 Whiskey Bent Valley Boys

Now these boy will take you through the hills of ol' Kentucky, bearing the stores, traditions and liquor that date back a century. This old-time band delivers with an intensity that would knock the sock's right off of their forefathers feet.

Hailing from the back woods of Pewee Valley, Kentucky. Whiskey Bent Valley pay's homage to their southern kin.Songs from the tobacco fields to the rivers, iron skillets to moonshine stills, upbeat and professional, this band posesses the skill to honor history and preserve the instruments, their style and every authentic nuance of the day. With their sense of fashion, From overalls to string ties, straw hats to silk vests, along with a turbo charged performance, their approach breathes fire into this vintage genre.

Incorporating time honored treasures from such icons as Roscoe Holcomb, The Stanley Brothers, and fiddle legend Tommy Jarrell, or a roster of original compositions including crowd-pleasers "Graveyard Blues" or "Shady River" the band puts on a timeless, energiezed show, Playing everything from ballads, breakdowns, sea shanties, and swamp stomps. Audiences from children on their parent's knee to packed saloons past midnight ,and finding favor with the older generation as well makes for a wide range of appeal.

The boys take cues from parents and grandparents who have tapped into folk country and bluegrass through festivals, radio and endless collections of vinyl recrodings. Band founder Col. Mason Dixon hails from a long line of musicians and will tell you it's not so much in the whiskey as it is the DNA. Each member's family performs and enjoys the indigenous music of the appalachian foothills and pastures of Kentucky.

Appearances on a wide range of radio and tv programs, state fairs ,square dance's and festivals have brought them an active fan base for this region. Often times the boy's bring a delicious yield of their summer crops to gigs in bushel baskets for the taking. Going even more down to earth, they are making their cd packaging "green." All of their records are made from industrial hemp paper and recycled cardboard with environmentally-friendly, vegetable-based inks.

No matter whats chillin' in your mason jar, sour mash or sweet tea, come on out for a live show where the Whiskey Bent Valley Boys will be pounding out the swing dancing, foot stompin, hard driving tunes that are guaranteed to tickle your innards.

Slippery Creek

Good ole downhome bluegrass from the Cincinnati area.

Mike Oberst (of The Tillers)

Mike Oberst is an accomplished multi-instrumentalist, musician, and songwriter best known as a co-founder of the Cincinnati, Ohio string band, The Tillers.

Mike was born and raised in the Sayler Park neighborhood of Cincinnati, a stone's throw from the historic US Route 50 as it winds down the banks of the Ohio River. He was introduced to music at a very early age, starting Suzuki piano lessons at the age of four. At the age of 13, Mike's father showed him some chords on the guitar, and within a year, he began forming punk rock bands with his friends. Over the next decade, Mike's bands "Disarm" and later, "The Resurgence", became fixtures on the local punk scene.

Mike's interest in traditional music began with his membership in the Cincinnati Caledonian Bagpipe and Drum Corps from the ages of 17 to 22. At age 23, Mike became a part of "The Blue Rock Boys", an Irish Traditional Folk band, which gave Mike his first taste of the life of a touring musician.

When The Blue Rock Boys went on hiatus in 2007, Mike began performing solo shows around town. During this time, he became consumed with a love of clawhammer-style banjo playing and an interest in American folk music in the vein of Woody Guthrie, Leadbelly, Pete Seeger, and other Depression-era performers. He soon chanced upon a like-minded musical compatriot in the form of guitarist Sean Geil, with whom Mike formed the band "The Tillers".

The Tillers' rise to prominence in the local and regional folk scene was a rapid one, bolstered by a stroke of good fortune in the summer of 2009, when The Tillers' recording of Mike's song "There is a Road (Route 50)" was featured on veteran NBC news anchor Tom Brokaw's USA Network television documentary on the history and significance of US Route 50.

The Tillers maintained a relentless touring, performing, and recording schedule over the next three years, releasing three more albums, becoming a staple at folk festivals throughout the country, and sharing the stage with luminaries and heroes such as Doc Watson, Ramblin' Jack Elliott, Iris DeMent, Jerry Douglas and many more.

In 2011, Mike released his first solo album, "Mike Oberst and His Five-String Banjo", which featured collaborations with a number of Mike's musician friends from Cincinnati and beyond.

Also that year, Mike was the driving force behind "To Sing with You Once More", a benefit concert to raise money and awareness to fight multiple myeloma cancer, the disease which claimed both Mike's mother Lori and one of his musical heroes, Mike Seeger. The concert, which featured rare appearances by folk giants like John Cohen and Tracy Schwarz, was a rousing success.

Mike continues to play and tour, both solo and with The Tillers. He was recently bestowed with the Ohio Arts Council Traditional Arts Apprenticeship for clawhammer banjo in 2011-12, and again in 2013-14. He also teaches clawhammer banjo lessons from his home to a number of students both locally and regionally.

Mike's appreciation and gratitude to the tradition of Field Recording for its preservation of rapidly-disappearing musical styles and traditions has led him to attempt some of his own. In 2016 he produced and co-recorded an album of original music by North Carolina songwriter Jean Dowell. He is currently in the early stages of recording and compiling the music of legendary Kentucky fiddler Tommy Taylor.

Mike is also interested in traditional American folk art, history and ways of life, and methods of sustainable city living. He enjoys gardening, farming, and raising chickens at his home.