The Southgate House Revival - Sanctuary
Sat
April 8, 2023
8:00 pm
(

7:00 pm

DOORS)
Chicago Farmer & The Fieldnotes, Jordan Smart
$22 adv/ $25 dos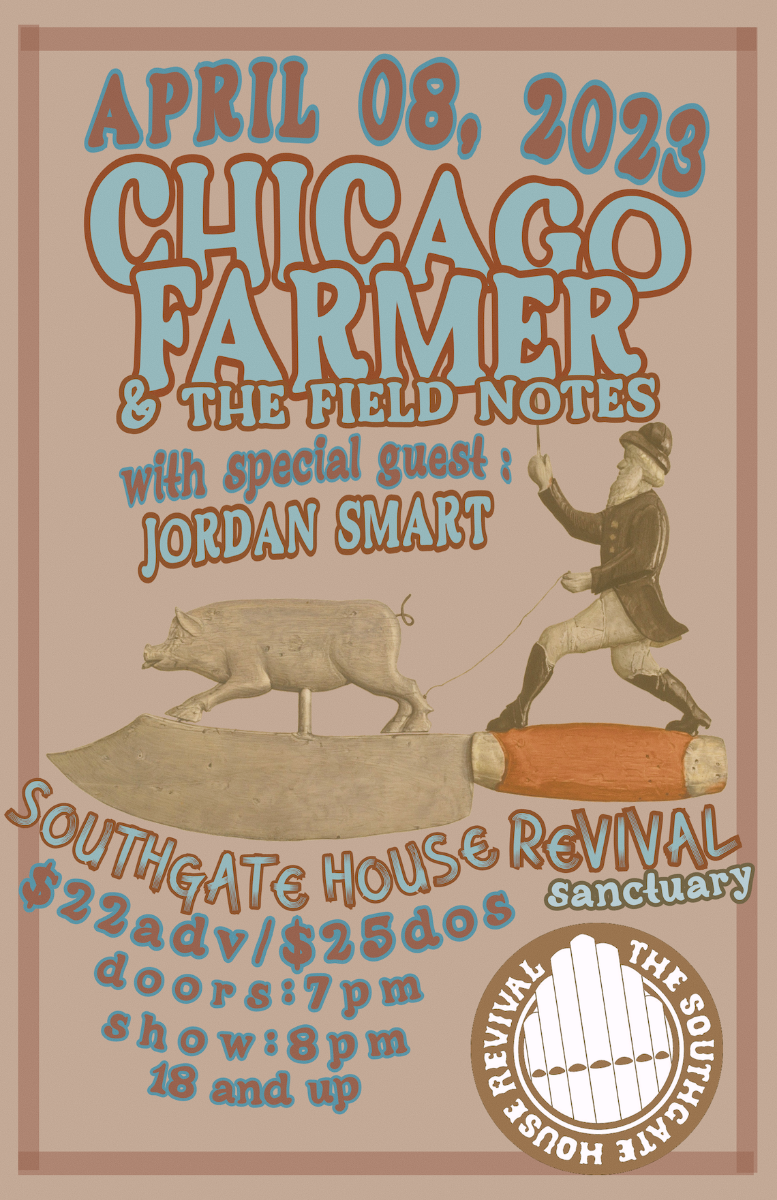 The son of a small-town farming community, Cody Diekhoff logged plenty of highway and stage time under the name Chicago Farmer before settling in the city in 2003. Profoundly inspired by fellow Midwesterner John Prine, he's a working-class folk musician to his core. His small-town roots, tilled with city streets mentality, are turning heads North and South of I-80.

"I love the energy, music, and creativity of Chicago, but at the same time, the roots and hard work of my small town," he shares. Growing up in Delavan, Illinois, with a population less than 2,000, Diekhoff's grandparents were farmers, and their values have always provided the baseline of his songs.

He writes music for "the kind of people that come to my shows. Whether in Chicago or Delavan, everyone has a story, and everyone puts in a long day and works hard the same way," he says. "My generation may have been labeled as slackers, but I don't know anyone who doesn't work hard - many people I know put in 50-60 hours a week and 12-hour days. That's what keeps me playing. I don't like anyone to be left out; my music is for everyone in big and very small towns."

He listened to punk rock and grunge as a kid before discovering a friend's dad playing Hank Williams, and it was a revelation. Prine and Guthrie quickly followed. The name Chicago Farmer was originally for a band, but the utilitarian life of driving alone from bar to bar, city to city - to make a direct connection to his audience and listener, took a deeper hold.

"You can smell the dirt in the fields, hear the wind as it blows across the plains, and see the people that Chicago Farmer sings about. Each track captures a moment in time, whether for a person or a particular place. Imagine if a John Steinbeck short story had been written as a song, and this will give you a fairly good idea as to what Chicago Farmer accomplishes on his albums."
— HONEST TUNE
Chicago Farmer

Lyrically driven, Chicago Farmer delves into the social and political issues of today's world, taking it all in and putting it back out through music as a commentary on modern times in the Midwest. With his unfeigned and relatable approach, Chicago Farmer has earned a place in the heart of this generation's rise of protest songs. He composes music written and sung by and for the working man, the "regular person", bringing to mind modern day folk tales.

Jordan Smart

After logging thousands of miles hitch-hiking and countless hours busking curbside in cities around the country, Jordan Smart had gained quite a bit of life experience to share with his listeners. Slowly working his way into the hearts of smoky old dive bars and tucked-away mountain music festivals, it came as no surprise to those who had come to know and love his music and message when Jordan joined the ranks of folk singers before him and landed multiple slots opening for Senator Bernie Sanders on his presidential campaign trail. Anyone with a little musical ability can call themselves a singer-songwriter, but Smart is a Troubadour, tried and true, and he earned his chops in the streets of America.

The folk singer-songwriter was born in Cleveland, and raised in the rolling hills of rural North East Ohio. Smart's songs evoke rich and timeless imagery not unlike the landscape he grew up in or the many he has visited in his travels. He has mastered the art of lyrically conveying both simple and complex human emotion, often with a good dole of wit. With a sound that is raw yet accessible Smart has made friends and fans throughout the country, and his reach is beginning to extend around the globe. He is currently booking in support of his first full-length album entitled "Heart of It All" released fall of 2017.