The Tillers 2nd Annual Old Time Stringbreaker's Ball
Sat
February 8, 2020
6:00 pm
(Doors:

5:30 pm

)
The Southgate House Revival
All Ages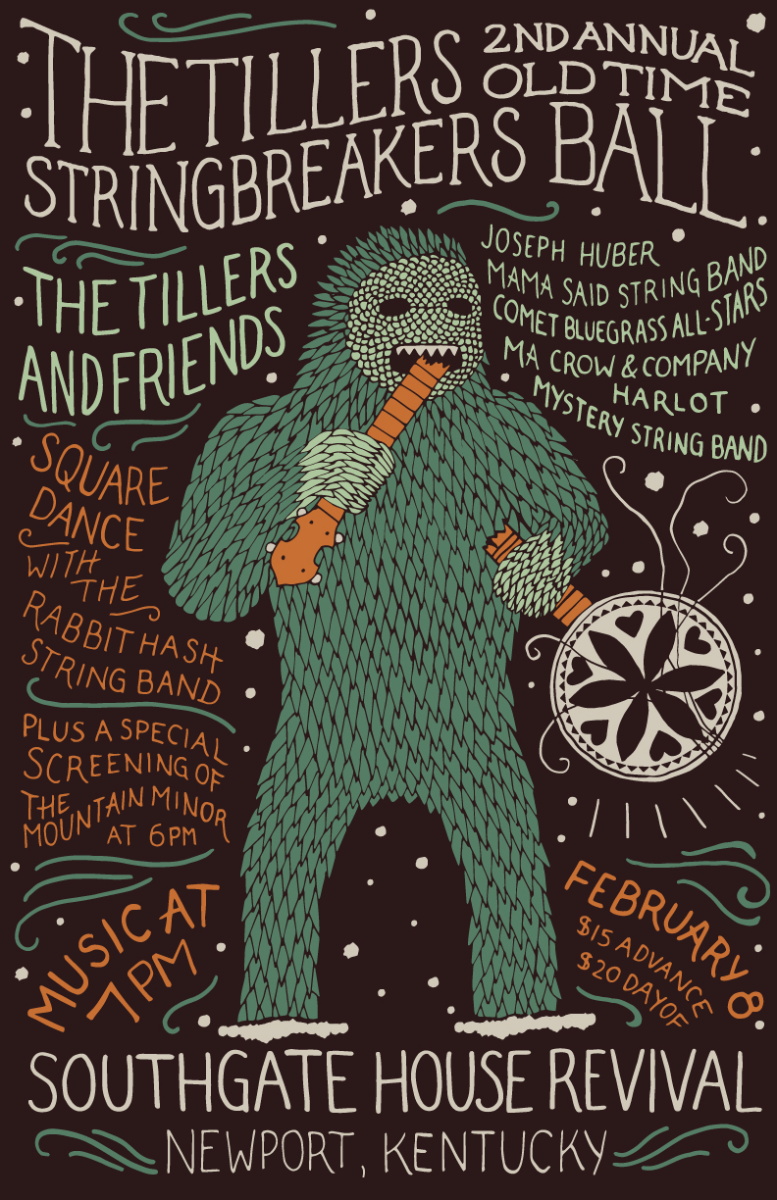 $15 ADV / $20 DOS
Includes square dance with the Rabbit Hash String Band and a special screening of Mountain Minor at 6p (seating for the film is limited and on a first-come first-served basis).
The Tillers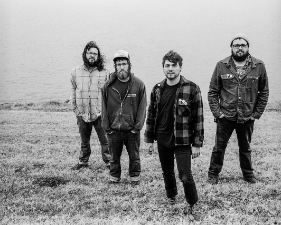 The Tillers are Mike Oberst, Sean Geil, Aaron Geil & Joe Macheret.
The Tillers got their start in August 2007 when they started thumping around with some banjos and guitars and a big wooden bass. Their earliest gigs were for coins and burritos on the city's famous Ludlow Street in the district of Clifton. The songs they picked were mostly older than their grandparents. Some came from Woody Guthrie, some were southern blues laments, and many were anonymous relics of Appalachian woods, churches, riverboats, railroads, prairies, and coal mines.
Their look didn't fit the stereotype. They were clearly recovering punk rockers with roots in city's west side punk rock and hardcore scene. The punk influence gave their sound a distinctive bite, setting them apart from most other folk acts- a hard-driving percussive strum and stomp that brought new pulse and vinegar to some very old songs. But their musical range soon proved itself as they floated from hard-tackle thumping to tender graceful melody, all the while topped by Oberst and Geil's clear tenor harmonies.
They began picking up weekly gigs around the city's bar scene. It didn't take long before their signature treatment of classic folk songs became the preferred versions of Cincinnati locals. Their audiences swelled, growing into an assortment of grey-haired mechanics, neo-hippies, farmers, punkers, professors, and random strays all stomping, clapping, singing, and belting outbursts of "John Henry!" "Darlin' Corey!" Ever since, the band has come to each show with the same energy. They are magnetic showmen, mature musicians, and colorful storytellers.
The Tillers have since won over Cincinnati's bar and festival scene, and launching tours with tireless momentum. They were awarded CityBeat Magazine's Cincinnati Entertainment Award for best Folk and Americana act in 2009, 2010, 2013, 2014 & 2015. Their relentless gigging has taken them throughout the East coast, the Midwest and West, the Appalachian south and to the UK and Ireland opening for the St.Louis crooner, Pokey LaFarge. In the summer of 2009, veteran NBC news anchor Tom Brokaw featured the Tillers on a documentary about US Route 50. Brokaw showcased the group's song "There is Road (Route 50)" as a testimony to the highway's role as a connective tissue of the nation.
Musically, the band wears many hats. Their sound has proven to be an appropriate fit with a wide range of musical styles- traditional folk, bluegrass, jazz, punk rock and anything else they might run into. They have shared the stage with a broad swath of national touring acts, ranging from renowned folk legends such as Doc Watson, Ramblin' Jack Elliott, Guy Clark, Country Joe McDonald, Jerry Douglas, Iris Dement, Pokey LaFarge and The Carolina Chocolate Drops to rambunctious rock daredevils like the Legendary Shack Shakers.
Always moving, the Tillers continue to enter new territory. Their musical growth can be heard through the scape of their many releases, 2008′s debut record Ludlow Street Rag, 2010′s By The Signs, 2011′s Wild Hog in the Woods, 2012′s Live from the Historic Southgate House, 2013′s Hand On The Plow and many more bootleg releases. The band's lineup has also taken new shape. In February 2010, long-time bassist Jason Soudrette fondly parted ways with the group, being replaced by Aaron Geil, brother of guitarist Sean. In 2015 the band added fiddler Joe Macheret (Joe's Truck Stop/Urban Pioneers) to the ranks. Recalibrating has not slowed their pace.
They continue to plot their travels around the map, electrifying new places and making new friends wherever they go. From place to place, they carry with them more instruments, new songs, and funnier stories. They are Cincinnati's traveling minstrels. Expect to hear from them soon.
Joseph Huber
Singer/Songwriter/Multi-Instrumentalist Joseph Huber was a founding member of the .357 String Band--a group that, despite its abrupt break-up, still continues to gain popularity and is known as one of the most influential groups in the recent insurgent underground country and bluegrass movement. Having moved from .357, Huber has honed his songwriting abilities immensely and now continues moving onward and upward captivating folks with his sincere and well-crafted songs under his own name and with his backing band. Whether it's irresistible, fiddle-driven, dancing tunes or honest, heart-wrenching "songwriter" songs, Huber spans the spectrum of 'Roots' music while preferring not to stay within the boundaries of any strict genre classification.

His lyricism and introspective writing style has received high acclaim from many Americana enthusiasts looking for a more substantive substitute to much of today's modern country. Maintaining a solid touring schedule, playing all throughout both the U.S. and all around Europe, Huber continues to gain positive press, including being listed on L.A. Weekly's '10 More Country Artists To Listen To (2014).' Blue Ridge Outdoor writes, "Songwriters like Townes Van Zandt, Chris Smither, and John Prine can marvel listeners in the simplest of acoustic settings,...From time to time, I stumble upon a new singer/songwriter whose work warrants comparison to the luminaries on this list. ...Huber's songwriting has me comparing him to my favorites above."

Huber's 4th solo release, 'The Suffering Stage' is a shift both in writing style and in it's filled-out production style, which looks beyond his usual minimalist folk recordings. It features many of Milwaukee's best players, such as Ryan Knudson on pedal steel; Dustin Dobernig on keys; Andrew Koenig on electric guitar; as well as his long-time touring band members--Jason Loveall on fiddle; and Eston Bennett on bass. It follows his early self-released material--'Bury Me Where I Fall' (2010) and 'Tongues Of Fire' (2012)--and his 3rd album, 'The Hanging Road,' which was released under Nashville's 'Muddy Roots Recordings' label in Spring 2014.
Comet Bluegrass All-Stars
The Comet Bluegrass All-Stars (CBAS) were assembled in 1996 as the Sunday night house band at The Comet a neighborhood pub in Northside, Cincinnati. Since that time the popularity of the band has grown beyond the lounge at The Comet, opening for such national acts as Sam Bush, Blue Highway, Del McCoury, Peter Rowan and Ricky Skaggs.

The Sunday night sessions at the Comet are informal and known to draw a diverse, "listening" audience from small children to senior citizens. Those attending the shows find each member of the band accomplished singers and multi-instrumentalists in their own right, with the live combination of these players presenting an even greater sum than its parts, through amazing musical interplay and high lonesome bluegrass harmony.
Ma Crow & Company
Harlot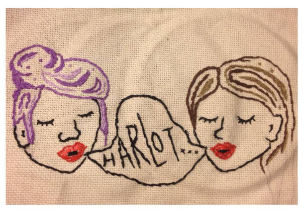 Harlot is a project stemmed from a long lasting friendship and creative inspiration. Our music is best described as heartfelt, melodic, and driven by simple instrumentation with complex vocal harmonies. We take inspiration from many things and write our songs about all that we encounter. With Banjo, guitar, and a little bit of mandolin we strive to create a sense of a well rounded genuine sound.
Mystery String Band
Rabbit Hash String Band
"Just two hops and a jump" from the Ohio River and "not a fur piece" from Cincinnati, the Rabbit Hash String Band is pickin' tunes in Rabbit Hash, Kentucky.

The Rabbit Hash String Band features the fiddling of Warren Waldron paired to clawhammer banjo playing by Russ Childers; the rhythmic guitar of Judy Waldron and driving banjo uke by Barb Childers pushes them along. All members, without warning, have been known to belt out a song. The band came together in 1991 when these old-time friends desired to replicate the 1920s music of the Georgia Skillet Lickers. They keep alive a rare and endangered species of live homemade music.

Russ and Barb Childers of Batavia, Ohio, present old timey music to area school children when not playing with the Rabbits. Warren and Judy Waldron of Somerville, Ohio, play and call traditional square dances all over the region. The band takes its name from the home of fiddler and former band member Tommy Taylor of Rabbit Hash, Kentucky, who contributed an amazing repertoire of puns and one-liners as well as the band's theme song "Rabbit Hash, Kentucky" featured in the acclaimed 2004 documentary Rabbit Hash, Center of the Universe.

Any evening spent with the Rabbit Hash String Band promises a good, old time. The fun-loving music will transport the listener to "Rabbit Hash, Kentucky… where I long to be… cornbread, molasses, and sassafras tea..."