Cincy Folk for EKY: A Benefit for EKY Flood Relief
Sun
August 14, 2022
1:45 pm
(Doors:

1:00 pm

)
The Southgate House Revival - Sanctuary
All Ages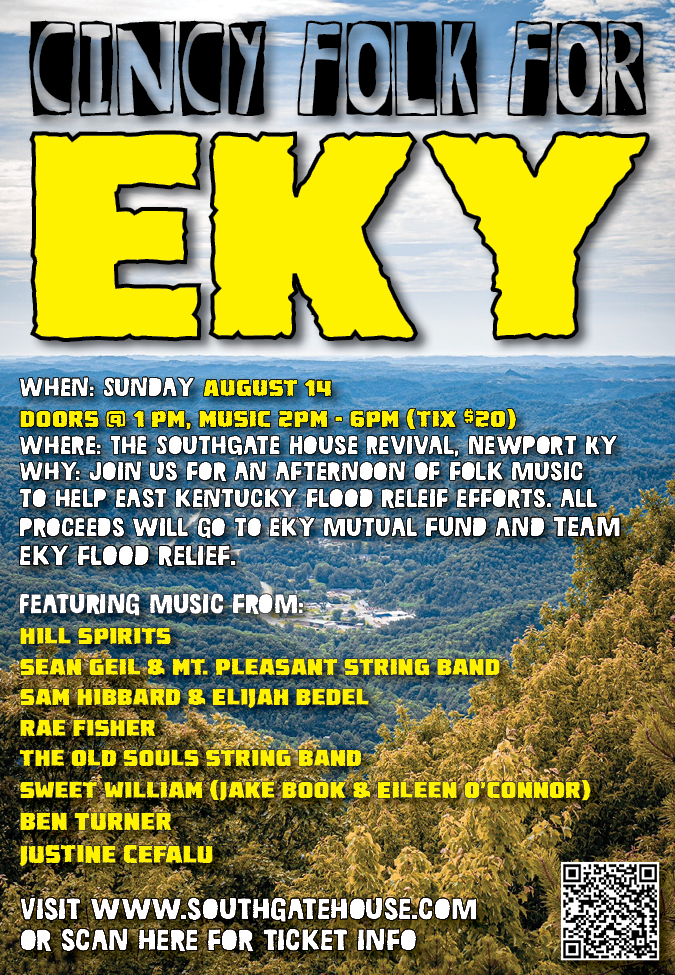 $20
An afternoon of folk and old time music to raise funds for East Kentucky flood relief efforts.
All proceeds will go to the following relief efforts:
EKY Mutual Aid Flood Relief
PayPal.me/ekymutualaid
(In Partnership with Appalshop Staff in Whitesburg, KY)
Providing immediate aid directly to community members through community members
Team EKY Flood Relief
TeamEKYFloodReliefFund.Ky.gov.
Fund established by Gov Beshear to assist impacted communities
And here is a trusted link to many more resources that could seriously use your help right now as well as other ways to support relief efforts:
https://appalshop.org/news/appalachian-flood-support-resources
Event Lineup Schedule:
Sanctuary
2-2:45 Sweet William
3-3:45 Old Souls String Band
4-4:45 Sean Geil & the Mt. Pleasant String Band
5-6 Hill Spirits

Lounge
1:45-2:15 Justine Cefalu
2:30-3 Ben Turner
3:30-4 Rae Fisher
4:30-5 Sam Hibbard & Elijah Bedel
Hill Spirits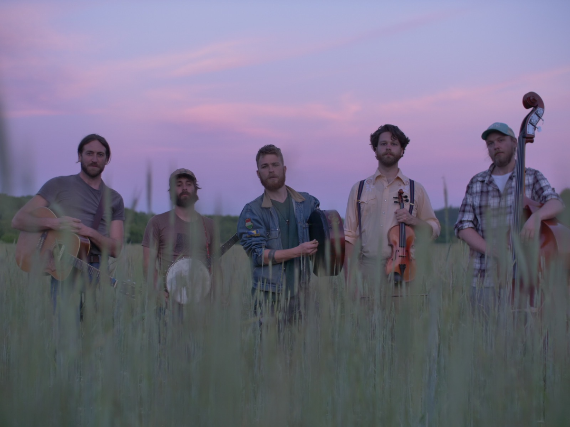 HILL SPIRITS are an energetic folk quintet based in Athens, Ohio. Led by Dayton songwriter Brother Hill, Hill Spirits have become known for their passionate live energy and wholesale love for lifting their voices in song together on a stampede of banjo, fiddle, upright bass, and foot-stomping percussion.
Sean Geil (of The Tillers)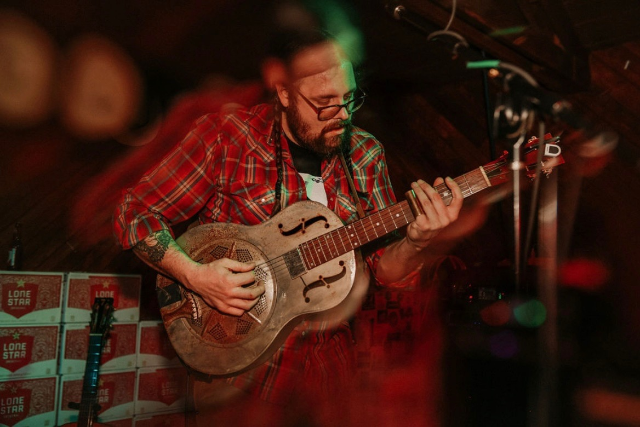 I play in the Cincinnati based folk/old-time/americana outfit, The Tillers. In my spare time I like to record and perform on my own. This winter I will be recording a new solo record as well as some projects with friends in my garage. I play old banjo songs and country blues, as well as my own songs.
Sweet William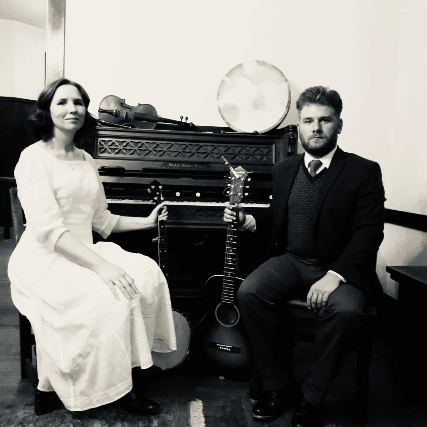 SWEET WILLIAM is a folk ballad duo based in Dayton, Ohio centered around the evocative vocals of Jake Book and Eileen O'Connor. Since 2021 they have been blending their passion for the English, Irish, and Appalachian traditions. They will soon be releasing their first recording together.
The Old Souls String Band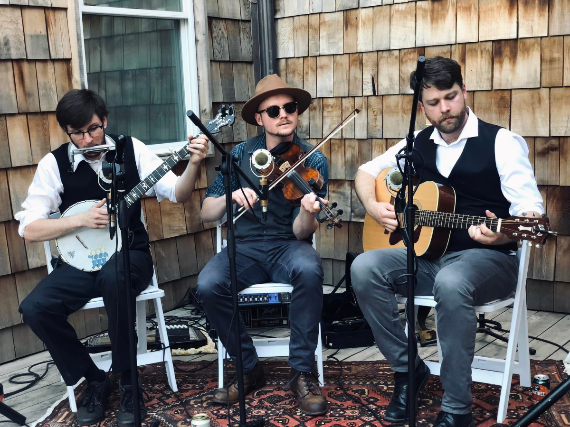 The OLD SOULS STRING BAND is comprised of Zane Thompson, Elijah Bedel and Eric Osborne who are all young traditional musicians specializing in Appalachian old time music as well as other folk styles. Their love for the music is rooted in a deep appreciation of community, history, and culture. They hope to keep these styles alive for a new generation and would love to encourage other young people to play as well.
Ben Turner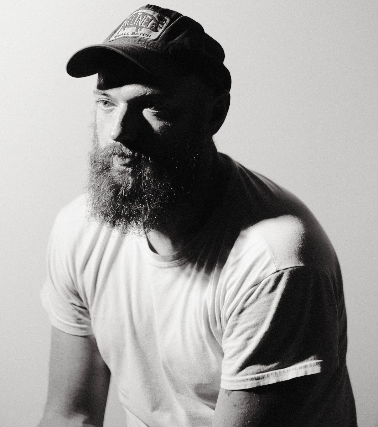 BEN TURNER is one of the Queen City's finest up and coming troubadours! His original songwriting reflects his commitment to America's working class and displays a deep understanding of the American folk music lexicon. From talking blues to balladry, Ben is well-versed in the diversity of the American songbook and uses it to tell new stories as well as the timeless ones. His kindness is infectious and you're guaranteed to always remember the first time you heard Ben Turner!
Rae Fisher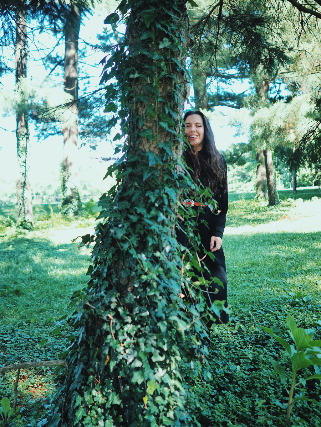 RAE FISHER, singer/songwriter & Cincinnati native, creates folk songs that carry an atmospheric pressure. Both sparse and winding, she employs ethereally soulful melodies with deep, resonant, and commanding instrumentation. Rae brings the audience to a hush in a live setting- hanging from raw emotion but cradled by cosmic and moody indie dreamscapes. Her voice, jazz-inspired with a light twang, embodies a vulnerable strength. With recordings still in the works, the live intimacy she provides is not to be missed.
Sam Hibbard & Elijah Bedel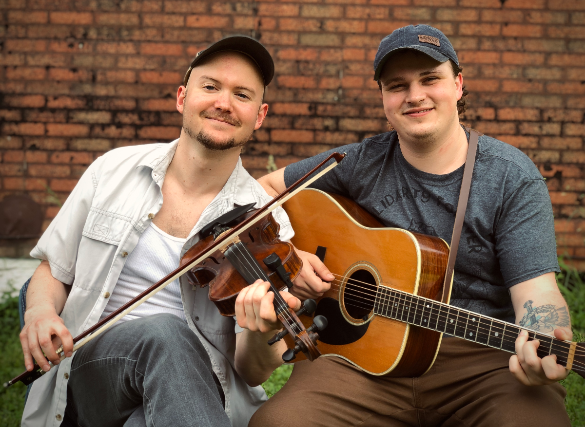 SAM HIBBARD & ELIJAH BEDEL are a young and passionate duo of American folk musicians whose love for time-honored styles and songs is evident in the joy and reverence with which they play. A fervent belief in America's diverse and rich musical traditions inspires their performance and they firmly endeavor to keep this spirit alive and resonating with audiences today.
With a repertoire of fiddle tunes, ballads, old time banjo, early country, and more, Sam and Elijah keep folks entertained with a variety of moods and reflections.
Justine Cefalu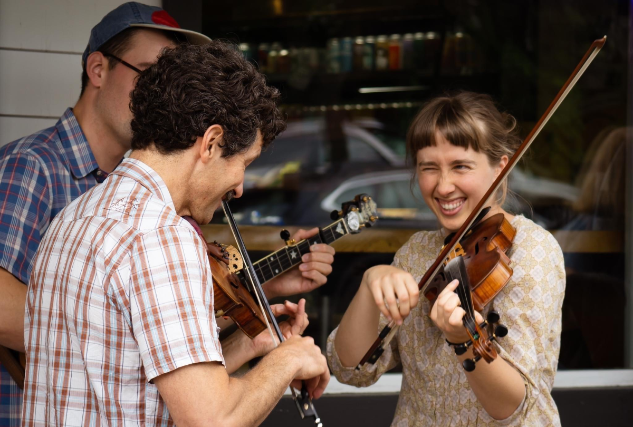 JUSTINE CEFALU was born and raised in Cincinnati but has traveled widely and played with musicians from many different folk traditions. She was most recently living in Ithaca, NY where she was playing mostly American Oldtime, Irish and Quebecois music. Her favorite place to play tunes is with friends on a porch or in a kitchen or for a dance—the way the music has been played for centuries.