Heavy Hinges, JIMS
Sat
April 8, 2023
9:00 pm
(Doors:

8:00 pm

)
The Southgate House Revival - Revival Room
Ages 18 and Up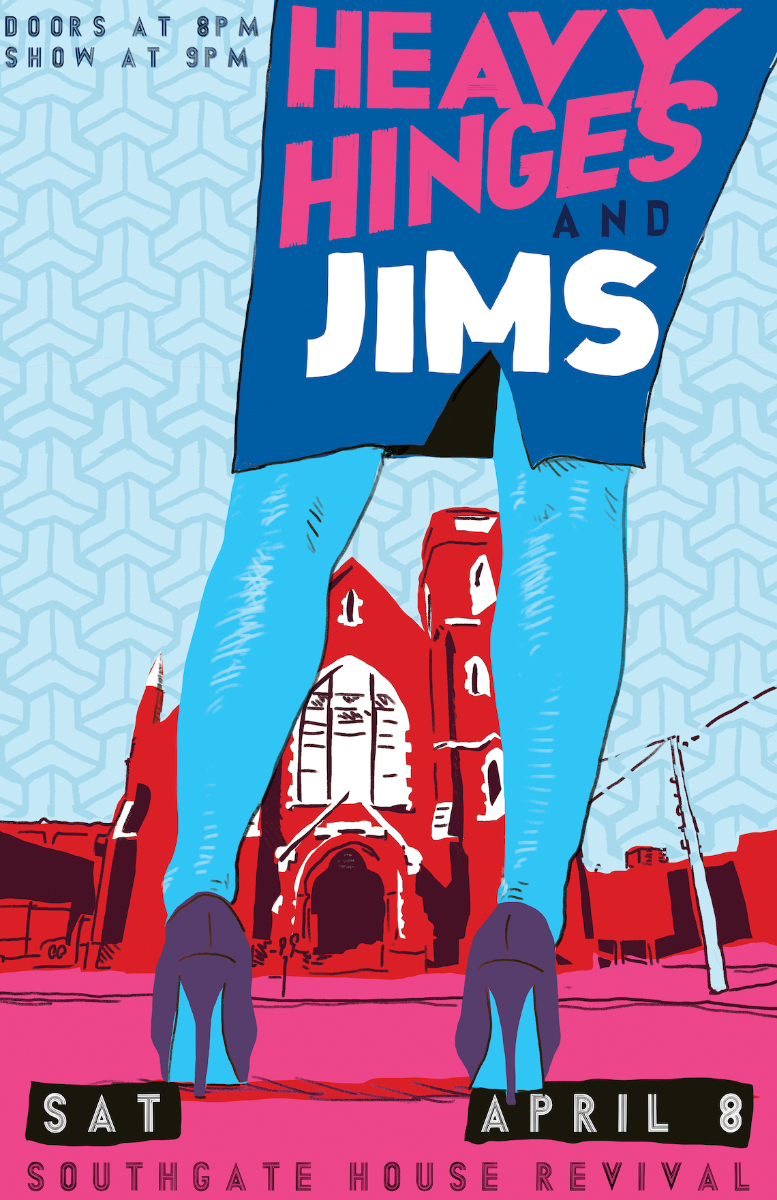 $10
Heavy Hinges
Heavy Hinges is a sublime ruckus… a beautiful collision of rock, soul, gospel, and roots music. When Heavy Hinges came about in early 2012, their earliest sessions were taken on with heavy hearts. Three of the five members had recently suffered heartbreaking and unexpected loss of loved ones and were still very much coping. While the music they were creating was conceived from a place of sadness, what came forth from them was rather spirited and in a way celebratory… a revival of sorts.
Initially, the group gravitated toward playing old traditional numbers, unearthed from field recordings of chain gangs, gospel groups, and fishing boat crews. They found the coarse and rustic nature of the music and the dark, yet hopeful imagery of the lyrics suited them well. While songs from the past proved inspiring and fruitful, it was never their intention to travel down a musical path quite that narrow. So, they began writing their own story, adding more layers to their evolving style. They frequently referenced the gospel groups, chain gangs, and fishing crews from those old recordings, all the while remaining true to their existing foundation of r&b, blues, and rock & roll…
Heavy Hinges have just released the follow-up to their acclaimed albums Mean Old City and Cause a Scene with their latest effort entitled Lonely. The band is currently supporting the newly released EP with live performances and a series of radio interviews and on-air performances. Heavy Hinges is planning a fall/winter tour later this year.
JIMS
aka JIMS & his Mandareenians
Since 1996, at the ripe age of 11, JIMS has been performing his unique blend of styles and movements that have held a profound influence through the years. Holding frontman/guitar duties with his early projects Code Red, GDS and Prick B. Mafia, once he reached his 20s he started up his longest project to date, Sweet Ray Laurel.

During the same period he was moonlighting as a drummer in Silver Bridge Disaster then as guitar and vocalist in Good Night Noises. Soon after he picked up the sticks again for Martin Luther & The Kings and then Smoke Signals… respectively.

In addition to two unnamed new secret projects, JIMS continues to play with Sweet Ray Laurel and Smoke Signals… while also performing solo.

Alone on the stage armed with just an acoustic guitar and loop station, his songs reflect a love for all styles of music ranging from punk, world, folk and everything in between. The years of influence and experimentation with various groups has helped mold a unique, concise and focused approach which, is evident in his compositions.

Always opting for the most visceral and vulnerable outlet, his solo output is every bit of raw, in-your-face, personal and delicate as you may expect as a document of such a storied sonic past.

JIMS is currently in the process of producing his debut solo album which, should see a release during Summer of 2015 on the label//collective he helps curate with his older brother, AndRecordings.