Possessed By Paul James, The Tillers, Willy Tea Taylor
Fri
June 16, 2023
8:00 pm
(Doors:

7:00 pm

)
The Southgate House Revival - Sanctuary
Ages 18 and Up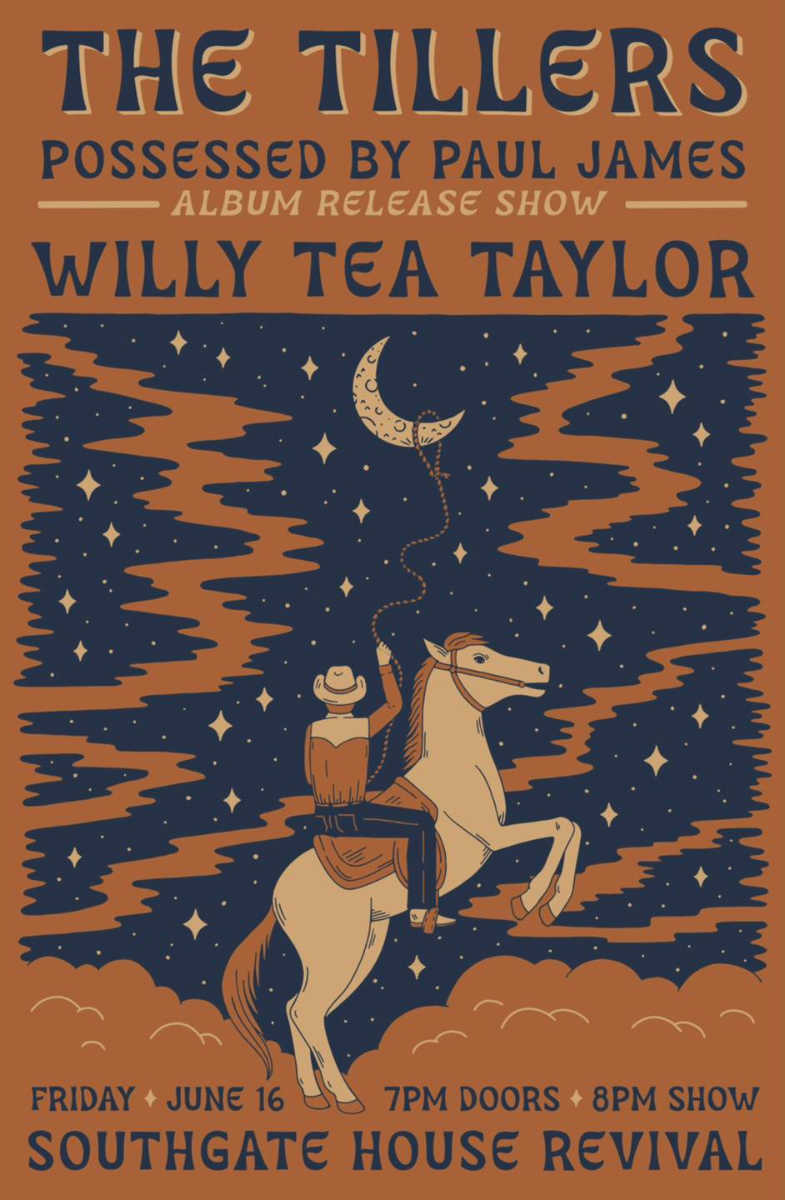 $25 adv/ $30 dos
Possessed By Paul James
Fans of singer/songwriter and one man band Possessed By Paul James my be surprised to find out that playing music is not his only passion. Though he somehow finds the time to make appearances all over the US and Europe throughout the year, down in the Texas Hill Country he's in charge of an elementary school special education classroom, teaching children with intellectual disabilities. And you may think that with juggling so many responsibilities between music and work that he wouldn't have the energy or the time to excel at either one. But Possessed by Paul James is not your average musician, or teacher. - Saving Country Music
The Tillers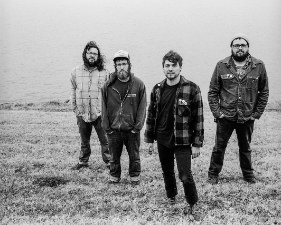 The Tillers are Mike Oberst, Sean Geil, Aaron Geil & Joe Macheret.
The Tillers got their start in August 2007 when they started thumping around with some banjos and guitars and a big wooden bass. Their earliest gigs were for coins and burritos on the city's famous Ludlow Street in the district of Clifton. The songs they picked were mostly older than their grandparents. Some came from Woody Guthrie, some were southern blues laments, and many were anonymous relics of Appalachian woods, churches, riverboats, railroads, prairies, and coal mines.
Their look didn't fit the stereotype. They were clearly recovering punk rockers with roots in city's west side punk rock and hardcore scene. The punk influence gave their sound a distinctive bite, setting them apart from most other folk acts- a hard-driving percussive strum and stomp that brought new pulse and vinegar to some very old songs. But their musical range soon proved itself as they floated from hard-tackle thumping to tender graceful melody, all the while topped by Oberst and Geil's clear tenor harmonies.
They began picking up weekly gigs around the city's bar scene. It didn't take long before their signature treatment of classic folk songs became the preferred versions of Cincinnati locals. Their audiences swelled, growing into an assortment of grey-haired mechanics, neo-hippies, farmers, punkers, professors, and random strays all stomping, clapping, singing, and belting outbursts of "John Henry!" "Darlin' Corey!" Ever since, the band has come to each show with the same energy. They are magnetic showmen, mature musicians, and colorful storytellers.
The Tillers have since won over Cincinnati's bar and festival scene, and launching tours with tireless momentum. They were awarded CityBeat Magazine's Cincinnati Entertainment Award for best Folk and Americana act in 2009, 2010, 2013, 2014 & 2015. Their relentless gigging has taken them throughout the East coast, the Midwest and West, the Appalachian south and to the UK and Ireland opening for the St.Louis crooner, Pokey LaFarge. In the summer of 2009, veteran NBC news anchor Tom Brokaw featured the Tillers on a documentary about US Route 50. Brokaw showcased the group's song "There is Road (Route 50)" as a testimony to the highway's role as a connective tissue of the nation.
Musically, the band wears many hats. Their sound has proven to be an appropriate fit with a wide range of musical styles- traditional folk, bluegrass, jazz, punk rock and anything else they might run into. They have shared the stage with a broad swath of national touring acts, ranging from renowned folk legends such as Doc Watson, Ramblin' Jack Elliott, Guy Clark, Country Joe McDonald, Jerry Douglas, Iris Dement, Pokey LaFarge and The Carolina Chocolate Drops to rambunctious rock daredevils like the Legendary Shack Shakers.
Always moving, the Tillers continue to enter new territory. Their musical growth can be heard through the scape of their many releases, 2008′s debut record Ludlow Street Rag, 2010′s By The Signs, 2011′s Wild Hog in the Woods, 2012′s Live from the Historic Southgate House, 2013′s Hand On The Plow and many more bootleg releases. The band's lineup has also taken new shape. In February 2010, long-time bassist Jason Soudrette fondly parted ways with the group, being replaced by Aaron Geil, brother of guitarist Sean. In 2015 the band added fiddler Joe Macheret (Joe's Truck Stop/Urban Pioneers) to the ranks. Recalibrating has not slowed their pace.
They continue to plot their travels around the map, electrifying new places and making new friends wherever they go. From place to place, they carry with them more instruments, new songs, and funnier stories. They are Cincinnati's traveling minstrels. Expect to hear from them soon.
Willy Tea Taylor
Willy Tea Taylor is a father, brother, and son. His remarkable ability to sing about profound subjects in a simple way makes his songs a great place to lose yourself. Much of that comes from his upbringing.

Willy grew up surrounded by rolling hills and horses in the small town of Oakdale, California. Known as the "Cowboy Capital of the World" for breeding so many world champion rodeo cowboys, Oakdale is still Willy's home and the setting for many of his songs.

Despite coming from a long line of cattlemen – his grandfather Walt was one of the most respected of his generation – Willy's first love was baseball. As a catcher, he had a gift for the nuances of calling a game from behind the plate. When a knee injury ended his ability to catch, Willy turned his attention to music.

At the age of 18, a discerning and intimate set by Greg Brown at the Strawberry Music Festival inspired Willy to pursue life as a folk singer. Strawberry would play an integral role in Willy's development as a musician, going from spectator to stagehand, to performer. He made his main stage debut with his band the Good Luck Thrift Store Outfit at the 2009 festival. In 2015, Willy made his solo debut on the main stage. Willy has charmed fans at some of the best festivals in the country.

Willy calls John Hartford, Roscoe Holcomb, Bob Dylan, KISS, Weird Al Yankovic and Willie Nelson his biggest influences, but is always quick to advocate for his favorite contemporary songwriters which include Tom VandenAvond, Nathan Moore, and his Good Luck partner in crime, Chris Doud. He and VandenAvond have travelled the country together on a series of tours they call "Searchin' for Guy Clark's Kitchen" where each evening's show is just a precursor to an endless quest for the kind of serene late night scene depicted in the cult classic documentary Heartworn Highways.

On his new release Knuckleball Prime, Willy received support from greats like Benmont Tench (Tom Petty & the Heartbreakers), Greg Leisz (Bruce Springsteen, Eric Clapton), and Gabe Witcher and Noam Pikelny of the Punch Brothers. Of the album's title, Taylor says "most baseball players peak in their twenties, but knuckleball pitchers tend to blossom in their late thirties and early forties. I'm staring down my knuckleball prime."

Led by producer Michael Witcher, the songs on Knuckleball Prime are arranged and accompanied magnificently by a first rate team of musicians and engineers. If you're a fan of well-written lyrics, alluring melodies, and a voice that ties them together with emotion as deep as the artist's own roots, you'll savor Knuckleball Prime, and just about anything else Willy Tea Taylor has ever done.