The Southgate House Revival - Sanctuary
Thu
October 13, 2022
8:00 pm
(

7:00 pm

DOORS)
Lost Dog Street Band, The Local Honeys, Joe's Truck Stop
$35.00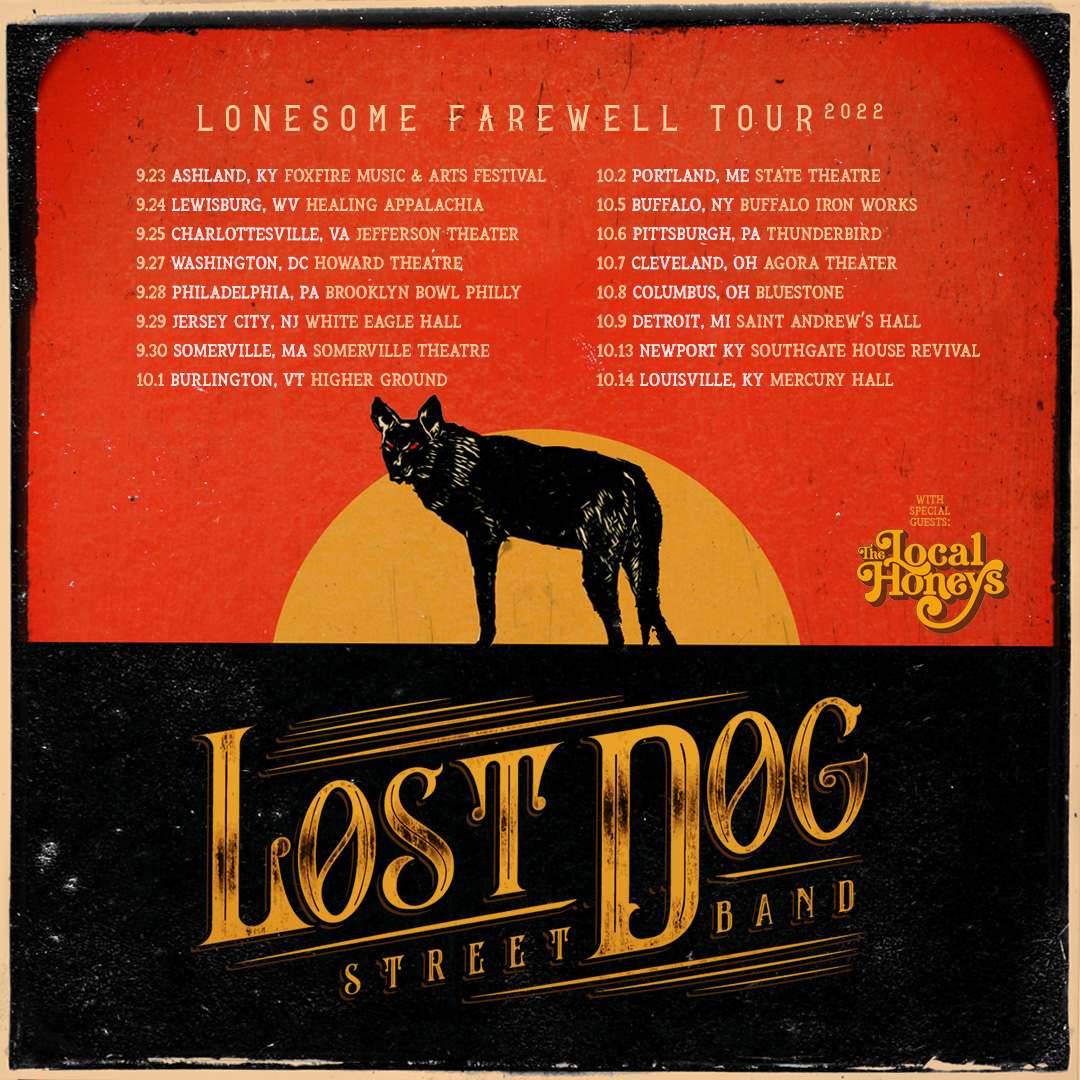 Lost Dog Street Band

Returning to the stripped-back, string band sound of their busking years, Lost Dog Street Band's new album Glory is a searing testament to recovery, redemption and resolve. Fronted by songwriter Benjamin Tod and his wife, fiddler Ashley Mae, the DIY band began out of desperation on the sidewalks of Nashville roughly a decade ago, but now sustains a significant national audience that's drawn to their authentic songwriting, old-time instrumentation, and hard-won independence. "I wanted to make an album with the specific intention of being raw but full at the same time and to get back to our roots," Benjamin Tod says. "Everyone on this album has been a busker. Douglas Francisco, who plays slide guitar — I met him on the streets busking. Jeff Loops, our bassist, was in a busking band, too. That flavor was important to me, just getting back to the root of things." By centering the songs of Glory around acoustic arrangements, without the drums or steel guitar of prior albums, these harrowing personal stories become even more graphic. It's a feeling that Benjamin Tod himself describes as "a logical glimpse of climbing out of hell." He observes, "Something that was shocking to me was realizing that as soon as I got sober, that was really the beginning of the journey. Choosing to get sober was barely even a milestone." Leading the album, "Until I Recoup (Glory I)" vengefully demands justice and describes the fight for glory after it's been unjustly taken away. The lyrics read like a mission statement of redemption. Similar to Steve Earle's influential Train a Comin' album from 1999, Glory conveys the hard work that goes into getting clean, particularly in tracks like "Fighting Like Hell to Be Free,""Beautiful Curse" and "Jalisco Bloom." Calling to mind the skillful writing of Guy Clark or Townes Van Zandt, "What Keeps Me Up Now" views that phrase from multiple angles, from sleepless nights to a suicide attempt, where "the belt was a noose when I came to on the ground." It's one example of the "dark country" description that the band occasionally uses to describe their sound. In contrast, "End With You" finds Benjamin Tod feeling damn glad that he's found a relationship that's sustained him for a decade, through the achievements as well as the obstacles. Raised in Sumner County, just outside of Nashville, Benjamin Tod was primarily raised by his grandmother and grandfather. However, at age 7, his mother surprised him with a cheap electric guitar –then his competing father bought him a pawnshop classical guitar. With nobody to show him how to play, they were little more than toys. However, at 14, he and a friend each received a Fullerton parlor guitar from his friend's father. The boys started getting interested in folk music and protest songs, which led Benjamin to the streets of Nashville to busk. Meanwhile, Ashley Mae was spending more and more time in Nashville, where her mother worked the overnight shift at rock station WKDF. She'd already tapped into the small punk scene in Rapid City, South Dakota, where she grew up, but found an even deeper community in Music City. At 20, she taught herself to play fiddle, shedding as much of her classical violin training as she could. When she met Benjamin Tod at a punk show, introduced by a mutual friend, they bonded immediately. At 17, they left Nashville together for a life of street performance, hopping trains, and scraping by on less than $300 a month. After four years of terrible gigs and almost no traction, Benjamin Tod decided in 2016 to abandon the band. "I'd been a hardly functioning drug addict and alcoholic for over a decade. I was sick of the lifestyle and it seemed like it was going nowhere," he admits. An invitation from the band Devil Makes Three came out of the blue in 2016. Benjamin Tod found out about it in a train-yard, about to hop a train from Asheville, North Carolina, to Knoxville, Tennessee. "Without that, Lost Dog never would have moved forward from that point," he says. Lost Dog Street Band gained traction through that tour, but when Benjamin Tod and Ashley Mae separated for a year and a half, the momentum evaporated. Instead of going back on the road, they filmed performance videos of songs from Benjamin Tod's solo album, I Will Rise, and posted them to YouTube without much expectation other than promotional use. However, that decision proved to be the turning point, as curious listeners discovered the band and their ticket sales skyrocketed. Those early fans especially will embrace the spare but spirited sound of Glory, applied to tracks like "Cost of the High," which directly addresses the fallout of addiction, as well as "Hayden's Lament," where the choice is given between "getting dead or getting tough." Right after the plaintive country ballad, "Losing Again," Benjamin Tod brings out the banjo for "I Believe (Glory II)," which basks in the emotion of finally finding that glory. Without touring in 2020, Benjamin Tod and Ashley Mae settled on a parcel of land in rural Kentucky that they bulldozed themselves, building a cabin with well water and solar panels. Every week, even now, Benjamin Tod says he takes account of his situation as a recovering addict. "In society as a whole, there's a real lack in examples of actual recovery," he says. "There's not a brutally honest take on how painful the process is, but how rewarding it is at the same time. Every step that you make helps encourage you to meet the next milestone. It's like a punch in the face and the kiss on the cheek every day. It's very personal for me, the concept of digging out of hell, because I had to do that in order to gain my own dignity back. Everything follows after that. You have to earn your own respect of yourself before you earn it from anybody else

The Local Honeys

The Local Honeys are a charming duo, born and raised in Central and Eastern Kentucky. The pairing is comprised of Montana Hobbs and Linda Jean Stokley. Montana and Linda Jean are the first females to graduate with Bachelor of Arts degrees in Traditional Music from Morehead State University.

Their sincere dedication to Kentucky music led them to spend many late evenings in the college's traditional music archives where they listened in awe to the many regional fiddle and banjo players from which they have drawn much of their repertoire. They listened eagerly through the static and crackle of many field recordings to transliterate the living and late Kentucky artists whose stories, songs, and tunes were recorded by those foreseeing the importance of their survival.

These ladies have cultivated a distinguishing sound by utilizing their powerful voices, in both sweet and haunting, intricate harmony. Their voices lay fittingly suspended in air in a capella fashion or befittingly entwined with appropriate instrumental accompaniment. Late one evening in Cork City, Ireland they found themselves singing in an abandoned stairwell with thirty-sum Irish companions where a man proclaimed, "My sweet girls, you sing like angels and play like devils!" They diversely incorporate entrancing balladry, pleasing lullabies, the blues, and driving fiddle and banjo tunes.

These ladies are bringing the home music of the mountains to listening audiences throughout the region and elsewhere. They have sung and played for audiences across the Appalachian region and internationally in Ireland, Jamaica, and Canada. They are so very proud of their culture and hope to instill a sense of curiosity in their audiences about their own heritage while strengthening the appreciation of the high lonesome sound some have forgotten.

Joe's Truck Stop

Conceived at a greasy spoon, Joe's Truck Stop is here to replace the pills in that there jar.

Please, put those away.

You can usually find them ripping apart Old Time Appalachian fiddle tunes, paying tribute to their country heroes, and dishing out original songs to the dancing feet in the crowd.

Their unique sound is characterized by traditional vocal harmonies, Bluegrass drive, wild fiddling, hot guitar picking, doghouse slapping, and the Honky Tonk and Swing sounds of old...

Check out new songs from our upcoming record and download our acoustic, Old Time album "Demo Derby" for free at http://joestruckstop.bandcamp.com/.

More about the band: Members of the band are award winning instrumentalists from Bluegrass and Old Time Contests around the country, and the band itself has placed twice in the largest Old Time band contest at the Galax Old Fiddlers' Convention. In our progression from being solely an Appalachian Old Time stringband to an acoustic and electric Country and Blues band, we have played numerous festivals and venues from the Whispering Beard Folk Festival, to the Kennedy Center, to the many stages we've frequented in Boston/New England becoming regulars in the scene. We've shared bills with: JP Harris & the Tough Choices, the Sweetback Sisters, Rachel Brooke, the Ten Foot Polecats, King (Sasquatch) Sickabilly & the Howlin' Moon Boys, Jake & the Burtones and many other acts. We've also appeared on television and radio, including several Boston stations and Rockabilly Worldwide's 24-hr. Rockin' Therapy Radio.

Joe Macheret, the bandleader, has also lent his instrumental skills to folks like Wayne Hancock, the Tillers, Lucky Tubb and the Modern Day Troubadours, the Goddamn Gallows, and many other well known musicians and bands.