The Southgate House Revival - Sanctuary
Sun
October 16, 2022
4:00 pm
(

3:30 pm

DOORS)
The Women's Groovement Volume One Album Release Show Benefitting The Ion Center for Prevention of Violence
$22 adv/$25 dos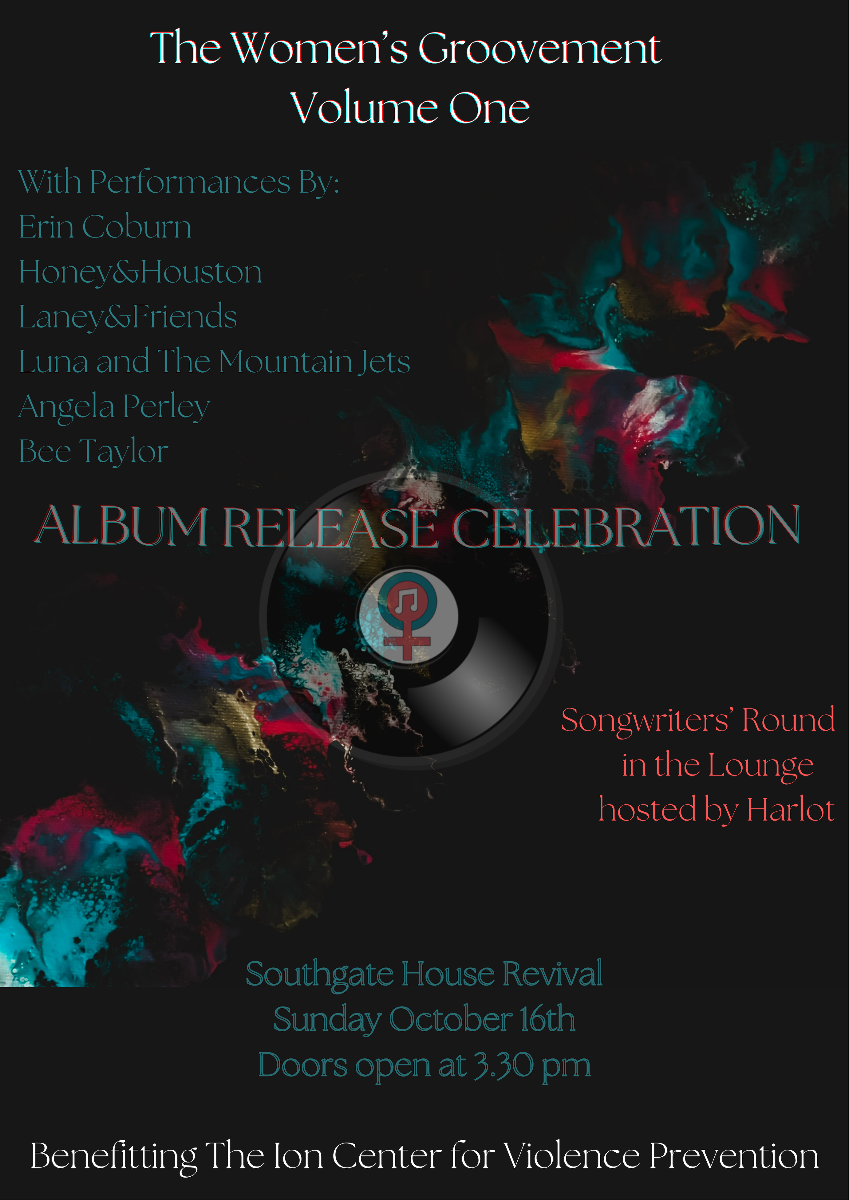 The Women's Groovement
a fundraising event celebrating women's music to benefit The Ion Center
Line-up
Honey & Houston
Angela Perley
Bee Taylor
Luna & The Mountain Jets
Lainey & Friends
Erin Coburn
Songwriter's Round hosted by Harlot
in the Lounge
Honey & Houston

Honey & Houston is singer/songwriters Lauren Houston, Heather Turner (Tupelo Honey) with lead instrumentalist Mark Cretcher and Daniel Peterson on drums. Their original folk/americana music blends country and blues influences with sweet "sister" harmonies and a little taste of gypsy on the side.

Angela Perley

Angela Perley's been writing tragic love songs rooted in folk, cosmic country and indie rock for over a decade now, and it all started with The Howlin' Moons, an American rock band from Columbus, Ohio. Perley began making demos in college, dressing them up in brown paper bags (CD sleeves with personalized artwork and a decorative track list on the flip-side). Soon enough, Perley's demos were heard by Fred Blitzer, CEO of Vital Companies, who arranged for Perley to meet and begin working with Columbus-based musicians Chris Connor and Billy Zehnal.

In quick succession, Angela Perley & The Howlin' Moons found themselves performing at Nelsonville Music Festival alongside acts like The Flaming Lips, St. Vincent, Randy Newman, Merle Haggard and Gillian Welch. In 2018, Perley and her band performed at an official showcase during Americanafest with Ruby Boots, Ladies Gun Club, Lilly Hiatt and Lucie Silvas at The Basement East in Nashville, TN. Since then she has opened for Lucinda Williams, Patrick Sweany and Tyler Childers, and has shared bills with Angel Olsen, Nathaniel Rateliff & The Night Sweats and Courtney Barnett.


All of this has led up to Perley's forthcoming LP, 4:30 (out Aug. 2), her first solo effort which she co-produced with longtime guitarist and collaborator, Chris Connor. During the final phase of production, she called on Michael Landolt (Maroon 5, O.A.R.) to mix the record and Dave Collins (D'Angelo, Bruce Springsteen) for mastering. Her third full-length record illustrates the songwriter's knack for deft storytelling, warm vocal layers and disarming melodies that beget personal growth and mobility, surging from raw and far-sighted pathos. Robbie Crowell (Deer Tick, Diamond Rugs) contributes Hammond organ, Wurlitzer and Piano, adding crucial texture to the album, a la Al Kooper (Highway 61 / Blonde on Blonde era). Chris Connor's guitar parts and song arrangements provide a lush and expansive soundtrack for Perley's songs with touches of psychedelic delays and smoky tremolos to compliment her sonorous vocals.

Perley's character-driven love songs on 4:30 are surreal in their ability to master genre-fluidity, with forthright storytelling, wry lyricism and a host of dreamy instrumentation. Colorful acoustic and electric pianos, rich and elegant strings (i.e. "Don't Look Back Mary"), breezy organ and punctual pedal steel (i.e. "Snake Charmer"), along with soft and sweet folk and pop melodies reminiscent of Patsy Cline and Jenny Lewis (i.e. "Local Heroes" & "4:30") pervade the record. Perley is a self-taught guitarist, gravitating toward folk giants and personal heroes such as Bob Dylan and Neil Young. "I taught myself a couple chords on guitar and then that was it. I was really into solo performances at first, and told myself, 'Okay, I can do this,'" says Perley. Other early influences include Lucinda Williams, Patti Smith, and David Bowie.

Perley's music is replete with realism and her methods of storytelling are deep and refreshing. This combination reveals an uncanny ability to finesse characters and poetry out of real life events, culling from important figures in her life with an effortless, stream-of-consciousness zeal. "Being realistic but also never giving up your sense of wonder about the world of art and music has been paramount to my growth as a songwriter," says Perley.

4:30 a.m. also happens to be Perley's bedtime. "4:30 is when my body's natural sleep cycle begins so if I'm not on a schedule I tend to stay up until then," says Perley. "My creative time begins as soon as the sun goes down. I'm definitely a night owl. I don't know what it is... but there's something special about it. It's dark outside, and it's quiet."

Bee Taylor

Luna & The Mountain Jets

"A Pepsi Girl in a Coca Cola town" is the best way to describe Luna of Luna and the Mountain Jets. She wasn't like her 8 siblings, much to her mother's chagrin. Raised in the small town of Martha Kentucky, her dad made a meager living in the oil industry and her mother was a homemaker. There wasn't money to go places and do things, however Luna was transported by the music on AM radio and television shows like Friday Night Special and Band Stand. Long bus rides to school allowed her and her friends to sing songs to pass the time. This passion for singing stayed with her into adulthood. After years of playing in clubs and fairs, Luna was invited by country artist Tyler Childers to sing her song, "That Thing You Said" with him on stage at the Ryman Auditorium in February of 2020. She has been picked to open for Childers at Red Rocks Amphitheater in Colorado on September 2022. Luna's music is rooted in stories from her life and experiences. She calls it "Appalachian Rock" as it is a mix of folk stories backed by rock and roll drums and guitars.

Lainey McCormick

Erin Coburn

Performer and singer/songwriter from Kentucky, Erin Coburn has captivated her audiences, since a young age, with her prowess on guitar, her hypnotic vocals, and her own style of Rock with Blues influences. Those that attend Erin's live shows describe her as possessing a fiery energy with relatable lyrics as she exposes the depths of her soul through her music. She commands her band with an effortless confidence while giving the audience something unexpected, like shredding her electric ukulele during an explosive solo.
Although, Erin has had a guitar in her hands since the age of 2, at age 7, is when she started playing the guitar seriously. At the age of 10, a guitar teacher told her she couldn't play the guitar and sing, but with her hard work and sheer determination, she proved him wrong. By 11, she was going to every open mic around her home town where she honed her improvisation skills with several local bands. She formed her own band and earned her first paid gig at age 12. She recorded her first original album, Chaos Before Conformity (2015) at 13. These songs truly showed her young, unbridled creativity with catchy hooks and lyrics and placed in the top 100 on the Americana Radio Charts a few weeks after release. Erin's second album, Queen Of Nothing (2017), released at 16, is the expression of a woman coming of age in a confusing, mixed up, and often cruel world. The songs are easy to relate to, often hitting close to home. Fifteen tracks take the listener on a journey that is a little bit Alt Rock with a good dose of Blues. Currently being recorded is Erin's third album, which captures her natural progression to a more mature sound with edgier lyrics and a dash of humor.
Erin regularly performs across the U.S. at venues and festivals of all sizes. Erin has performed with Grammy award winning artists in Nashville, was nominated for the 2017 Cincinnati Entertainment Awards in the Best Blues artist category, the 2018 Josie Awards for "Young Adult Artist of the Year" award for independent artists, and has played several shows and festivals, including Summerfest in Milwaukee, BlissFest in Michigan, and the King Biscuit Festival in Arkansas. Some of Erin's notable recent shows have been repeat performances at Buddy Guy's Legends in Chicago, the Slippery Noodle in Indianapolis, and being the opening act for The Marcus King Band, Larry McCray, and Three Dog Night.
Be sure to keep up with what Erin has going on - join her mailing list, check out her show schedule, or join her on her social media where she frequently goes live to perform and interact with those wanting to know more about her and the music she creates.

Harlot

Harlot is a project stemmed from a long lasting friendship and creative inspiration. Our music is best described as heartfelt, melodic, and driven by simple instrumentation with complex vocal harmonies. We take inspiration from many things and write our songs about all that we encounter. With Banjo, guitar, and a little bit of mandolin we strive to create a sense of a well rounded genuine sound.